Spent time at Sinclair Lake a few summers ago. Would like to get into Noganosh this summer.
Here's the rub: my canoe is too small for a big trip with two people. But, my friend and I both have kayaks. Mine can easily haul more than enough supplies for a long time, being a 17' sea kayak.
That kayak would float nicely in Noganosh lake for sure; but, it is not so amenable to portaging.
The entrance to Smokey Creek, N45.88762° W80.22354°, is how we want to traverse into Noganosh.
For those of you who have traveled this route before, is this route into Noganosh going to be easy or even possible with a sea-kayak? We don't mind a bit of work; and, obviously I need to buy a bigger canoe to address this sort of problem. Of course, we could rent a proper canoe, from Tornado's, for example, for 30$ per day; but we would prefer to spend the money elsewhere. If, say, I could do an hour's hard labour and use the kayak, for a 6 day trip that's a good wage to be paid for the work compared to a canoe rentals' cost.
I did take my kayak into Fishog lake, portaging it from Head lake in a November 2017 solo trip; but, I did not portage it any further. So, it is not impossible to portage but not as easy as a canoe.
I see on the map there is some sort of roadway from N45.88698° W80.22521° to N45.86076° W80.23644°; my friend has a kayak cart that we could use to ferry things along it as another option.
Map of area in question: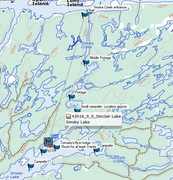 I welcome any advice.
Thanks,
MT