Interesting trip that I won't do again. Not hard at all and suitable for kayaks and canoes. We had a Mad River Monarch ( aka Sea Slog) sea canoe and a Wilderness Systems Shenai kayak. The kayak being of Greenland style carried the tent, sleeping bags, clothes and sleeping pads and Helinox furniture and not a whit that was of bulk
The Monarch is far from a slouch on water. Its a fast boat. But I was charged with food tarps poles camp equipment and such that was heavy. I was the barge( I won't let him forget that. We never could swap boats cause I am of thunder thighs and he is chicken legs. The Shenai is old (1993) and tight.
Our difficulties started at the George Lake Campground Office at Killarney Park. There we learned that they did not sell Crown Land Camping Permits. They suggested Sudbury (90 minutes one way. Massey-with the bridge out in Nairn that could be four hours one way, or Parry Sound.. some two hours each way). And Service Ontario is not open on Sunday.
So we trundle over to an outfitter who is also publicly flummoxed as he can't and doesn't sell them. I am thinking that some Non Residents of Canada has to rent from him...we are taken aside and the conversation moves onto " no one has ever been checked"
So back we go to George Lake to pay for the parking permit for Chikanishing. Yikes.. $13 CDN per day.. We go to the lot.. and its full..
Ye who say its not a jam up..well you must be used to the 401. This is a jam to me.
There are kayaks not in the picture too.
We get out of that mess as fast as possible and out to the open water. Its a strong South wind gusting to 40 kph which puts the Outer Foxes out of sight. Plus with all the rocks I am having a hard time keeping track of where we are. The GPS has dying batteries and the screen not visible in bright light.
We finally after three hours of getting rocked in shoaly water with breaking waves land at West Desjardins Bay. We have clearly overshot everything and misread the useless Chrismar Map.
BTW Jeffs Map has the campsites marked and the Chrismar does not. Save your bucks.
Home sweet rocky home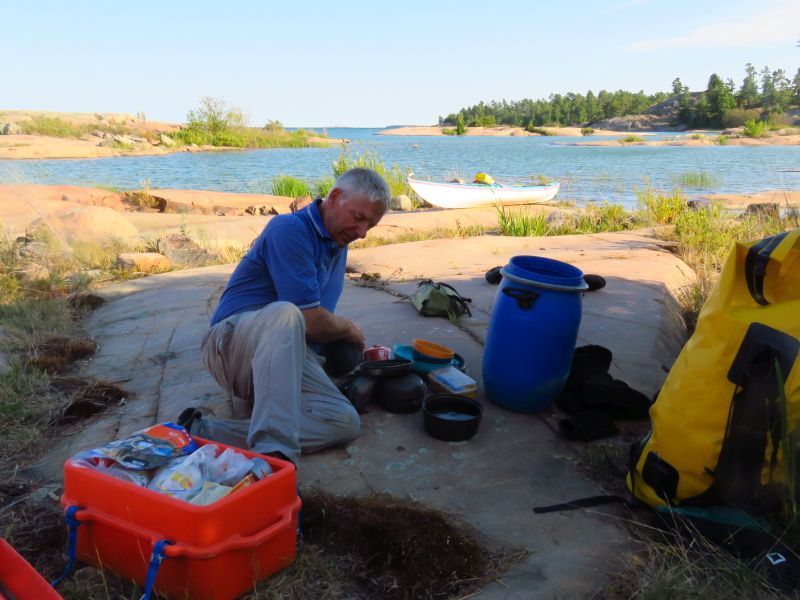 yah you are not alone
We also had sandhill cranes and otters visit.
Next day a short paddle to Moose Cove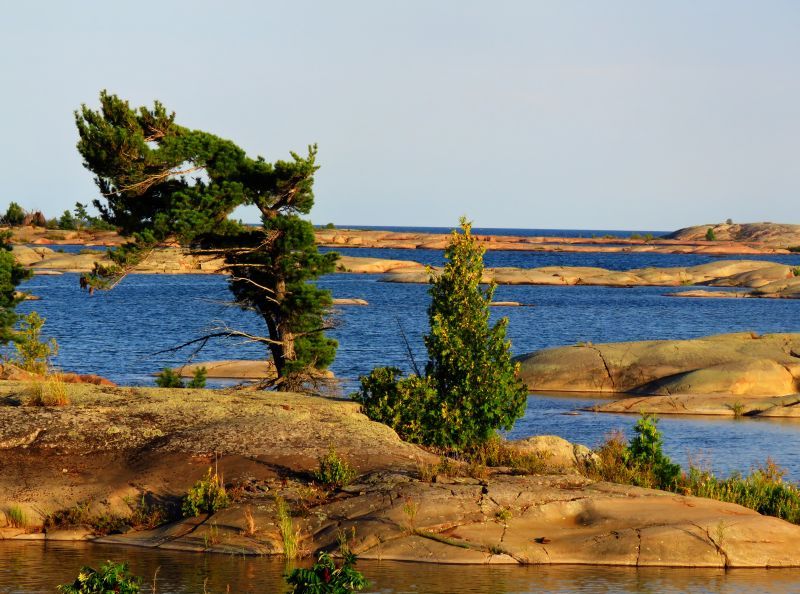 Last day was around to Beaverstone Bay and a much needed shady campsite on Mill Lake. Collins Inlet is sheltered but peppered with cottages and powerboats.
Getting out was worse than getting in. The staff was trying to remove drums and there were three powerboaters waiting and some 9 kayakers.
Pretty area but nope not again. The weather was abysmally hot and that may have led to the overuse. I probably went swimming 25 times over four days. 30 C is not in my repertoire.