Well I returned to a river of my youth and with the much higher water than when I did my QEII trip a few weeks earlier, it was hard not to want to go since it was warm and the black flies were not out.
This stretch of river from Victoria rd to McKenzie is usually not run very often do to the fact there is only 2 rapids and a long meandering stretch with a lot of trees down.
It is approx. 9 km long, the Part from Mckenzie to Dalrymple rd is another 6 km, and in bug season makes for a very long trip.
Even though the Head river is known as a shield river this stretch actually drops through a limestone escarpment.
Just less than 1 km from Victoria rd, is the first rapid starts off with a very easy CII on a limestone slide, it picks up some good drop and becomes CIII through a small falls. (at this level)
There is no portage trail along here because it is private property.
This is the lead up to the falls.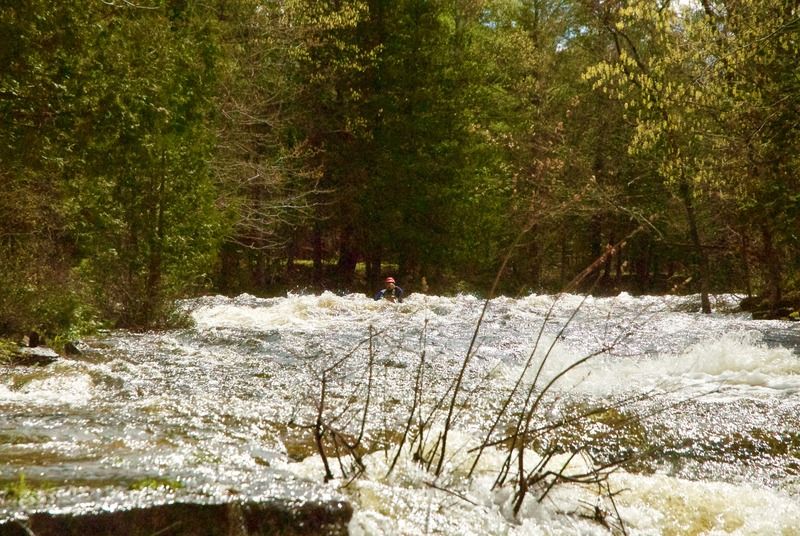 The falls.
https://photos.app.goo.gl/9madfCEdYxkI7Nf83
https://photos.app.goo.gl/iOMtSrRGKahlPN1k1
Several hundred metres down stream is what we call the "canyon".
It is a continuation of dropping through the limestone and the first 100m or so is a very easy CI plus, it then drops through a small ledge and hole.
This is the very first hydraulic I went into on purpose to play when I was a young'in.
From here for the next 200m is a really neat limestone slide and at this level a solid CIII. I got out to scout because at the bottom of the slide has always had some tree issues, especially where it breaks into separate channels around the corner at the bottom of the slide.
The start of the "slide"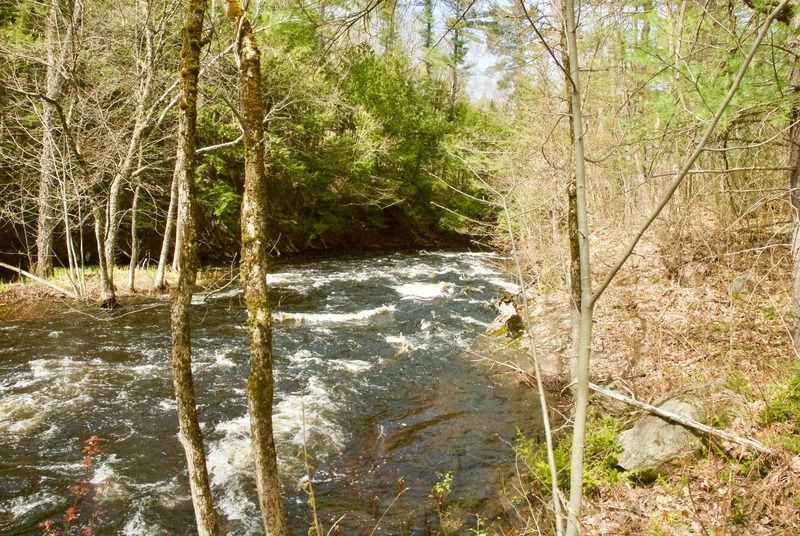 The bottom turn, the water is deceptively fast here as all the current flows into a submerged boulder that has little of a reactionary wave.
My brother swam at the top of the slide and went for a bit of a swim, his boat (kayak) was not so lucky,
With the high water we could only guess it got pinned deep on the boulder on in one of the log jams below. We searched what we could see for over 30 minutes and found nothing. This will be a low water search and find mission once the water is down.
Good thing I was in my canoe because I was able to paddle him out.
From here to McKenzie Rd. there is a lot of trees down, log jams, swamp and of course flat water. With the water being so high we were able to paddle around most off the downed trees. In lower water it would be a lot of work lifting over the numerous wood problems and in bug season, it is absolutely insane.
The stretch or river from McKenzie to Lake Dalrymple Rd is 6km long. You can also access at the Quaker Oats farm known as "Timmy who's " as there is a path to the river from the parking lot. It is a great place to get hot drinks and treats after a paddle on the river. It is worth checking out!
Me in the start of the McKenzie rd rapid. (don't get too many pics of me as I am usually the one taking pics.)
You would miss the nice class II / III at McKenzie and a great warm up rapid Class II between there and Timmy Who's.
At this level the next couple of rapids are a lot of fun and a very solid CIII with some good technical moves.
At the hydraulic of the 2nd rapid past Timmy who's Greg tried to do a spin move, which did not work out so well on his first attempt. His 2nd attempt was a very good move.
Below this fun play spot is a rapid called "triple drop" and at this level it can be very technical.
The first of the drops had wood (sweeper that was wedged and covered about half the river.
You will see if you look at the movie I went into an eddy and did a 360 turn in the eddy to avoid a kayaker surfing the river left channel.
If you look close you will see the log exposed just a little bit.
The second drop is more pronounced and has a hydraulic with a wash back of about 3m on river right.
The third drop actually is actually a good drop with a very significant hole at the bottom. It is a nice "boof" move on river right to catch the eddy and just a "punch" move left of centre river left.
3rd drop.
Here is a little video of "Triple Drop" a little easier to watch, I did do slow motion for the third drop… just for fun……
And would say sorry for the classical music….
But I am not ……
I am a classical type of guy …
I enjoyed this river a lot when I was young, (and still do! ) a great place to develop your skills!
(and learn to hate black flies)
Jeff