The following is posted for my friend Doug Ashton.
--------------------------------------------
Halfway Lake Provincial Park - Trip Report - July 2011
It's always a tough decision as to where our family trip will be each year. Since we are with our children and add-ons with less experience we typically select well known routes without serious obstacles. This usually means interior sites at Provincial Parks. In the last few years it's been areas of Killarney and Algonquin. This year we selected Halfway Lake Provincial Park. I became aware of it when I was at a local outfitter and noticed a Adventure Map of the park. The description on the map and variety of lakes looked to offer an excellent four day trip.
Our intention was to put in at Halfway Lake, spend the first night on Bailey Lake, and then two nights on Two Narrows Lake where we could do a day trip to Three Island Lake to explore the Hawk Ridge Trail. We would leave the park on the fourth day through a couple of portages connecting Two Narrows to Halfway Lake.
I contacted the park several months in advance and was told reservations were not available, however they never have been at capacity for the interior. Just to be on the safe side, I contacted the park again a few days before the trip and was assured we would have no problem getting a permit for the interior. I also inquired about the conditions of the interior yet the young woman on the phone had no knowledge of the interior and was only able to tell me that it was infrequently visited.
So we arrived in the afternoon on our first day and went to the park office where we paid our park fees. I again inquired about the conditions of the interior and was once again faced with staff who had no knowledge of what we could expect. They were kind enough to phone to the park office and connect me with the administrative clerk who informed me the sites and portages had not been properly maintained, but they had some staff who where going into the interior starting the next day to clear portages and check on sites. The lack of information and the unmaintained nature of the area gave us some concern. Regardless, we were there and this was our once a year family vacation. On the plus side, we were told there was no one else registered in the interior.
Heading south from the put in at Halfway Lake we encountered a good headwind. After about an hour of paddling we managed to get to the first portage that was unmarked, yet easily located. The portage was easy and loaded with blueberries. In fact, this whole area is loaded with blueberries in mid July. Paddling into Bailey, we wanted to get the first site to accommodate our group of five. As we entered through the narrows in Bailey Lake we attempted to find a site on the east side. There was no evidence of any site, so we continued on. The two sites indicated on the north side of the lake offered little better. The first site was rough and would not accommodate our tents. The second site we were unable to locate. Feeling a little concerned we continued to the last site which is located on an island at the end of the lake. We were in luck...a gem of a site. Excellent tent pads amongst the pines and great swimming. We enjoyed a wonderful evening and the next morning took our time getting packed up.
The day was supposed to reach 33 degrees with high humidity. We left the site at 11am and headed north to the portage. This we found was not an easy task. The entrance to the portage is heavy bog and travel is extremely slow. There was very little water and the only means of propulsion was to use the paddle to push the canoe along. Getting out and pulling was not an option. We would be up to our waist in bog!! After an hour of this we got within 50 meters of the portage, however we were unable to make the small distance due to the lack of water. Fortunately my son discovered an area that had some semi-solid ground and we were able to carefully work our canoes and gear up to the portage which was marked. The trail had some deadfall on it, but it was easy to follow. The biggest challenge was the heat. One of our party was experiencing signs of heat exhaustion. After the portage a good swim, lunch and more water put us in spirits to move on. Lodge Lake and Moosemuck Lake are shallow lilypad covered lakes with nothing to offer for even a lunch spot. It was an easy paddle to the next portage which was not marked and not as easy to locate. The defined trail is to the left of the creek and once on the trail it is easy to follow. Again, the heat was the challenge. By the time we finished the portage and landed on Two Narrows lake we were looking forward to finding a nice site to stay at for our two nights. Reviewing the map the night before I had my eye on a marked site that is on a small peninsula in the northern part of the lake. By the nature of it's exposed position it should be an open site and hopefully offer some good swimming as well.
As we travelled north we checked out the two sites at the south end of the lake. The one on the left was non existent and the one on the right had only one open area for a tent. So we moved on. The site indicated on a large peninsula was again non existent. There seemed to be a pattern happening here. We crossed our fingers and proceeded to the northern part of the lake in hopes of finding our gem like we discovered the day before. As the small peninsula came into sight it was as I expected. Open and clear...there was just one problem. There were two people on the site with gear. I thought we were the only ones in here? Could someone else have registered and come into the park that day?
We approached the site and following the usual greetings we asked where they had come from and quickly discovered these were Park Wardens doing the clean up on the sites and portages. I explained our day and the challenges we faced getting to the lake, along with the extreme difficulty we were having locating a site to accommodate our group of five. We found out they had just arrived and had only cleaned up the one site at the south end of the lake. Looking for some assistance they only suggested going back to the site we already eliminated or looking at one more site that was to the north, reminding us that we must camp only on designated sites or we would be fined!!
Once again, exhausted and cranky, we moved on to look at the northern site only to discover this non-designated site was extremely rough and would only accommodate one small tent. Back to our Park Wardens for some help. Not likely...when we got back they had changed into their official Park Warden uniforms. I approached without the family and got out of my canoe to speak to them on "their" site. I explained our situation and expressed concern about the inability to obtain a campsite in a provincial park which is set up to have interior camping. Their answer was "it's backcountry camping, there are no guarantees". This I understand, when I'm camping on crown land. This was different. We had paid $150.00 for our permit and had a reasonable expectation that we would be able to find a campsite on the lake we were registered to be on. All that aside, I knew it was not the Park Wardens fault the conditions were as they were. In fact, they were in there to make things better, to clear the trails, to make the sites more accommodating so more people would venture into the interior.
Wait a minute!! What are these two Park Wardens doing on the only reasonable site on the entire lake? Aren't they park staff who are supposed to be promoting the use of the interior for paying customers? Shouldn't they be on a small rough site so they could develop it? Isn't that their job? So why are two Park Wardens on this site? I asked them. All I got was "we were here first and how were we to know you were in the park". Perhaps checking the registration would have helped. So I posed the preceding questions and asked if they would be willing to vacate the site and take a smaller site so our family could enjoy our vacation...."that's not happening". Nice uniform boys...I think it's gone to your head. We were getting nowhere with them.
We knew we couldn't carry on any further as we were exhausted and hungry. So we went back to the only other site on the lake and set up three tents almost on top of each other. The next morning we packed up and went over to an excellent rock diving site on the east side of the inlet just after the portage from Moosemuck Lake. After a wonderful swim with lots of pictures and video we headed out a day early. The two portages getting into Halfway Lake were easy and all the deadfall was cleared by our Park Wardens the day before...thanks boys.
We got to the takeout around 4pm with the help of a tailwind. Hoping to get some understanding of our situation my wife and I spoke to a woman who was very supportive of our position and offered to do up an incident report which would be directed to the Park Superintendant. She made sure we were taken care of for a site in the car camping area and told us a request for refund would be put in. Several days after we returned I spoke to the Park Superintendant who apologized for the actions of the Park Wardens and issued a policy to give priority to paying public in the park. He indicated they are making efforts to fix up the sites, include some thunder boxes, and clear portages. For our troubles and shortened vacation he also agreed to a refund of our park fees.
So, is Halfway Lake Provincial Park worth having on your list? At this time I'd suggest not. You would get just as much, if not more from crown land camping. Things may change, however we experienced conditions where campsites were virtually non existent, only one site had a thunder box, and portages are unmarked and unmaintained. On top of all that you are paying $10.00 per night per person, for what? If you want to support Provincial Parks go to Algonquin or Killarney where they provide something for your money. Lastly, if you go on crown land you won't be competing with Park Wardens for sites and potentially getting fined for being on an undesignated site.
So how do we get to the portage?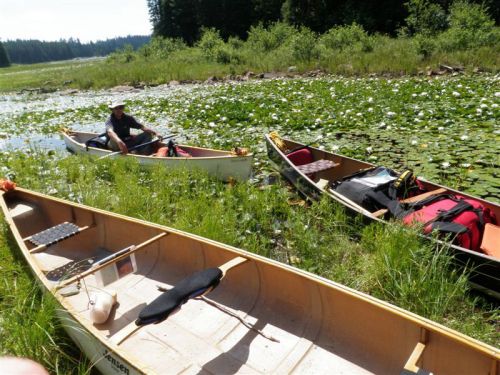 Camping on Two Narrows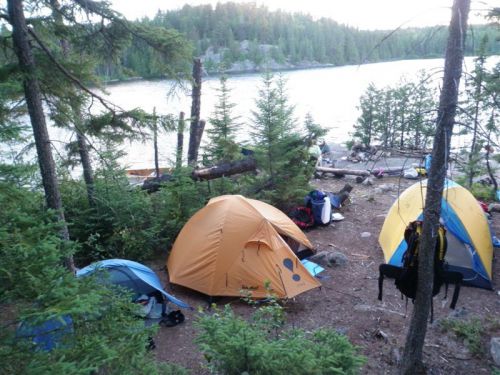 Our boys enjoying rock jumping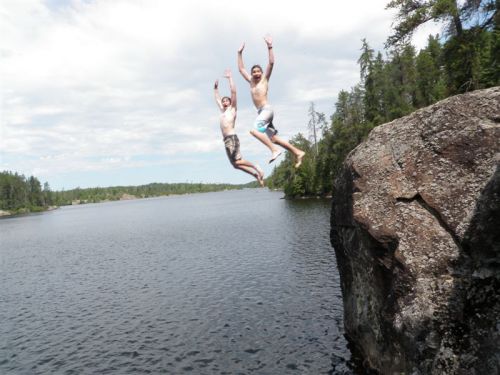 _________________
A literal mind is a little mind. If it's not worth doing to excess, it's not worth doing at all. Good enough isn't. None are so blind as those who choose not to see. (AJ)