The following is a report on my 7-day solo trip in northern Saskatchewan this September.
I based this trip out of Missinipe, using Ric Driediger's CRCO for shuttles and pre- and post-trip accommodation. Service there was excellent, as always. I was shuttled to Stanley Mission to start the trip, and picked up at its end at Dickens Lake, about 20 km north of Missinipe on Hwy 102. With 2 or 3 more days, I could just have paddled this as a loop from Missinipe, paddling down the Churchill to Stanley and returning from Dickens via the Stewart River. It would also be possible to paddle a shorter loop from Stanley, going up the Drinking and then returning south via the chain of small lakes that runs north from Guncoat Bay on Mountain Lake, on which Stanley is located.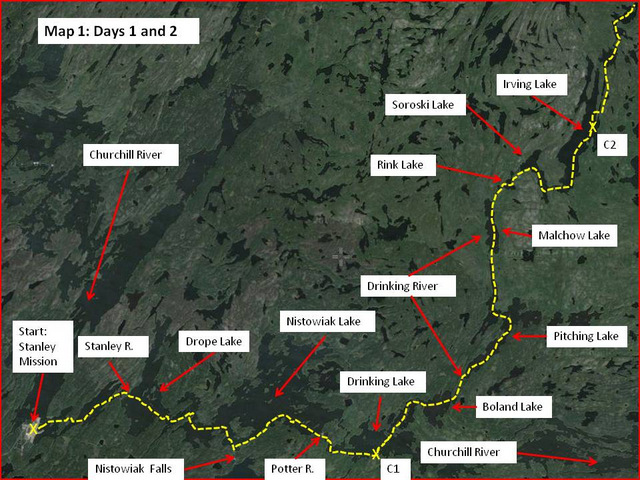 Day 1:
After a final packing and the shuttle, I was paddling out of Stanley by 9:30. My first stop was at the old church across the river, for a few photos. This is a Saskatchewan heritage site, the oldest church west of the Red River. Sigurd Olson recounts his visit to this church in "The Lonely Land".
Church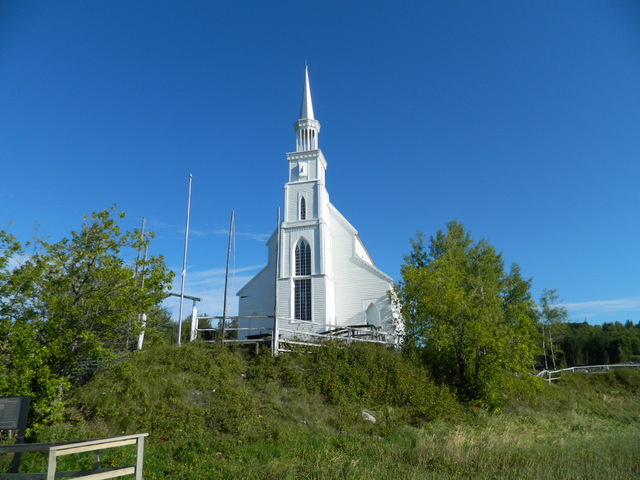 Plaque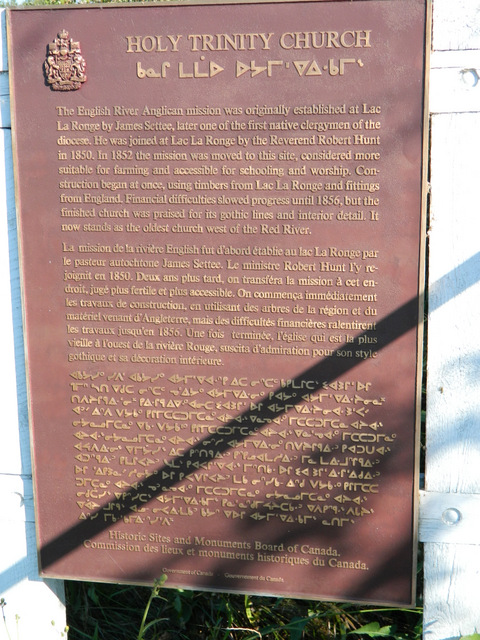 Graveyard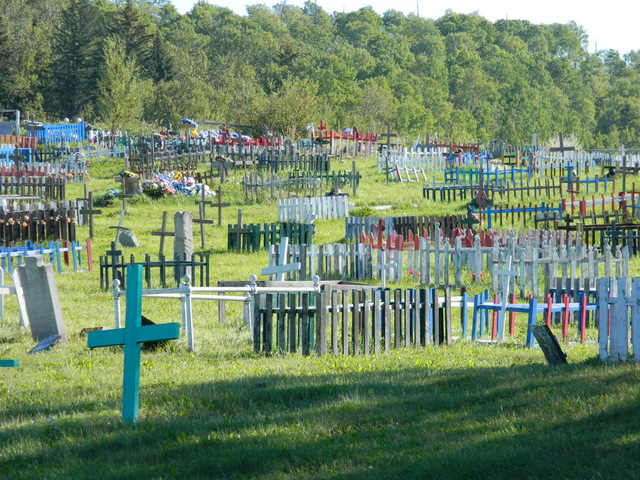 After sightseeing, I headed down the Churchill. I ran Little Stanley Rapid and continued through Drope Lake to NIstowiak Lake. Here I took a detour to the south to photograph Nistowiak Falls on the Rapid River. With this year's high water, the falls were impressive.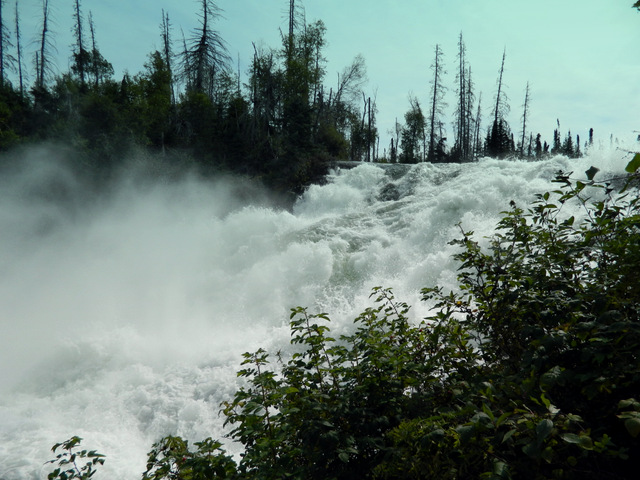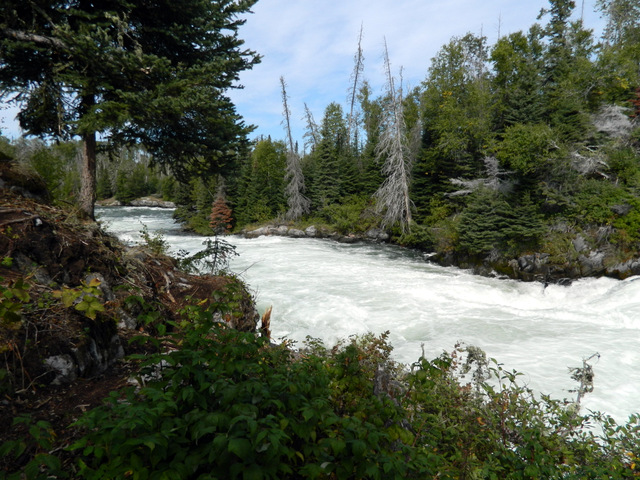 From there, I followed the south shore of Nistowiak Lake to Potter Rapids, at its exit. Here I portaged on the boardwalk on RR – the trail runs through a fishing camp here.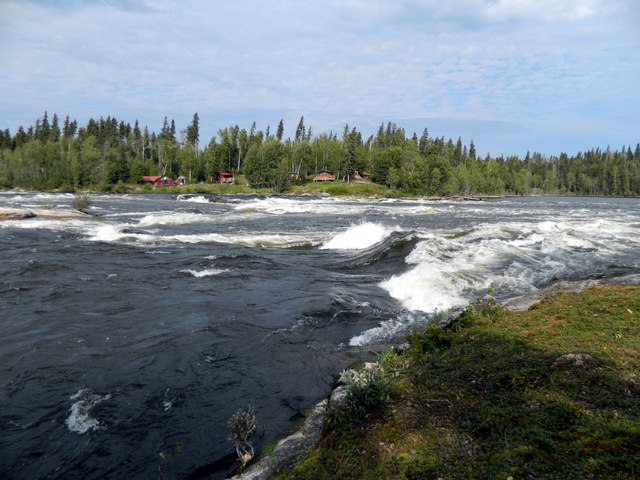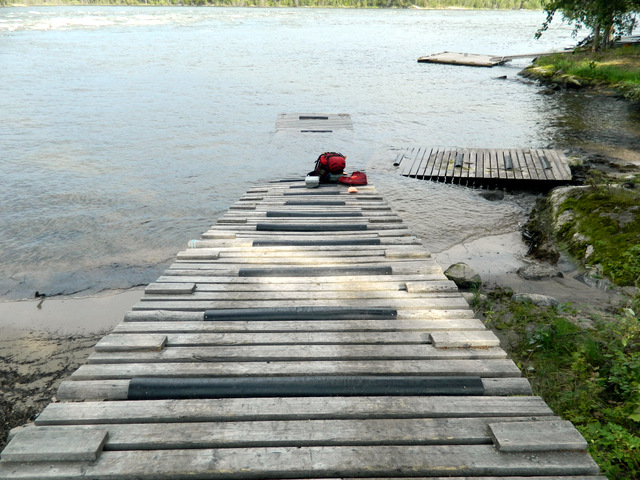 Below I paddled the swirling current out into Drinking Lake, and found a good campsite on a small island near the south shore, where I landed at 3:50. An easy travel day, 25 km with just one easy carry. It was warm and mostly sunny, with a tailwind for the most part, although a few showers motivated me to set up the tarp for dinner.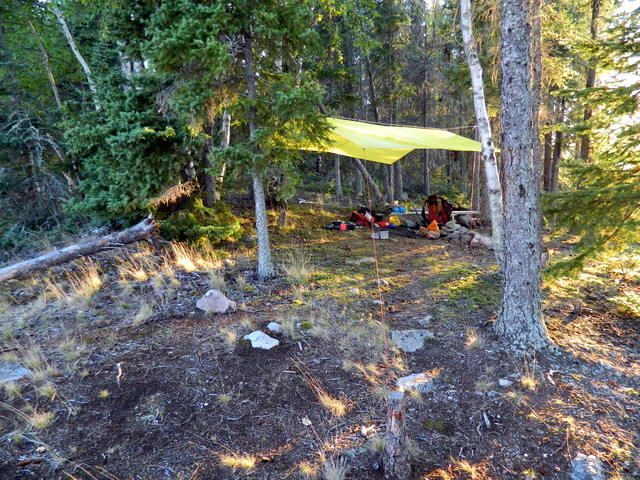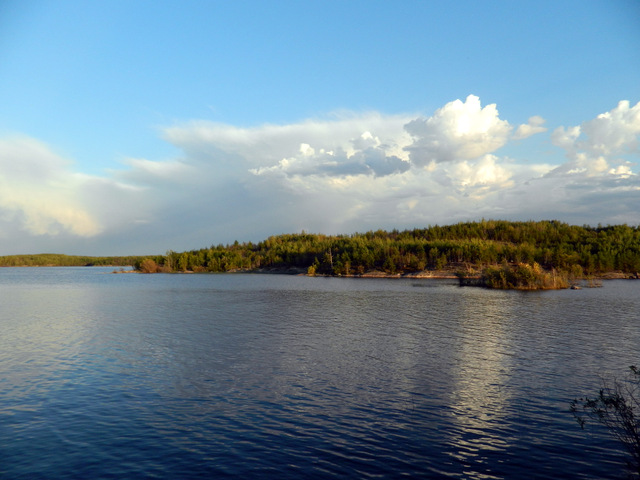 Day 2:
I was off at 8:20 on a cool, sunny morning. The afternoon would be warm, with an increasing north wind that would make paddling work. I headed north into Boland Lake and then the mouth of the Drinking River. The first portage, around Hunter Falls, was in good shape, as were all the trails today.
Drinking River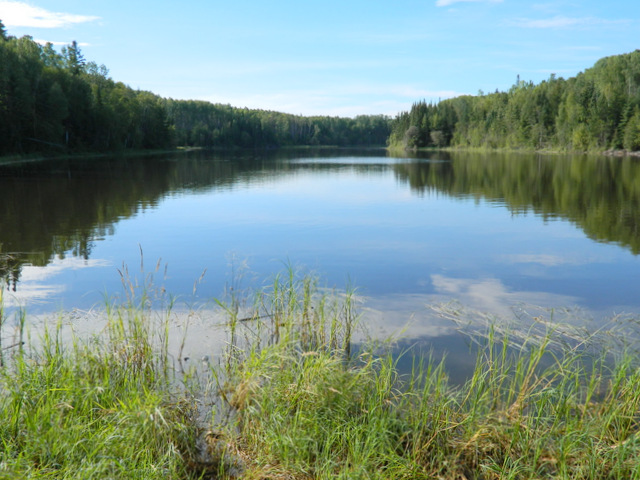 Hunter Falls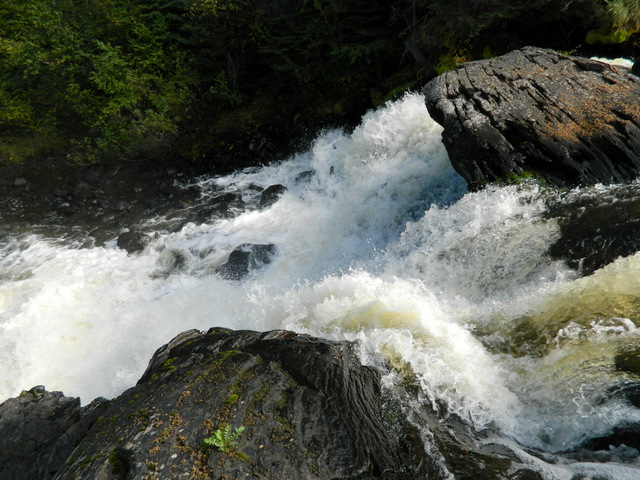 Dedication plaque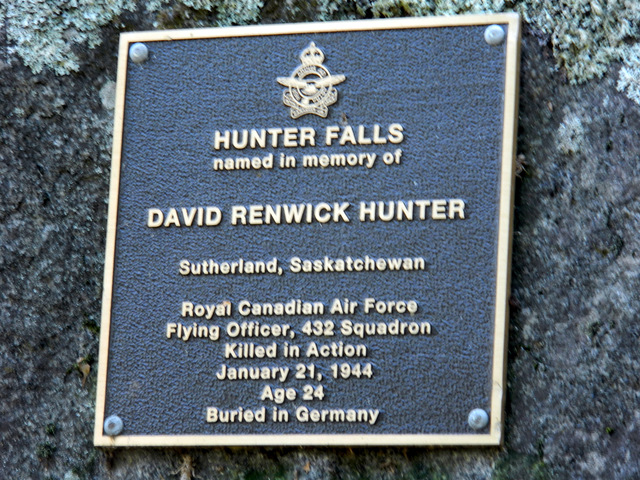 Heading up Pitching Lake, I was struck by how green the country was. I last paddled up here just after a major fire (1998) had swept through, and the area from Pitching to Wapassini was uniformly charred. The recovery has been quite remarkable.
At the head of Pitching, the first portage at Wick rapids was an easy slide with a cleared wading channel above.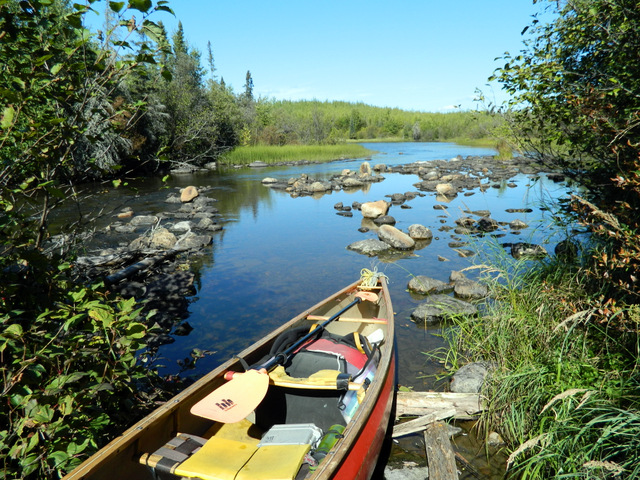 There are some attractive cliffs on the east shore of Malchow Lake.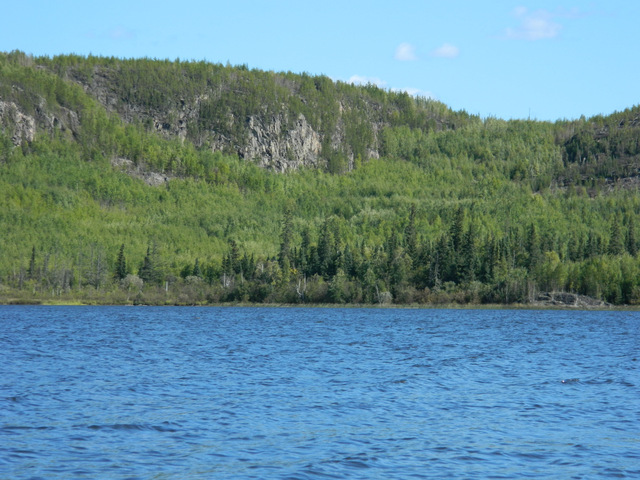 The portage to Rink is good but starts steeply uphill. Above Rink is a small falls.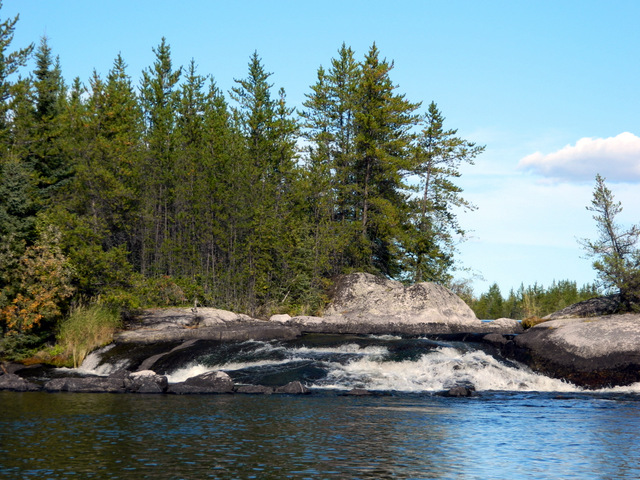 After pushing through some shallows above the portage, a southward leg on Soroski Lake provided a respite from the north wind. But when I turned north on Irving, the last three km to the campsite were a slow grind, pounding through the whitecaps.
Camp in Irving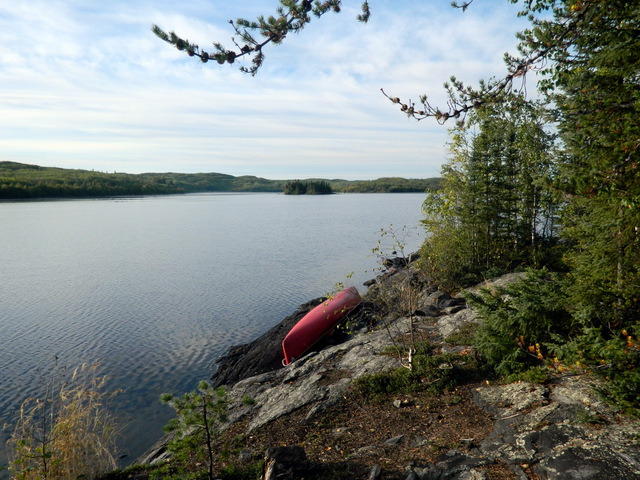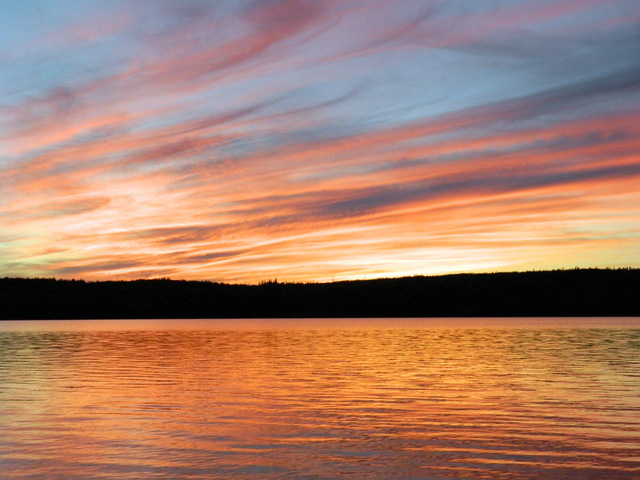 A longer travel day, slowed by the wind in the afternoon. 30 km and 5 portages.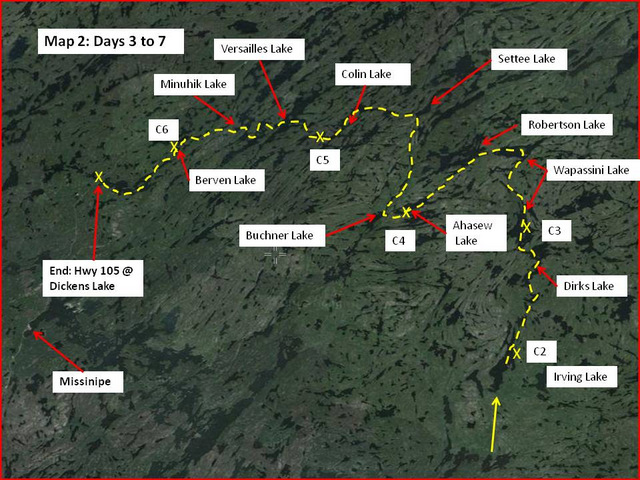 Day 3:
There was heavy fog on the lake this morning: I left after it cleared, at 8:10. It was a nice day, cool and sunny in the morning, warm in the afternoon, but without much wind. Here the route works north through small ponds and intervening rapids to Dirks Lake, and then to the large, sprawling Wapassini Lake.
Rapid, Drinking River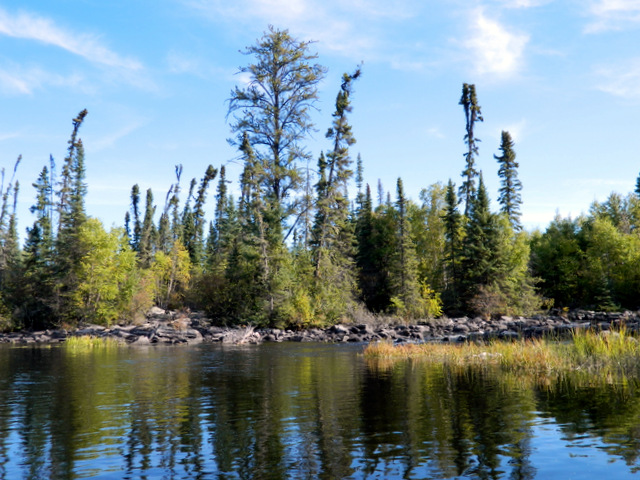 I found a good campsite on an island in Wapassini, and pulled in by 5:00, leaving time for a bath and dinner before dark. Today's travel was 18 km, with another 5 portages.
Camp in Wapassini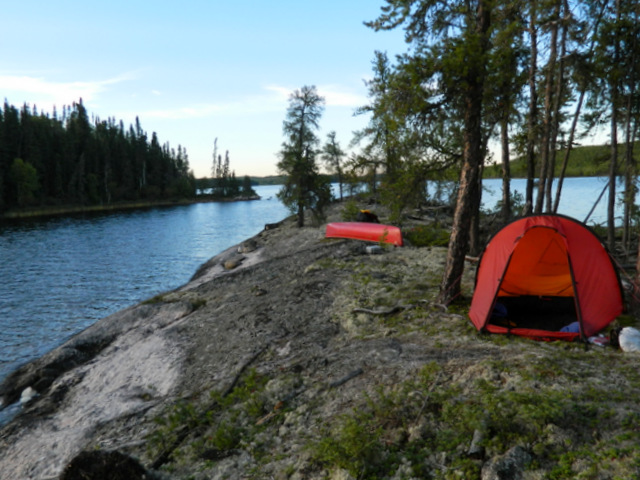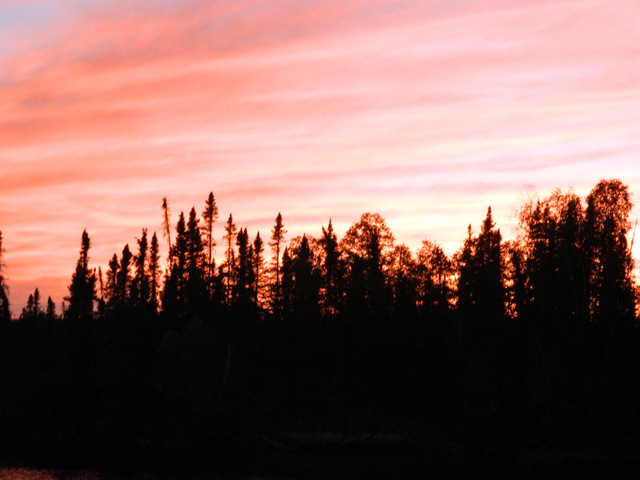 Day 4:
I was underway at 7:55, on another pleasant morning. But the wind would soon become strong and gusty from the WSW, making paddling strenuous once I reached the north end of Wapassini and swung west.
At the portage from Wapassini to Robertson Lake, beavers had constructed a large dam, turning the first section of the portage into a canal: I slid the boat up the bank and poled the first 50 meters of the portage to reach dry ground.
Beaver dam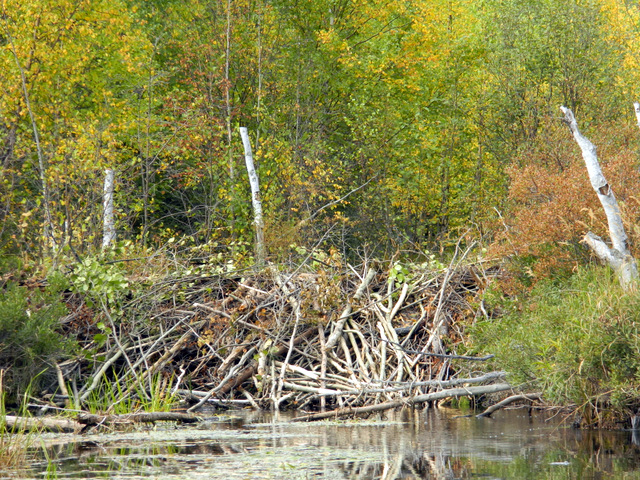 Portage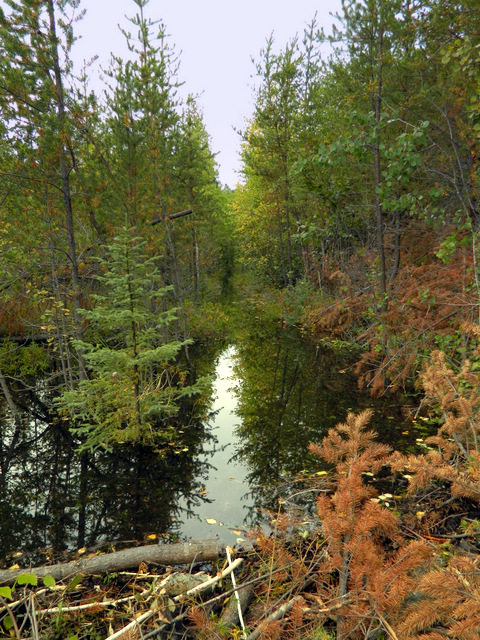 It was a struggle into the wind to reach Robertson's south bay and my route to Ahasew Lake. This looks like an occasional winter route, and portages are much less obvious. The longest carry towards Ahasew follows this tiny drainage through the woods.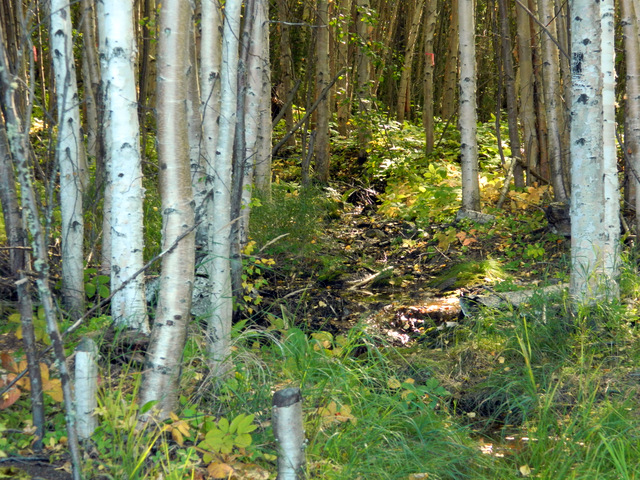 I had hoped to reach Buchner Lake today, but as I battled west on Ahasew I realized that would not happen before sunset. So I swung south into the channel to Palmer Lake, and camped on a small rocky point I had used years before. It's a small site, but the picture doesn't do it justice: there's room for a tent and kitchen, and a good dock. Rocks are needed for the tent – fortunately, the ones I gathered 13 years ago were still in place! 24 km today, some a struggle into the wind, and another 5 portages.
Camp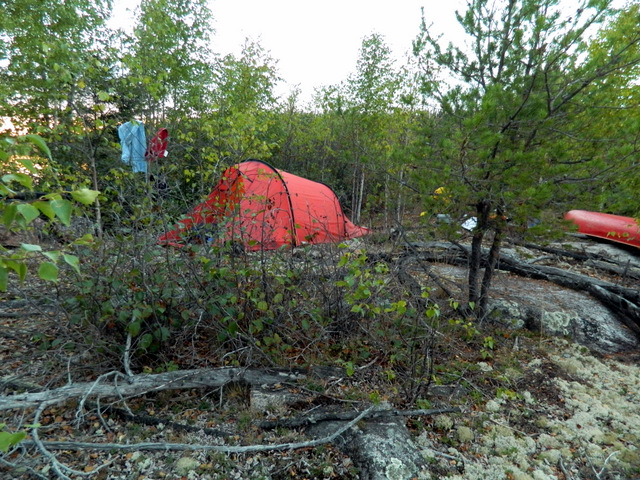 Sunset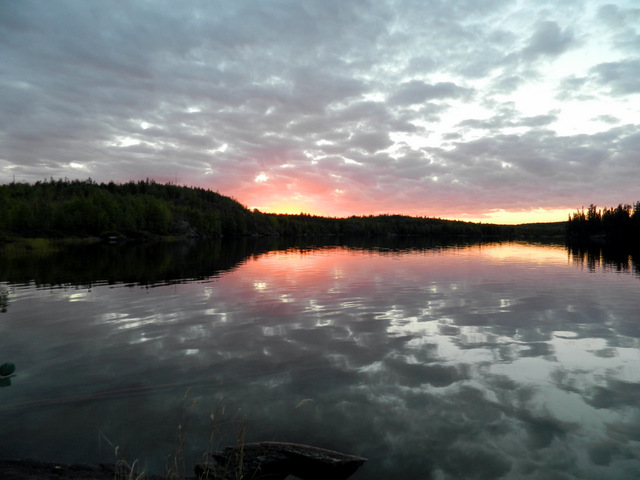 Day 5:
Despite my delay yesterday, I wanted to get back on schedule and reach my intended Day 5 campsite in Gowrie Bay of Colin Lake. The weather generally cooperated, a mix of sun and cloud with just a SW breeze in the late afternoon (when I was heading SW, of course).
It took me longer than I had expected to find the Ahasew end of the portage to Buchner: once I found it, I had to do a bit of clearing to get the canoe through at the start. So I didn't reach Buchner until 10:00 am, and had to "hurry" for the rest of the day – not many photos as a result. The route from Buchner heads north through a series of small pretty lakes, connected by portages, to Settee Lake.
Portage north of Buchner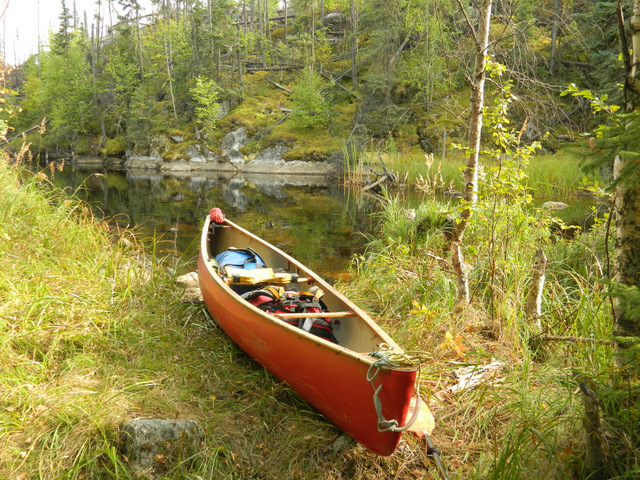 From Settee the route turns west via three portages and two small lakes to Colin Lake. I reached my campsite at 6:30 – time to set up and cook in daylight, but I had to do the dishes by lantern light. Whew – a long travel day, 30 km and 9 portages. After sunset, there was a dramatic lightning show in the west, and there were wind gusts and showers after I retired to the tent.
Day 6:
Last night's storm has blown away, leaving another pleasant sunny day. The wind would rise from the west again in the afternoon. I set out at 8:20 on a beautiful calm autumn morning. Two easy portages took me to Versailles Lake.
Small lake before Versailles
From Versailles, another short portage leads to Minuhik Lake. From its west shore, a chain of three small lakes and four connecting portages take you to Berven Lake.
Portage route landing in Minuhik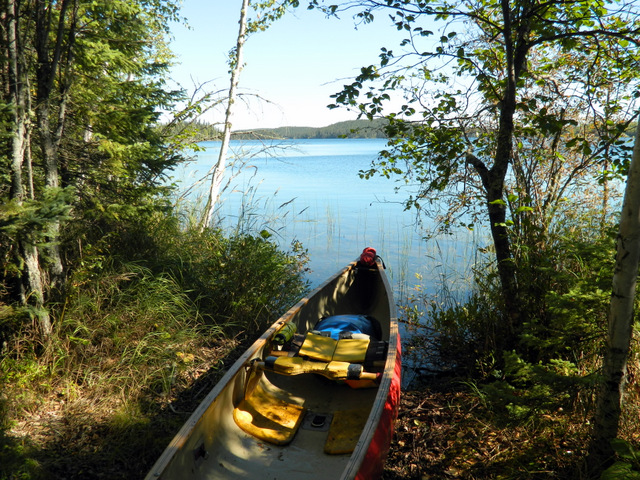 After a short joust with the west wind, and a last portage around the wrongly named Hawkins "Peninsula", I reached the island campsite in Berven Lake by 5:00. A few dark clouds threatened dinner, but blew away after shedding only a few drops of rain. In celebration, I had a second rum and lemonade. It was very good. A steady travel day, not a race like yesterday: 18 km and another 8 portages.
View from Berven Camp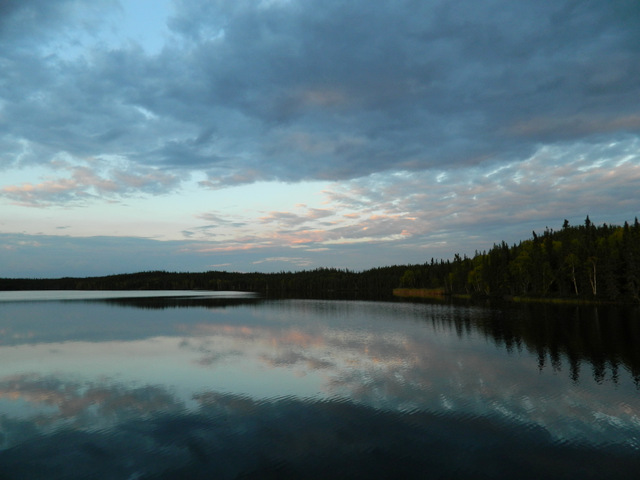 Day 7:
With just a few km remaining, I had a relaxed morning. I baked blueberry bread for breakfast, and then cleaned up both the gear and myself to prepare for "civilization". It was cooler and overcast this morning, but with no imminent threat of rain. The usual west wind would arise to slow my progress on Dickens Lake.
After a short paddle, I made the last portage into Dickens Lake. This portage follows in part a mining exploration road, which has been freshly graded since I last crossed it: at that time it was slowly reverting to forest, so perhaps the exploration camp it served is operating again. With gold prices high, this area has seen much exploration and considerable development over the past decade.
Into Dickens Lake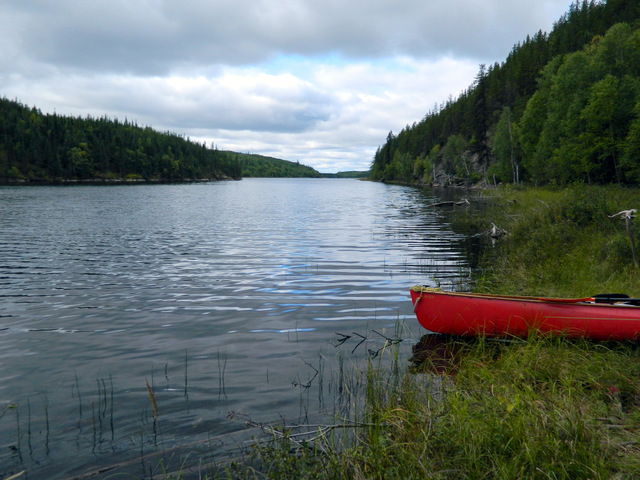 In Dickens, I paddled west, despite the wind's best efforts, and reached the takeout at the little recreation area where the road passes Dickens, en route to Reindeer Lake, Wollaston Lake, Stony Rapids, and other great paddling destinations.
The End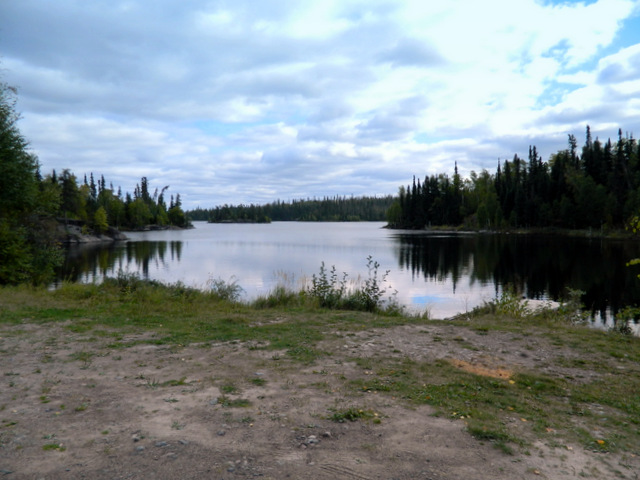 Today a mere 10 km and 1 portage. Trip totals 155 km and 34 portages.
This area of small lakes and streams, north of the Churchill and east of Hwy 102, has been my favourite spot for fall tripping for the past 17 years. I hope you have enjoyed this look at it, and that you get a chance to visit it someday.
-jmc