---
Here's a short report on my 6-day solo trip in Saskatchewan this September.
As usual, I based my trip out of Missinipe, using Churchill River Canoe Outfitters (CRCO) for pre-and post-trip accommodations and the vehicle shuttle. And also as usual, the service was friendly and efficient.
A day of sun was followed by a day of snow, and then four days of varying degrees of dampness: so photography on the trip was rather spotty.

The Route:

From Missinipe, I was shuttled north to Brabant Lake, where I put in at the dock across from the gas station. I crossed Brabant Lake and went up the Chartier River to Wierzycki Lake. From there I portaged south to Buchanan Lake, and went via Calder Lake and three short portages to MacLean Lake.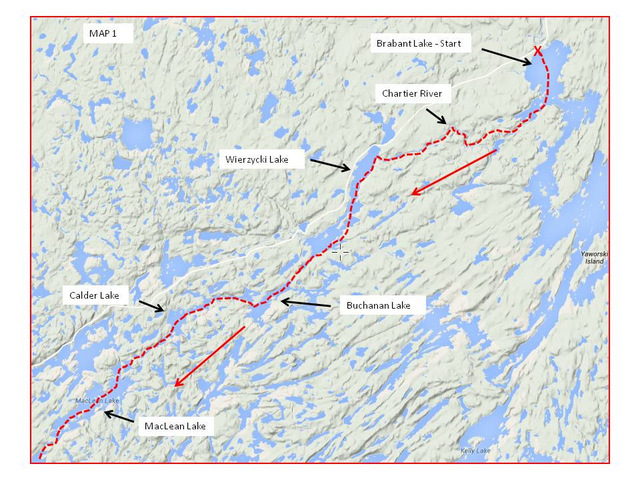 From MacLean, I went south to Hutchings Lake and then east to Zacharias Lake. From there I had intended to loop east through Lust Lake to reach Colin Lake: however, weather delays resulted in me going directly to Colin from Zacharias. From Colin, I went via Kliman, Fearnside, Stauffer, Ducker, and French Lakes to reach Otter Lake (and Missinipe) on the Churchill River.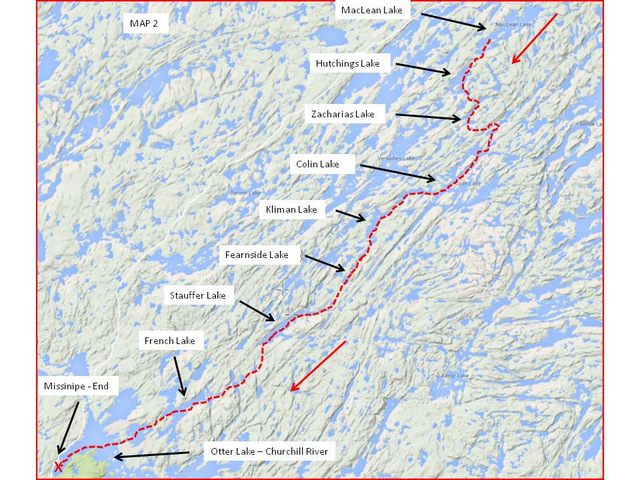 This part of the route was similar to one described by Ralph here:
http://www.myccr.com/phpbbforum/viewtop ... 12&t=38772
with a few minor variations I'll describe.

Day 1

After the drive to Brabant Lake, I was paddling by 9:20. It was calm, sunny, and warming up nicely as I paddled across Brabant to the mouth of the Chartier River. Water in the Chartier was quite low: while its five portage trails were in good shape, the low water made the take-outs and put-ins awkward in a couple of places. The low water also made progress through the large marshy area – choked with wild rice – below the second rapid downstream of Wierczyki a bit of a struggle.

By the time I reached Wierzycki, clouds were rolling in on a rising NE wind. I paddled down the lake, and was lucky to find a feasible camp spot on the south tip of a small island, in the south end of the lake.

Day's statistics: 25 km, 5 portages, lots of photos.

Brabant Lake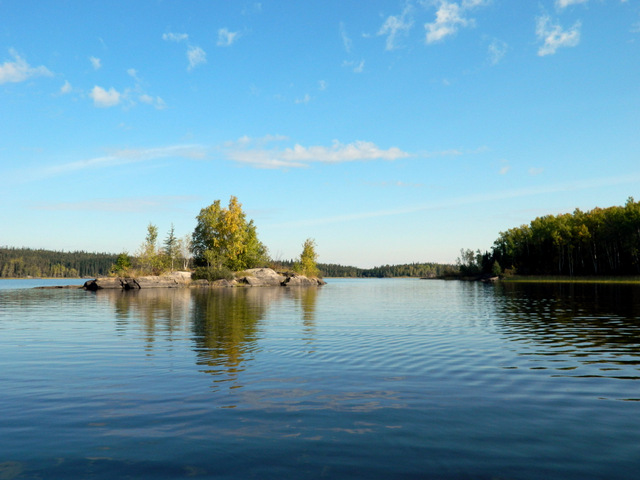 Entering the Chartier River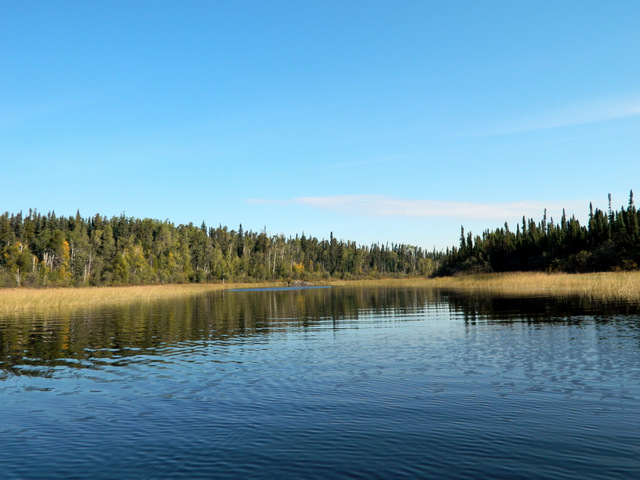 Low water on the Chartier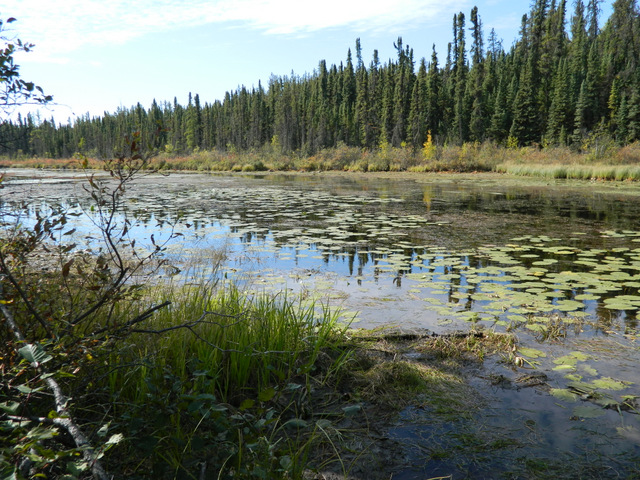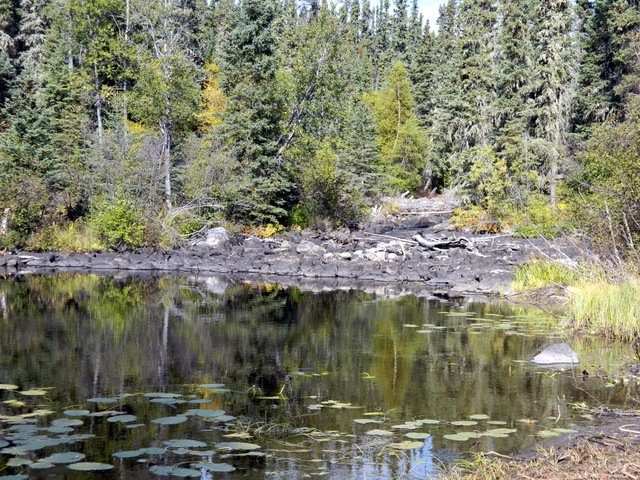 Portage landing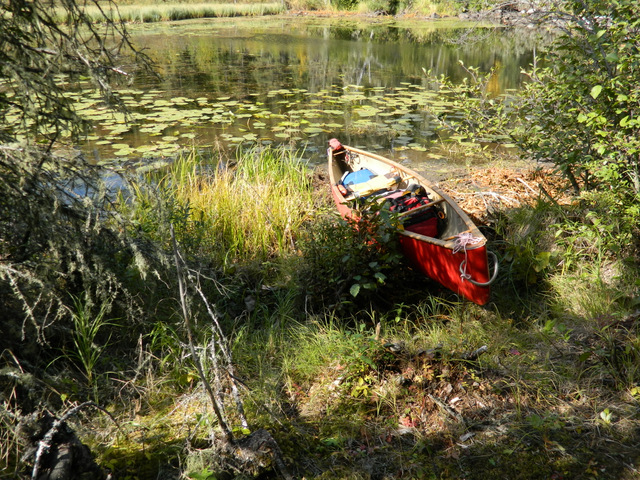 Narrows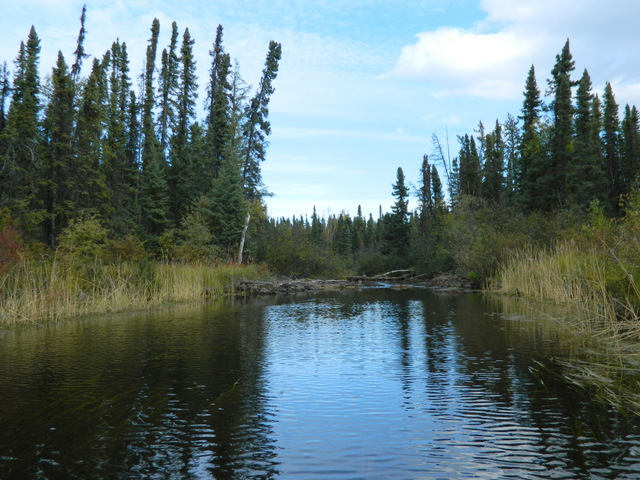 Wild rice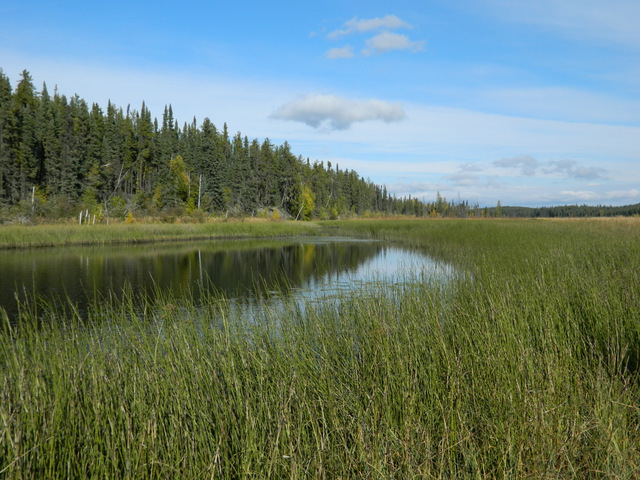 Almost dry rapid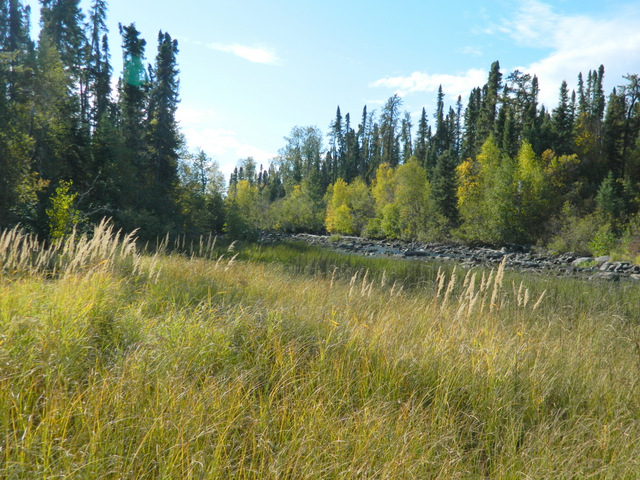 Day 2

The forecast had been for a 40% chance of showers today, so I wasn't surprised to hear some rain on the tent overnight. I was surprised, at dawn, to see the rain was now wet snow, driven by a strong and gusty NE wind. I knocked the snow off the tent and went back to sleep – hypothermia had little appeal.

By noon the snow had mellowed to sleet, so I exited the tent long enough to dig out a snack and a beverage. The precipitation finally ended about 3:00, too late in the day to make travel worthwhile in the short days of fall. I went out at 4:30, baked for breakfast, then cooked supper, cleaned up, and went back to bed. Losing this day of travel cut out the Lust Lake loop from my plans.

Day's statistics: 0 km, 0 portages, 0 photos, 1 book read.

Day 3

It had cleared overnight, and the temperature had dropped as a result. There was ice in the water pail, ice on the tent, ice on the canoe, and some snow still on the ground. It was sunny when I got up, and the mist on the lake was very pretty. But by the time I was paddling, the overcast was solid again.
The portage to Buchanan Lake was in good shape: a lynx had crossed it since the snow. Once I reached Buchanan, the wind swung into the south – a headwind – but didn't grow any warmer. I paddled through Theaker Bay into Calder Lake. There are pictographs in the narrows here. From Calder I went via 3 portages and 2 small ponds to MacLean Lake, and paddled down to a good camp spot in the south end of the lake. A brief shower of icy rain after supper met the day's precipitation requirement.

Day's statistics: 22. 5 km, 4 portages.

A chilly morning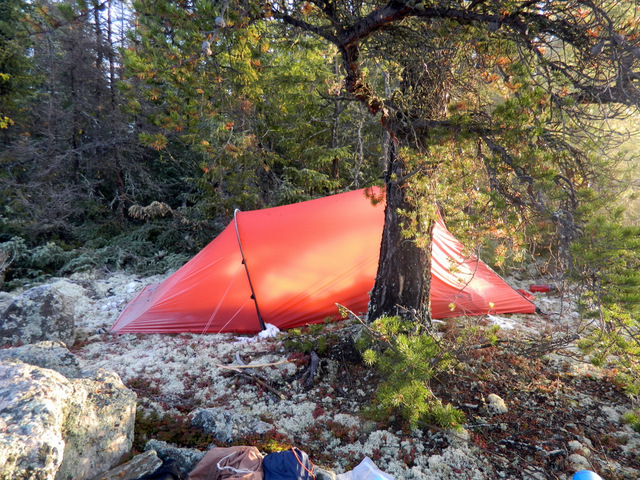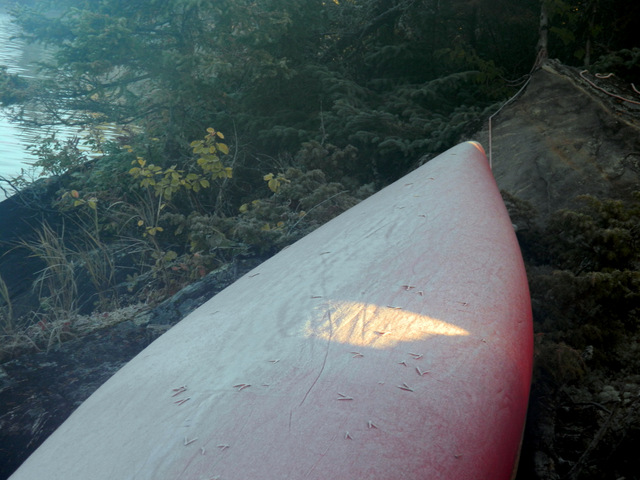 Mist on Wierzycki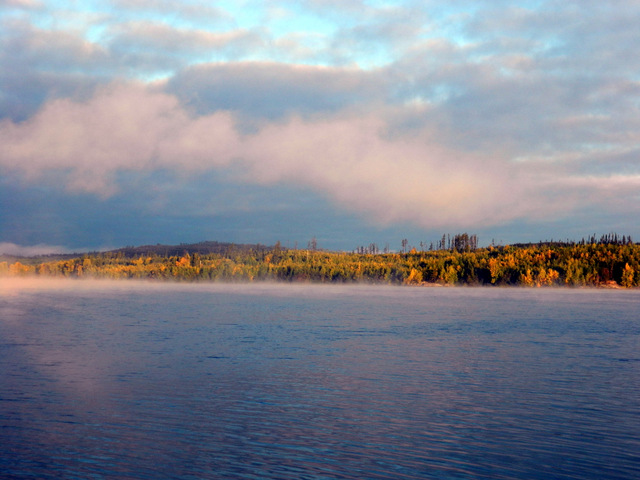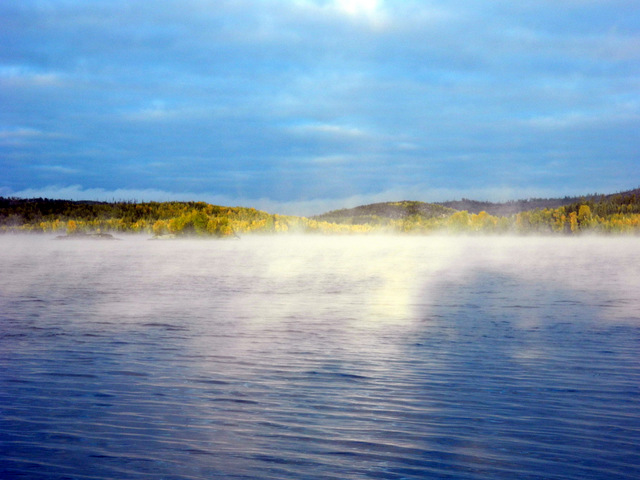 Portage to Buchanan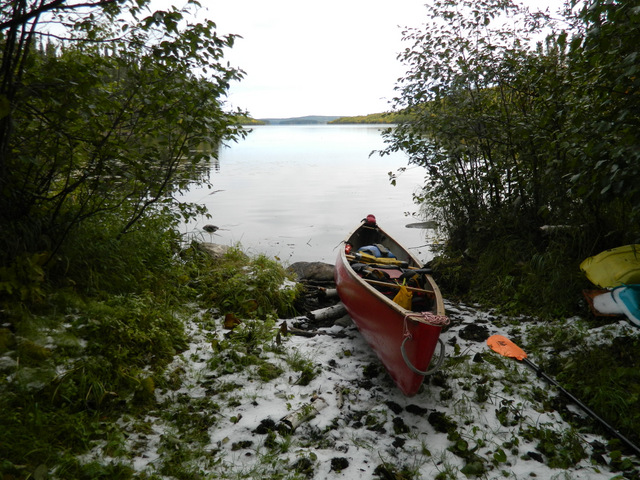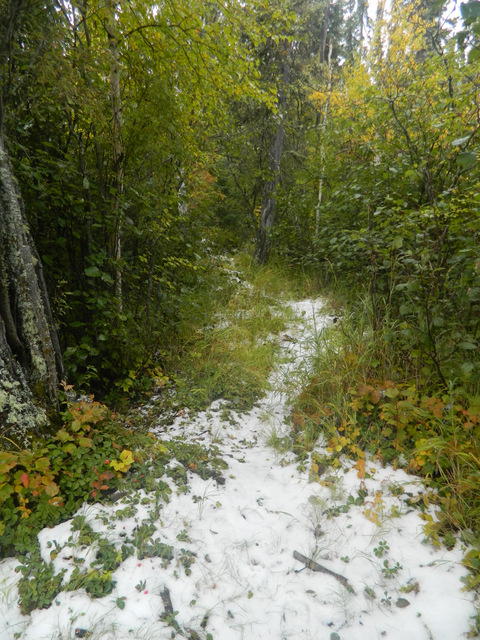 Pictographs in the Theaker Bay – Calder Lake narrows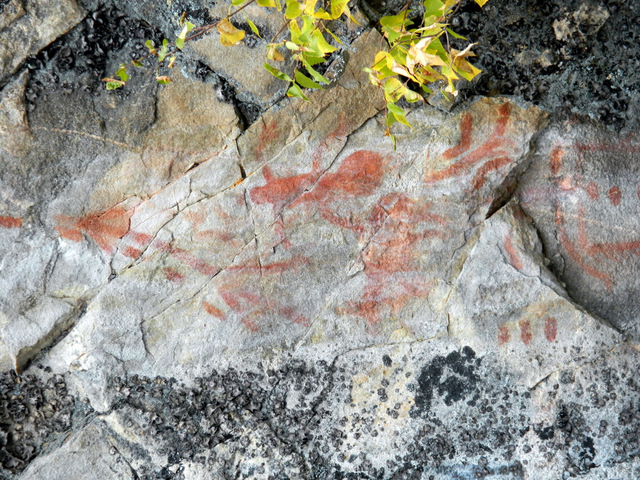 Looking back at Calder from the first portage landing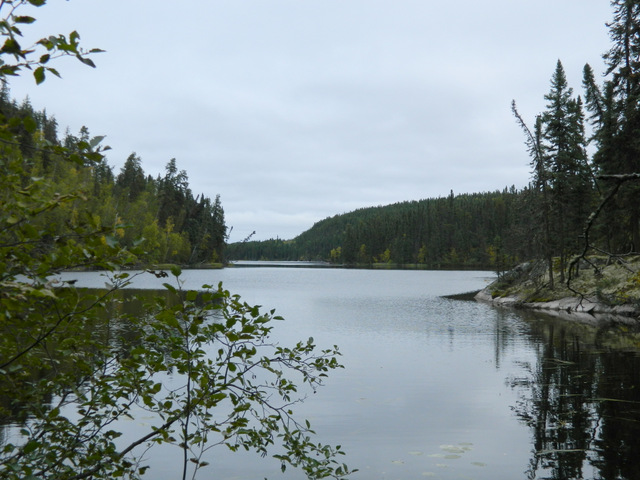 Pond on portage route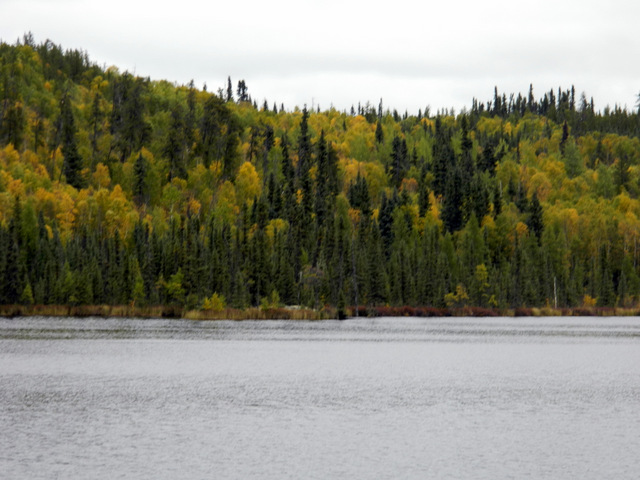 Portage to MacLean Lake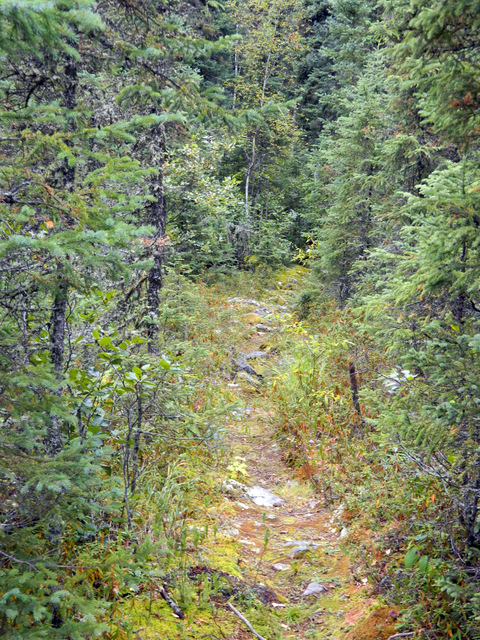 Campsite on MacLean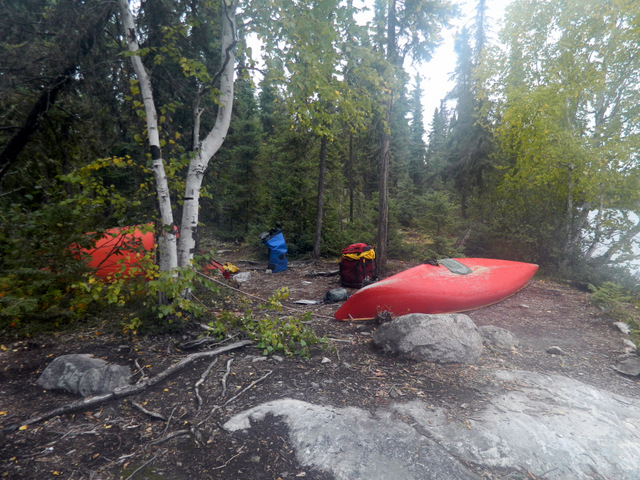 Day 4

Low gray overcast, drifting mist, and a southwest breeze. The two portages to Hutchings Lake went well: a bypass trail now avoids most of the mud on the carry out of MacLean. From Hutchings there were two portages to Zacharias Lake. For the second carry, there is a choice of two parallel trails, maybe 20 meters apart. I took the more northerly, which has better footing, and fell with the canoe anyway, perhaps due to overconfidence.
Drizzle and then light rain set in as I negotiated the three portages from Zacharias to Newburg Bay in Colin Lake. The rain stopped, and the wind dropped, when I reached the main body of the lake: the reflections in the water were quite attractive. I paddled on to a campsite in Gowrie Bay, where I set up the tarp, just in case, before pitching the tent and making dinner.

The sun appeared briefly, just in time to set.

Day's statistics: 20 km, 7 portages.

Launching in Hutchings Lake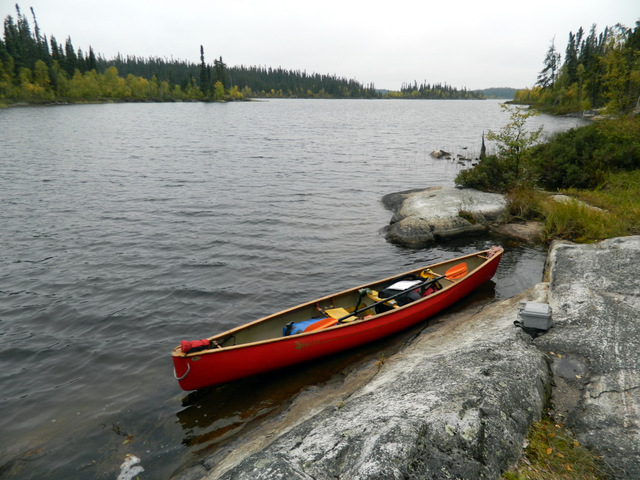 Rock face in Colin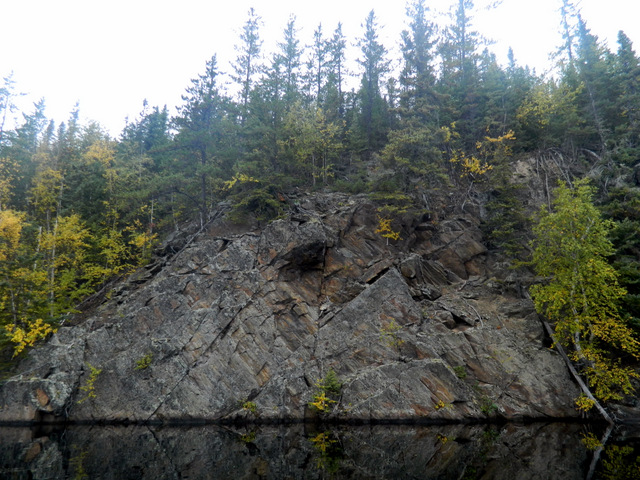 Gowrie Bay camp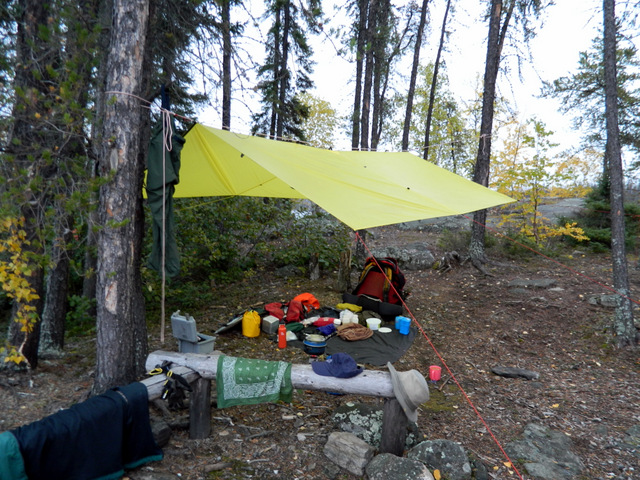 Gowrie Bay sunset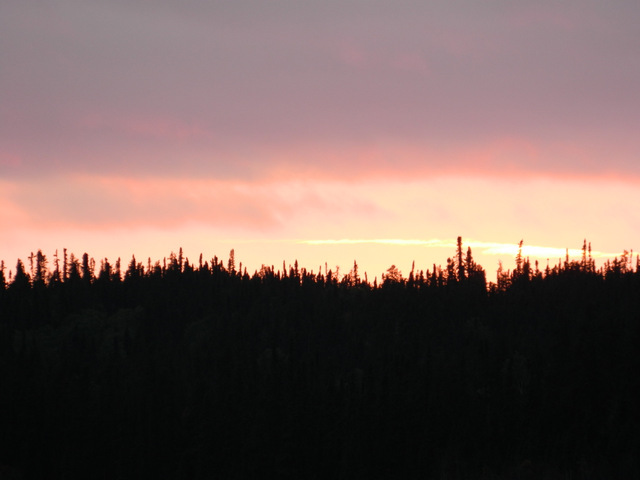 Day 5

Mostly sunny early, but the clouds would be back by noon. I paddled to the end of Gowrie Bay and portaged to Kliman Lake. From Kliman to Fearnside Lake I did not use the portage by the (unmarked) creek, but an older trail near the south end of the lake, which passes two ruined cabins at its midpoint.
The portage out of Fearnside was in good shape, thanks to the efforts of the Edson group, but with low water the bulrushes at the put-in were a challenge. Mist and drizzle began again as I portaged from the creek below Fearnside into a small pond, and paddled down its tiny exit creek to Stauffer Lake. Although water levels seem generally low, beavers had kept this creek high enough for easy passage, with just a couple of dams to drag over.
The rain stopped as I neared my island campsite in Stauffer, and there were signs of clearing. I put the tarp up anyway, and just as well: a 7:00 sunset was followed by a 7:15 shower, and there were two thundershowers later in the evening.

Day's statistics: 17 km, 4 portages.

Put-in on Kliman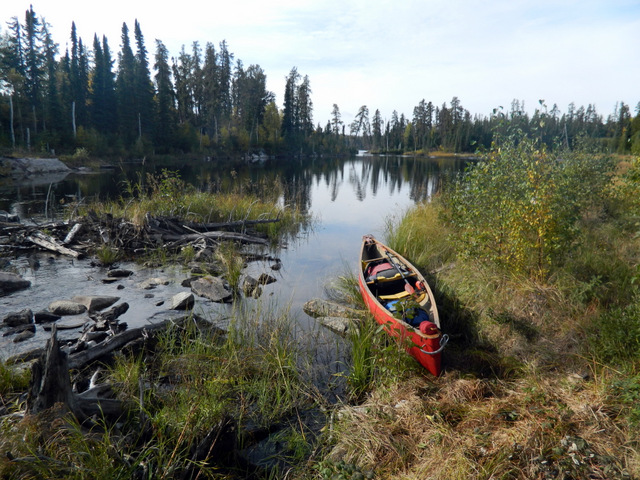 Kliman Lake




Portage to Fearnside




Ruined cabin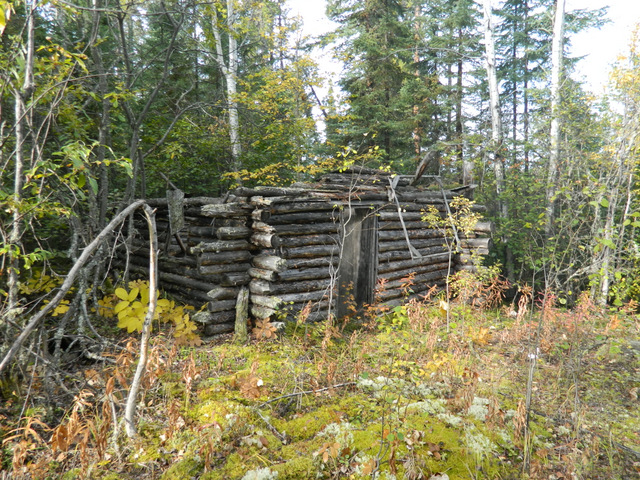 Beaver dam at Fearnside outflow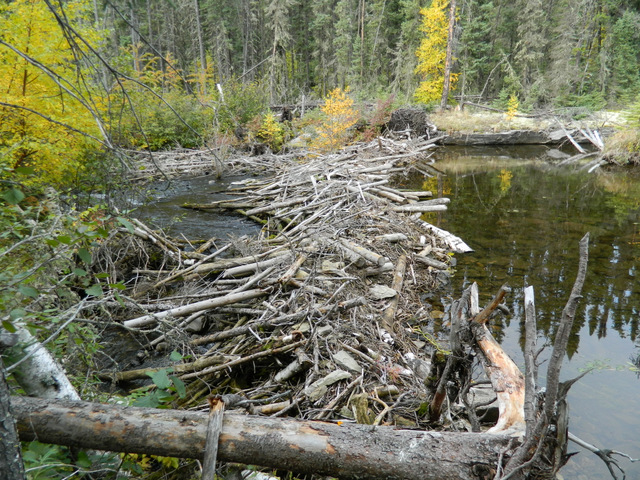 Portage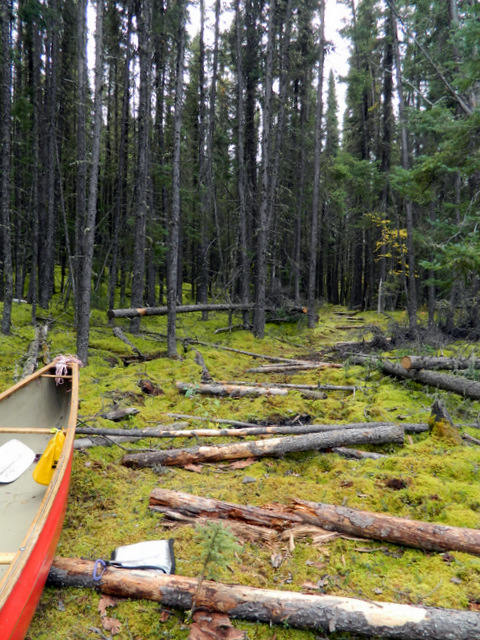 Bulrushes at put-in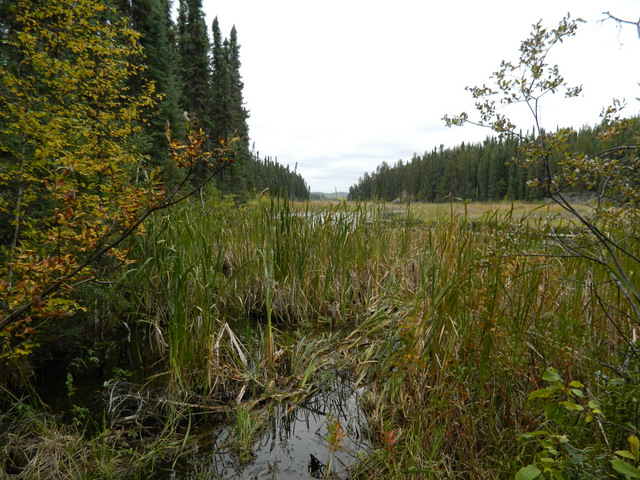 Views from Stauffer campsite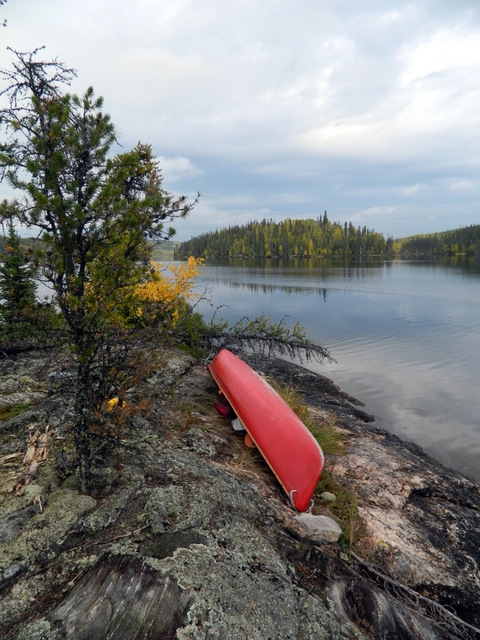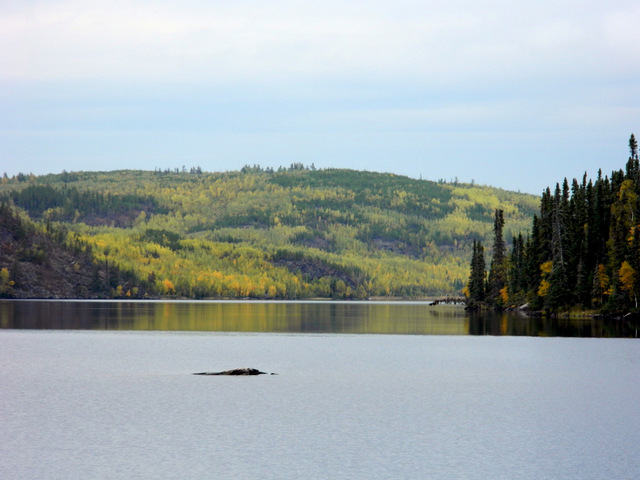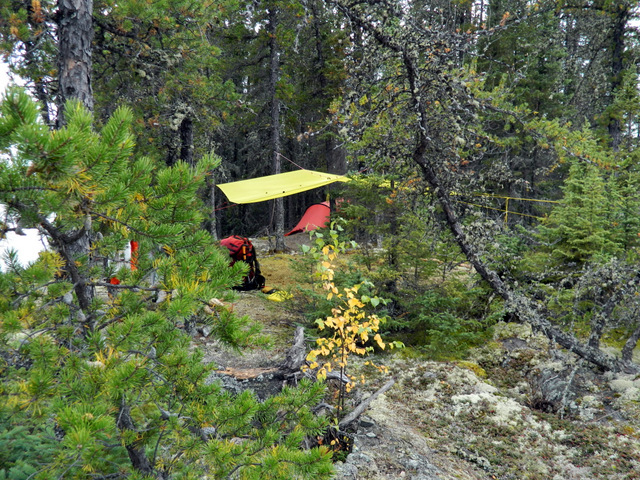 Signs of clearing? Not likely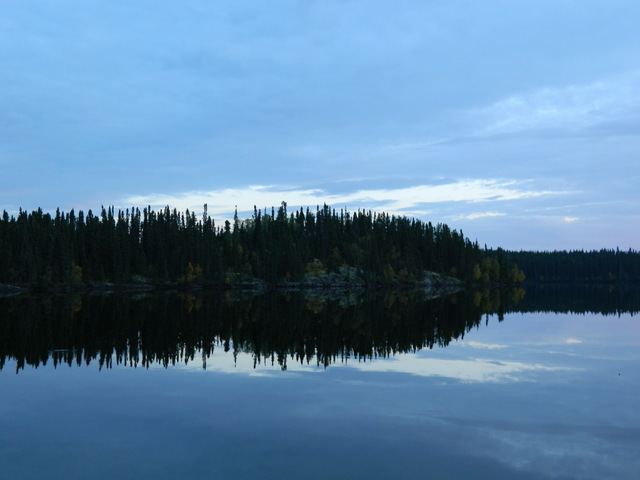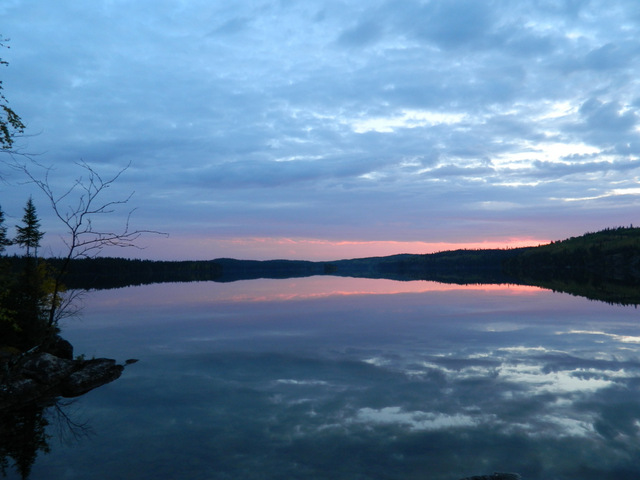 Day 6

Up to overcast, mist, and occasional drizzle. Rather than follow the stream out of Stauffer, I opted for the portage from its southwest tip, which rejoins the stream well below all the rapids, and not far above the small lake expansion. The trail was in good shape, about an 18 minute walk one-way with a load. By obvious signs, Stencil's "big bear" had preceded me across the trail. There were many deposits, but thankfully no sign of the depositor.
On and off mist and drizzle persisted as I continued through Ducker Lake and portaged to French Lake. The Ducker – French trail is heavily used, and the landings muddy. A rising west wind slowed my progress on French Lake, until I could get into the lee of its NW shore and paddle to the start of the portage to Grandmother Bay on Otter Lake.

This trail is also heavily used, and is in very good condition apart from some mud at the ends. I wasn't sure I would be able to cross Otter Lake to Missinipe because of the wind. But soon after launching, it began to rain heavily, and the wind died down. So I was able to cross to Walker Bay and reach Missinipe – the end of another good trip – and the rain stopped as I paddled in. My landing marked the beginning of a warm and sunny stretch of weather, which would last several days.

Day's Statistics: 23 km, 4 portages.

Trip totals: 107 km, 24 portages.

Creek, end of portage from Stauffer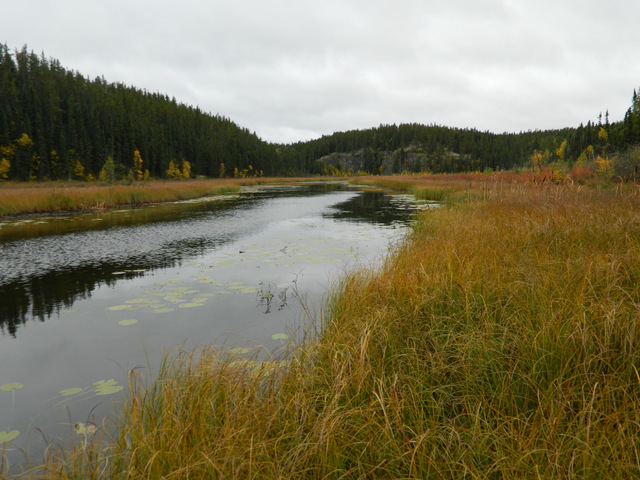 Looking back at French Lake, from the Grandmother Bay portage landing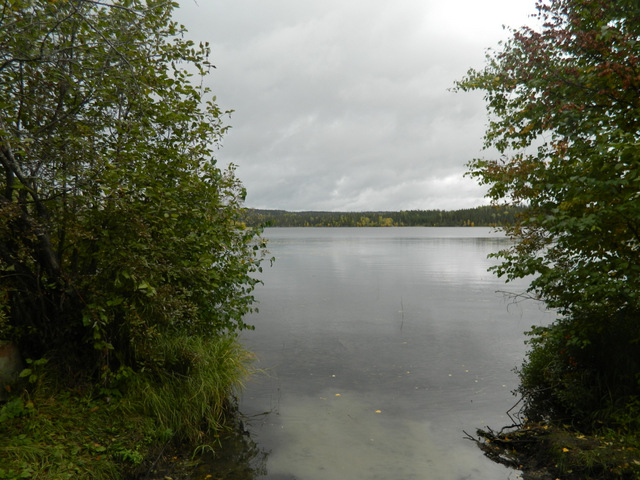 Trail to Grandmother Bay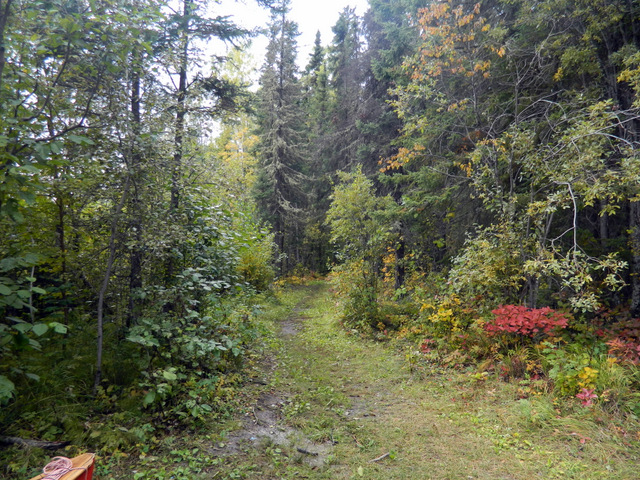 Grandmother Bay, Otter Lake, just before the deluge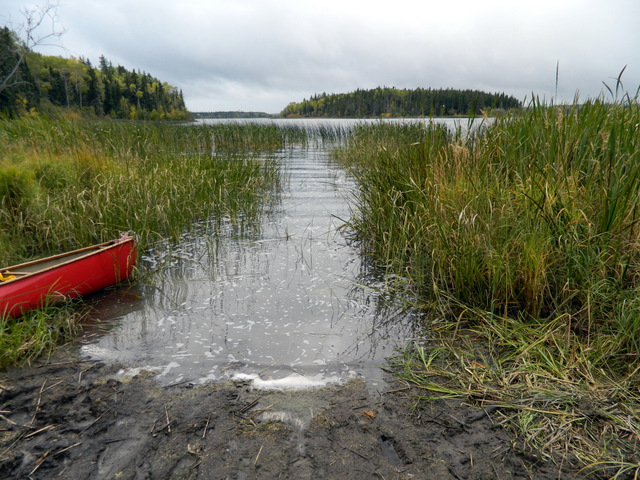 Thanks for looking.

-jmc