Cratty Lake to Hailstone Lake, September 16 -22, 2016
This fall's solo, an "almost-circle" lake hopping route, designed to avoid the 2015 fire area.
Friday, September 16th
I had hoped to start a little earlier in September this year, but after reading Ralph and Mark's posts about the weather, I think I'm glad I didn't. After overnighting in Missinipe, I was shuttled north to the Cratty Lake put-in the next morning, and was paddling by 9:15. It would be a warm day, mostly sunny, with a gusty wind from the southwest. I did a short pullover into Grey Bay, then portaged into MacLean Lake and paddled to the start of the three portage route to Calder Lake.
First lake past MacLean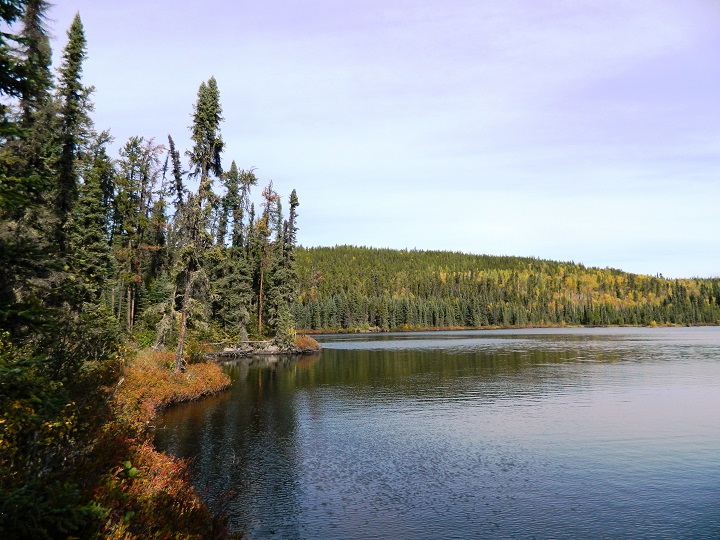 I stopped for lunch at the start of the third portage: this trail was its usual steep, rocky, rooty self, but it wasn't too wet this year.
Pictograph in Calder narrows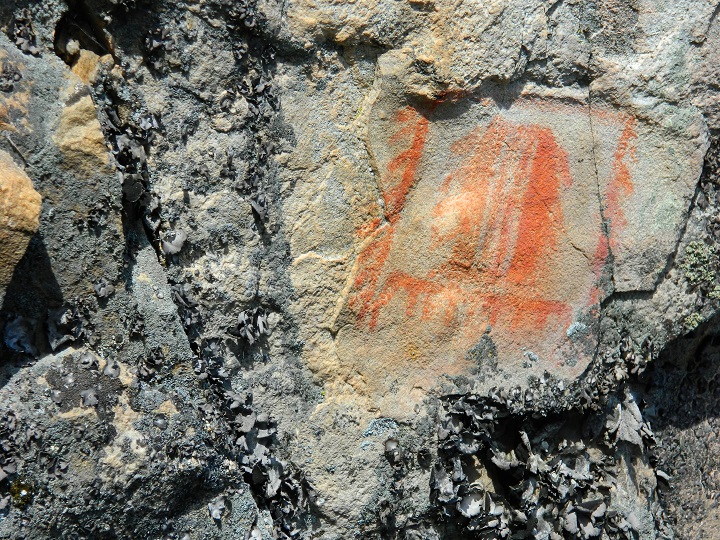 I paddled through the Calder Lake narrows into Buchanan Lake, and continued into its eastern bay, passing a couple of abandoned trapping cabins on the way. I found a good one-tent site on a small island, and pulled in to set up camp at 4:00, leaving lots of time for dinner and camp chores before dark.
View from Buchanan camp
About 24 km today, with 4 portages and one short pullover.
Saturday, September 17th
There were a few spits of rain last night - not sure where that came from - but it was a mix of sun and high overcast this morning. I was on the water just after 8:00, paddled to the end of the lake and made the well-cleared but little-used portage into the narrows of Hornet Lake, cutting out one small fallen tree near the put-in.
Travel down Hornet was slowed by a rising wind from the SSW. The two portages to Settee Lake were in good condition, although the second was a little wet at the ends.
Landing, portage to Settee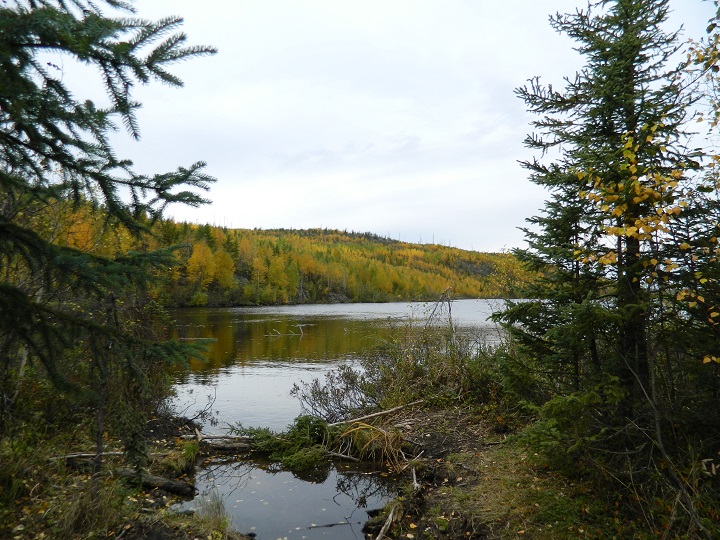 Travel south on Settee was a grind into wind and whitecaps, and the sky was now overcast. I elected to stay at the good island site rather than push on to Solymos lake under these conditions.
After setting up camp I baked for breakfast, then continued with supper. There were a few brief sprinkles of rain as I cleaned up, so I adjourned to the tent early to read.
Settee campsite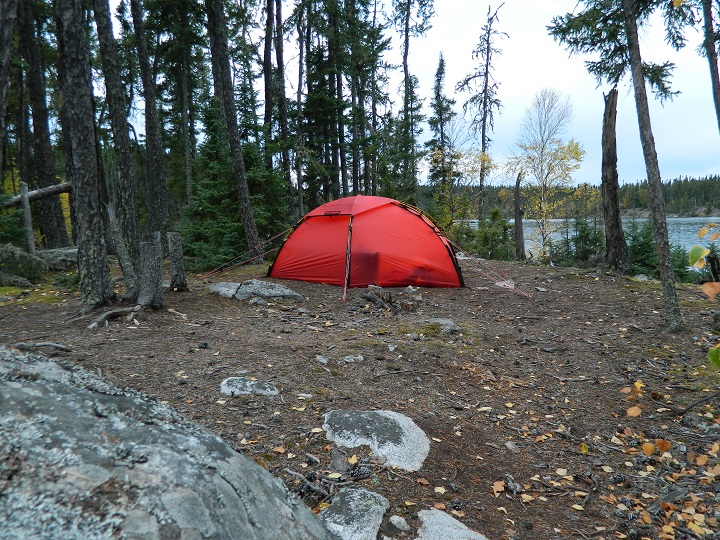 About 18 km today, with just 3 portages.
Sunday, September 18th
There were a few showers of rain late last evening. It later cleared to bright moonlight, but the sky was overcast again this morning. The wind had been gusty from the SE overnight, but was now light and from the SW.
I was off just after 8:00, paddled south through Settee, and took the most easterly portage trail into Solymos Lake.
Fall colours in Solymos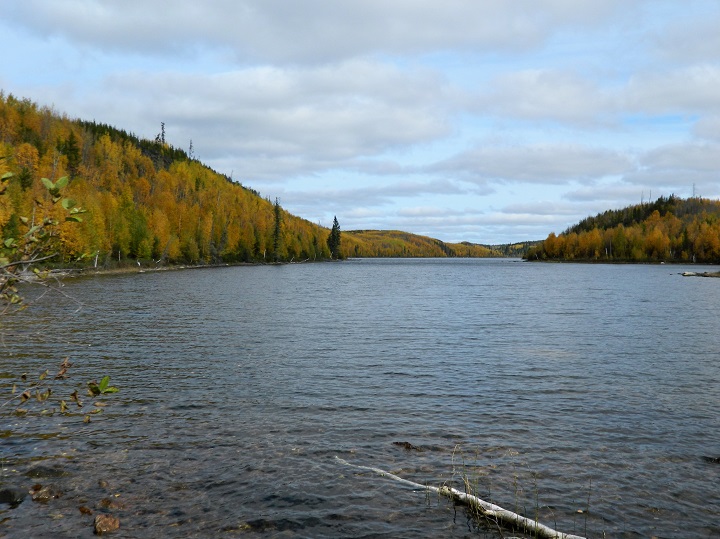 From there I elected to take the direct portage route to Robertson Lake, rather than going via Stempel Lake. The portage was well marked and easy to follow, but contained one very wet stretch: logs had been laid down here, and you wouldn't want to slip off them. I shuffled cautiously across with my loads, using a paddle as a prop.
I had lunch at the entry to Robertson's southern bay, and then continued across the rather vestigial portage route to Ahasew. I had to wade and drag around Forseth "island", then continued west, turned into the channel to Palmer Lake, and pulled in to camp on the point at 5:30. A later day, and I needed my headlamp to finish the camp chores tonight. The sky had cleared a bit, and it was calm at sunset: I hoped for good weather tomorrow.
About 24 km today, with 6 portages, and some wading and dragging.
Monday, September 19th
No travel today. Showers overnight turned to steady rain driven by a strong NW wind this morning. I curled up and read, munching on lunch snacks in the tent. Later in the afternoon I set up the tarp, providing a sheltered area to cook supper and enjoy a bit of a wash. I'd planned to explore a route into Propp Lake today, then retrace my steps and make the portage to Buchner Lake, but Propp will have to wait for another year.
0 km today, 0 portages, 1.5 books read.
Tuesday, September 20th
The sky was clear when I got up at 6:00, but it was soon cloudy again. I packed up a wet camp, drying things as best I could, and set off at 8:30 into a brisk N/NW breeze. I paddled back into Ahasew and west to the portage to Buchner. The trail was a bit overgrown, and more than a little slick on the steep section, so the carry didn't go as quickly as I hoped. With a rising wind slowing progress north from Buchner, it didn't look like I'd make my intended campsite in Gowrie Bay of Colin Lake. On a positive note, the clouds were breaking up, and the warm sun was very pleasant.
I spotted a lone otter in Luther Lake, and after stopping for lunch at the end of the portage into Stempel, saw an otter family group as I paddled up the lake. The portage into Solymos was a bit of a mess - it looked like someone had left a bag of trash on the trail, which had been torn up by a bear. As I plodded past the trash and bear crap, I hoped the campsite at the north end of the lake had not suffered a similar fate.
Fortunately, it had not. I arrived at the site at 3:00, and elected to camp, since I couldn't have reached Gowrie Bay before dark, and couldn't think of another good campsite on the way. It was a good opportunity to dry out the gear, and soon all was shipshape again. I split some wood, and sat by a small fire for a while after dinner, just for fun.
About 18 km today, with 5 portages
Wednesday, September 21st
It was clear, still, and cold overnight. Visibility on the water was near zero this morning, until a light south breeze arose to scatter the fog around 8:00. After taking a bit of time to dry the tent, I was paddling at 8:50.
The westernmost portage from Solymos to Settee, and the three portages to Colin, were in good shape and went well. In Colin I paddled east and south of Sandomirsky Island for a change. I was slowed a bit by a rising S/SW breeze, and was surprised to see how far south on Sandomirsky last year's fire had burned.
The wind died while I ate my lunch at the Gowrie Bay campsite, but it was soon back and rising. So I took the short route to Versailles Lake rather than looping south through Kliman Lake. There were a couple of "step-over" trees down on the second portage to Versailles, where the trail had been grazed by the fire. After portaging to Minuhik, I headed south and found a good campsite on a small island in the narrows, pulling in at 4:30. Clear and calm this evening - likely another cool night coming.
Sunset in Minuhik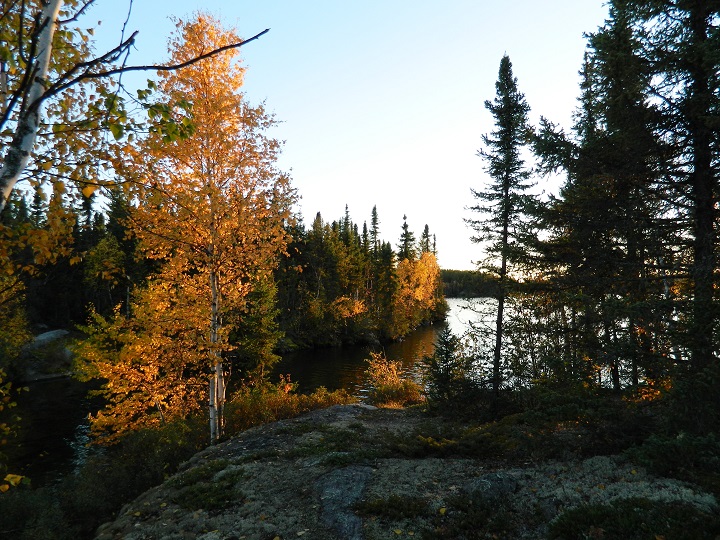 About 22 km today, with 7 portages.
Thursday, September 22nd
Heavy dew and fog again this morning, but it would clear to a fine sunny day. I elected to take a slightly less direct route back to Hailstone Lake this year, so I paddled north and made the two portages into Asbell Bay of McLennan Lake. Then I turned SW, and dragged over two beaver dams into a small lake: it probably would have been easier to make a short portage here through the reeds.
The portage from this small lake to Thorvaldson Lake was a bit indistinct at the start, and not in the best of shape. There were a few down trees, and I had to do some branch removal before I could get through with the canoe. Fortunately, the portage out of Thorvaldson to a small unnamed lake was in better shape. I had lunch at the end of this carry, then paddled on and made the portage to Berven Lake, also in good condition. From Berven a well-used and maintained trail led to Hailstone Lake: I paddled across it and reached the landing at 3:40, giving me just enough time to unrig the boat and pack up the gear before my shuttle arrived. Then it was back to Missinipe for a shower, a cold beer, and a comfy bed.
Memorial plaque at Hailstone landing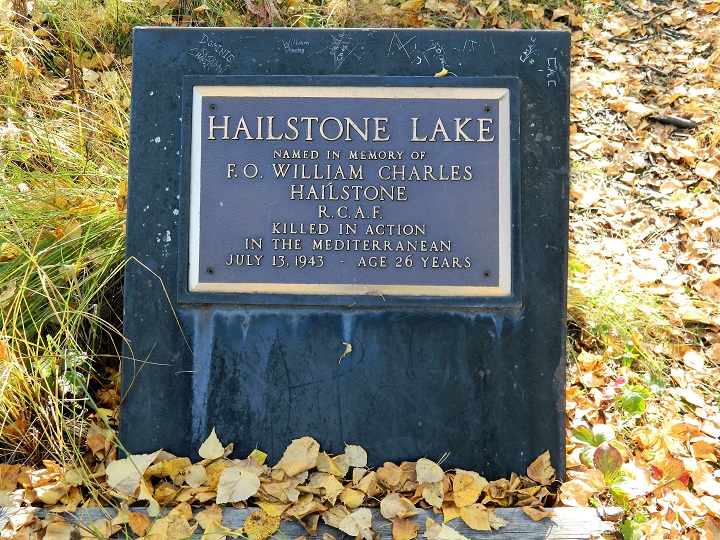 16 km today, with 6 portages. Trip totals 122 km and 31 portages.
Thanks for reading, I'd be glad to answer any questions about the area.
-jmc