I was trying to pass along some details from our 2014 Bloodvein trip when I finally decided to write up a trip report before it all fades from my little brain. Information is from memory with some details from Erica's journal so it's quite possible some details were screwed up.
Day 1 – July 3 – Drive to Wallace and camp at Siderock Lake
My wife, Erica, and I started a Bloodvein trip at Wallace Lake in the evening on July 3rd 2014. We picked up Charlie Simard in Manigotagan. He would drive our car back to his place, then move it to the Bloodvein River bridge for July 15th, the earliest we could imagine finishing our trip.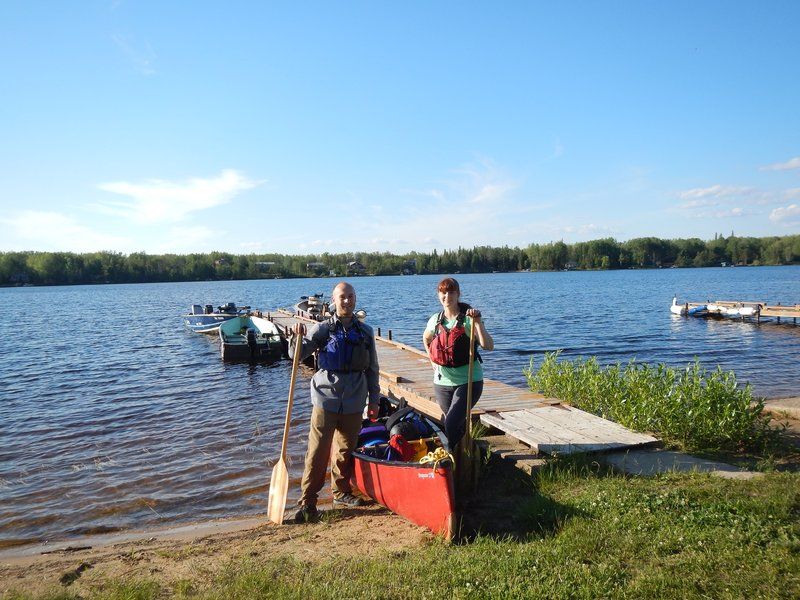 Launching at Wallace Lake
We portaged over to Siderock lake and camped on an island that was full of garbage but near the beginning of our lengthly portages that awaited. It was late by the time supper was made which meant we were late to wake up. Staying up late, packing for the trip, caught up.
Day 2 – July 4– First Mother (Siderock Lake to First Lake)
Not only were we late to get moving but I forgot both our compasses back at camp. I tied loops on them first thing in the morning, so we wouldn't lose them, then of course left them behind. By the time we started out on the dreaded Three Mothers portages to Obokowin it was after noon.
It's said that when heading to Aikens Lake, it's best to use the Obukowin portages in a dry year and the Broadleaf in a wet year. Well for our route to Artery Lake we had to use the Three Mothers portages. 2014 was a wet year.
The second "Mother"
There are three portages (the mothers) to get to Obukowin. The first, from Siderock to "First Lake" was rough and the longest of the three. The second, from First Lake to "Kidney Lake" was worse but not as long. The third was the shortest and wasn't hard to travel. Having only one large barrel we ended up having five portage loads. That means one of us would be triple carrying.
We had a little trouble getting onto First Lake. The swampy end to the portage was too wet to carry gear on but too dry to drag the boats through. Erica then found a path around the swamp that saved the day.
We arrived at the beginning of the second portage to find out what Real Berard and Martin Kehoe meant by "floating bog". It looks like shore but it quickly sinks as you walk on it. A turtle walked over Erica's foot at the end of the bog. We found a nice little campsite here. Lucky we did because it was already 17:30 and a long walk to Kidney Lake. It was a little awkward retrieving water at this site because of the floating bog. Other than that it was a great site to check out blisters and rest for the four big portages and five lakes between us and Artery.
Day 3 – July 5 – Second & Third Mother (First Lake to Obukowin)
The beginning of the portage from First Lake to Kidney Lake is marked with a large cairn nicknamed The Stoneman. It's high up on a rock, overlooking the lake. It was to keep paddlers from following the snowmobile trail which would be disaster. Unfortunately trees have grown high enough to block it from view of paddlers on lake.
Arriving at Kidney Lake was not fun. I didn't realize we were in floating bog until I was waist deep with a canoe hat. I got out and trudged to the shore and dropped the canoe. I didn't make it back to Erica in time and she discoved a different hole to sink to her waist in.
By the time we got to Obukowin, we were so excited to paddle that we just about flew into Carrol and camped on a peninsula just east or the mouth of the Gammon River. We looked at how far we travelled that afternoon and figured it would take us just over two hours to get to Craven Lake where we'd start our next set of portages in the morning.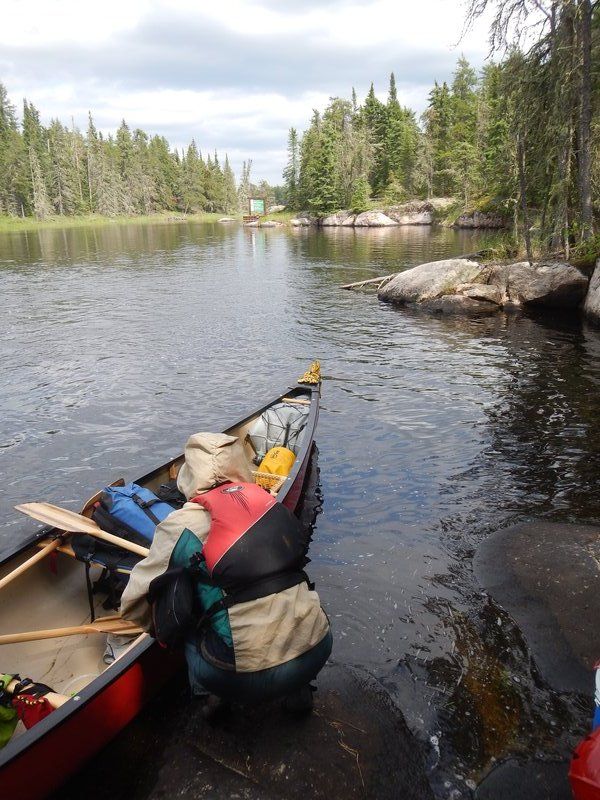 Sneaking into Woodland Caribou
Day 4 – July 6 – Carroll Lake to Craven Lake
The wind picked up before we left camp. Our two hours to Craven Lake turned into eight. We had a little trouble finding a campsite on Craven. We finally spotted a fire ring at what turned out to be a great campsite.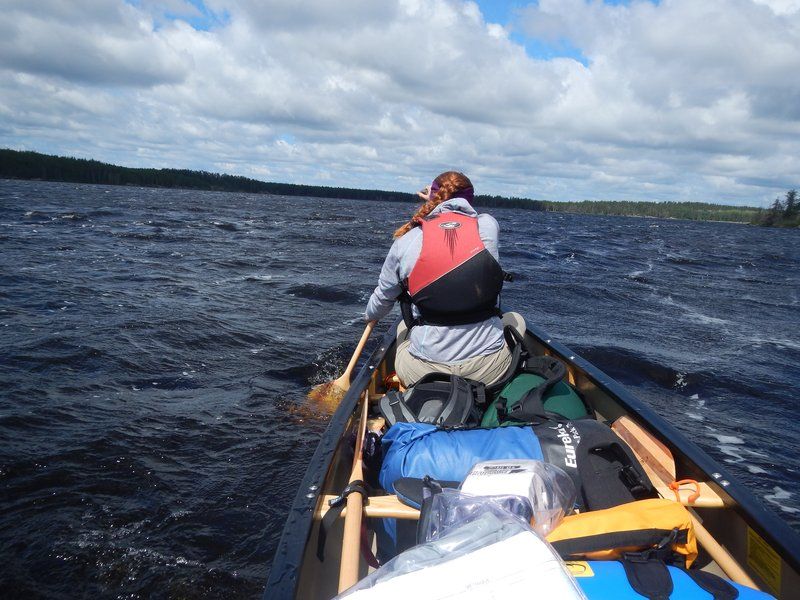 Carroll Lake wind
Carrol and Craven were beautiful lakes. I wish we had the opportunity explore the lakes in calm water. I'm sure they're loaded with great camping.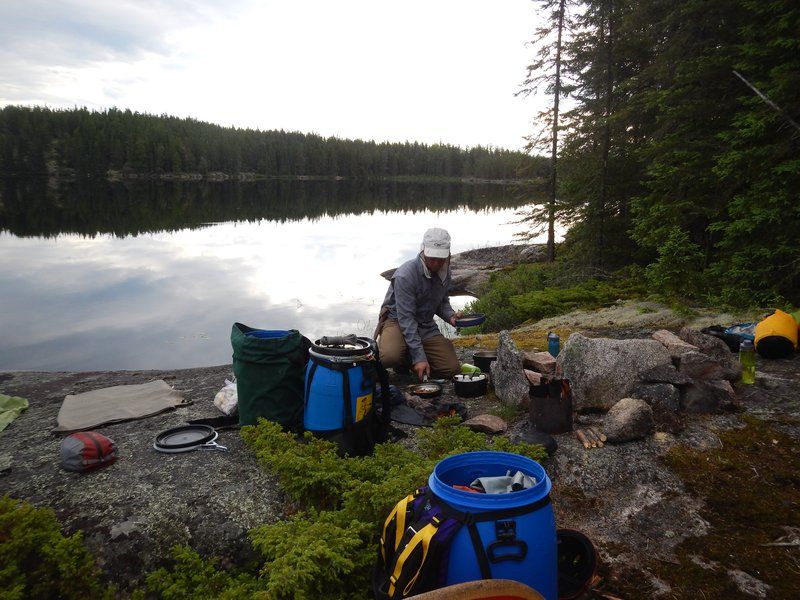 Craven Lake camp
Craven Lake
Day 5 – July 7 – Two bitchy aunts (Craven Lake to Artery Lake)
We nicknamed the two portages (from Craven to Ford and from Ford to Artery) Patty and Selma. Craven to Ford was rough. I found out later from Martin Kehoe that we took the old portage (starting in floating bog as pictured below). There's a
new portage that starts just to the west
that we unfortunately missed.
Wrong Portage....oops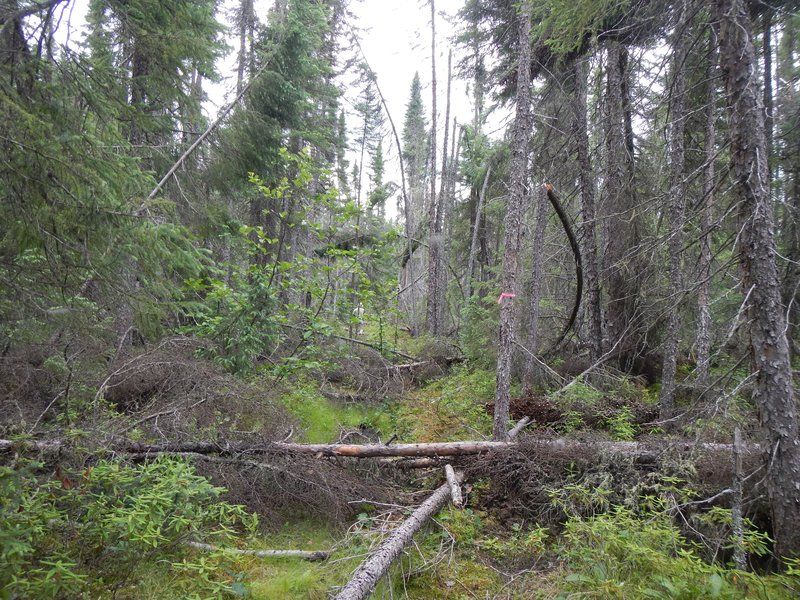 Patty
The last of the five tough portages to Artery sounded nice from Berard's description: Starts wet then high on rock ridge for 2km. The rock ridge was a little 10-20ft climb up (somtimes steep!), a walk along some picturesque rock ridges, a slide back down into the wet stuff and repeat. It reminded me of the Mantario hiking trail. It would've been great except that we walked it in a rainstorm. The rocks were very slick. A time or two I got Erica to wait at the top of the rock while I ran up with the canoe and she would grab the canoe so I wouldn't be heading right back down the rock.
I was getting a little smug about how sure footed I'd been on this portage of slick sloping granite. We got to Artery Lake and Erica warned me about a slick spot on the descent to Artery. I was soon flat on my arse with a canoe on top of me instead of celebrating the end of five wicked portages.
We searched for a Hap Wilson campsite in the southern basin of Artery after passing by a decent one on an island. We eventually circled back to the island just in time to setup in another rainstorm. Lesson learned.
Part II:
http://www.myccr.com/phpbbforum/viewtopic.php?f=114&t=45515