Day 6 – July 8 – Artery Lake to Moosebone Rapids
We battled a little bit of wind on Artery but spending the half day exploring the lake was a must. Seeing the famous pictograph site was quite an experience.
Oops... you dropped your tobacco
Bloodvein River pictographs at east end of Artery
We sure felt like we earned the use of the rollers on the West Artery Lake portage. A little easier than the last few days.
Moosebone Rapids was a great campsite. We felt great our first day on the river and figured we could put in an extra long day to make it to X-Rock rapids (
true_north did it
). Hap had marked it as an excellent site (which it turned out to be).
Day 7 – July 9 – Moosebone Rapids to Stonehouse Rapids (Keeshata Falls)
Woke up to intense fog keeping our laundry wet. We saw a moose having its morning bath and breakfast. I felt sluggish paddling in the morning and my arm started to feel sore. Not a good way to start our extra long day. We decided to stop for a cooked lunch and a quick swim on Stonehouse Lake. We hadn't given up on our long day yet but I felt I needed the break and Stonehouse is a great place to stop.
After lunch I didn't feel any better and my arm started to get worse. There are two long portages around rapids after Stonehouse, Asineewakkayhigun & Keeshata. I picked up the boat and portaged the first. I knew when I put it down the I wouldn't be picking it up again. We paddled a short distance to the next portage and secured the canoe. We carried our barrels to the end of the portage hoping to find a decent campsite. It turned out to be an extremely scenic campsite. A Class III or IV rapid with three cliffs/ledges dropping from the campsite to the rapid. These ledges provided great seating to watch the falls pushing a little more water than usual through. Behind the site, the portage put-in makes a great place to gather water and view the sunset.
Unfortunately I didn't enjoy the site at all. A wicked fever and body aches kicked in. Erica set up camp while I laid in the heat wearing a wool shirt, a bug shirt and still freezing. No wonder I was struggling carrying the canoe!
Second set of rapids after Stonehouse Lake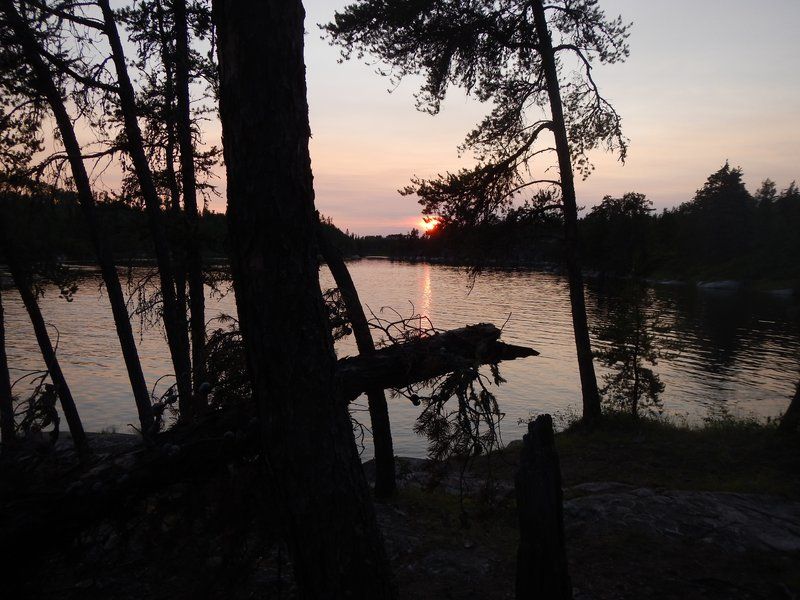 Put-in after Stonehouse Rapids
Day 8 – July 10 – Stonehouse Rapids to Hap Rapid #29
I felt better in the morning but I was still sick. I was a little concerned since it'd been six days since we had contact with people. Not knowing why I was sick, we were worried that it was something bacterial that wouldn't just go away. We decided to push on. Our boat weighs 80lbs and is too heavy for my wife to carry. We didn't push hard on the water but carrying the boat slowed me down on portages.
We camped on an island with a little beach just before Hap rapid #29. It had a nice rock outcrop that created a little wind shelter for a cooking area.
Rehydrating at a portage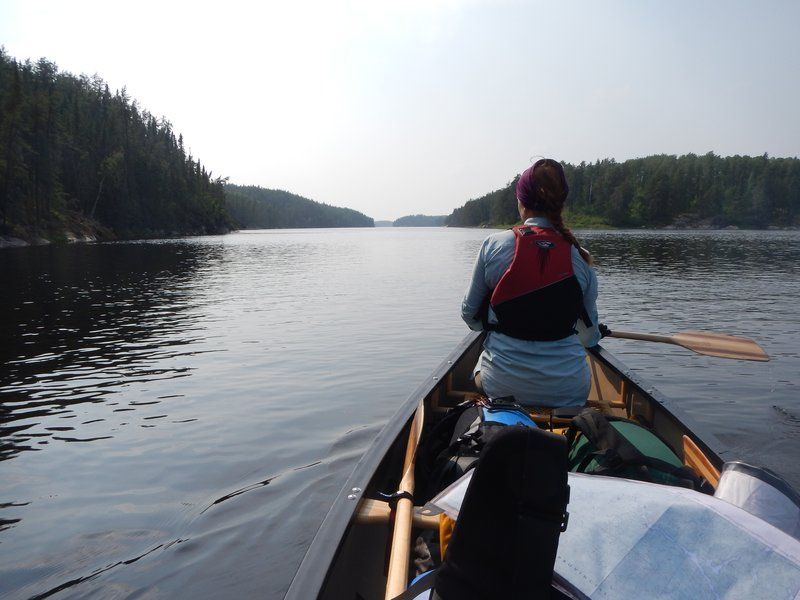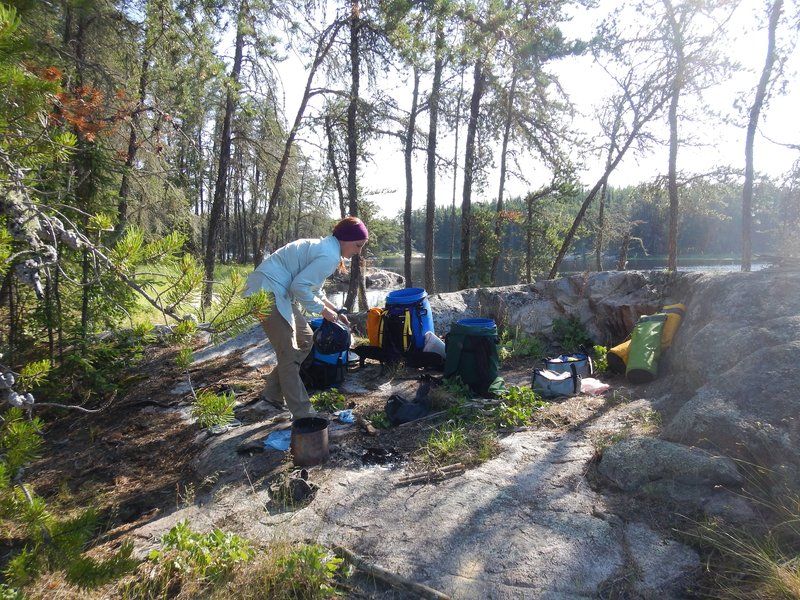 Wind shelter
Day 9 – July 11 – Hap #29 to #38
Today, between two scenic rapids, we paused to watch some otters play. Now and then, one would pop up close to the boat. Eventually, one hit the back of our canoe. I'm not sure if it was an accident or if it was just being silly. They're pretty sure in the water so I doubt that it was an accident. Strange little creatures.
We had lunch at the junction of the Bloodvein and Gammon rivers. A beautiful site!
Red Rock Cafe
We stopped in at The Bennett's trapper's cabin to sign the guestbook. Later, reading true_north's trip report from the same summer, we saw he posted a
photo from the guestbook showing my wife's entry!
The character of the river changed. More grassy, marshy and low-lying areas. The shield rock that dominated the views from Artery to the Gammon River junction seemed to recede a little. The rock would still make impressive appearances the rest of the trip but the changing scenery really made us feel like we were travelling from one area to another.
I was still a little under the weather for most of the day until early evening, I picked up the canoe for the last portage and it shot up like a rocket! All better.
I told the story to my doctor after the trip and he said it's possible to carry a virus for days and have it kick in when you're worn down. He said it was definitely a cold or flu.
We camped near Hap rapid #38 in a buggy site. Even with our bug shirts, we motored through dinner so we could hide in our tent.
Day 10 – July 12 – Hap #38 to Hap #47 (Kautunigan Lake & Sasaginnigak junction)
From the log book at the Bennet cabin, we knew there were multiple groups in front of us. We came across a group of 12 boys from Camp Kandalore. They weren't even one of the groups that signed the guestbook. They skipped the cabin to race another large group to the campsite we found them at. We kept this in mind in the evening and didn't push on to Chap Falls which was a likely stop for a large group.
Just before Kautunigan, storm winds and dark cloud jumped on us. We knew rain was coming and paddled to shore so we wouldn't be pushed back upstream. In the 20s of rain that hit us as we got to shore I was soaked before I got my rain gear on. Some hail started coming down and lightning was near. We found a grassy point and set up our tentfly on top of the long prairie grass so we could dry off, change and wait out the lightning.
We came across a nice cabin after we passed the junction of the Sasaginnigak. It predated the park and was kept fairly clean.
Approaching the cabin
Matawa Lodge
We camped on rock 10-15ft up overlooking a bend in the river. We had a campfire for only the second (and last) time of the trip. Cooking on a stick stove kind of satisfies the need for a campfire but after the storm today we felt we needed one anyway. Six pelicans flew by us as we cleaned up camp for the night.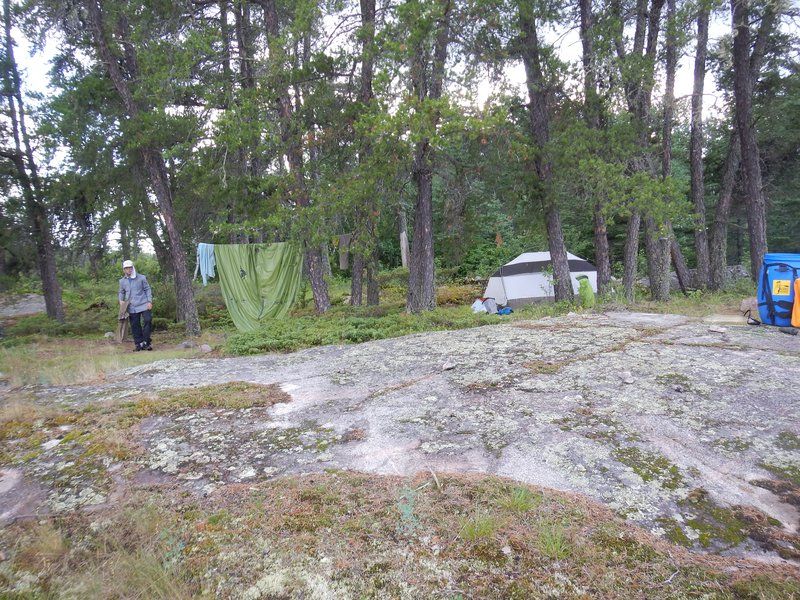 Drying the fly before throwing it on the tent
Day 11 – July 13 – Hap #47 to Hap #65
We woke up to grey skies and rain that lasted the entire day. Other than consistent headwinds every day, we had been pretty lucky with weather. I suppose we were due for a day of constant rain. It unfortunately happened on a day where we had the worst portaging since our journey to Artery. A few portages were around Class Is that were bulked up like Class IIs with the high water. We should've just ran some but at the time thought we were being safe, considering the rain... Portaging was a mistake.
The advantage to light rain is that it can make a photogenic river more photogenic.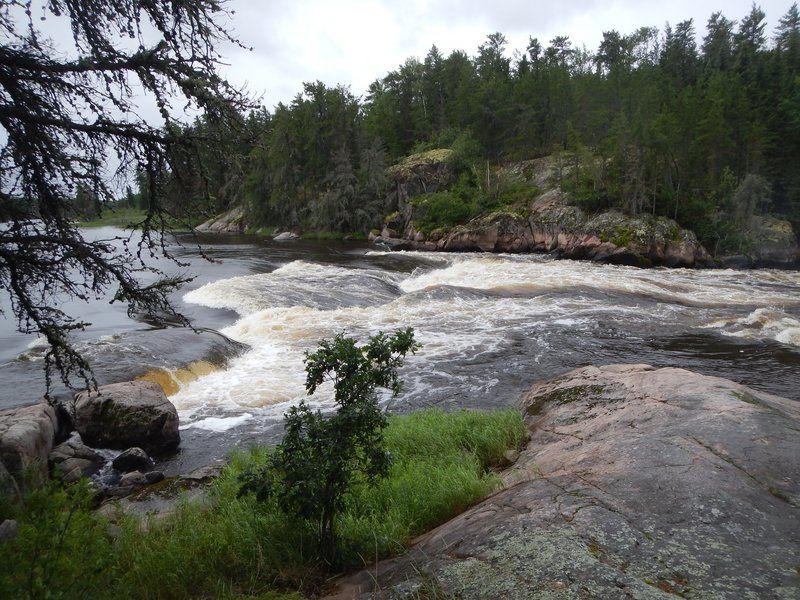 Chap Falls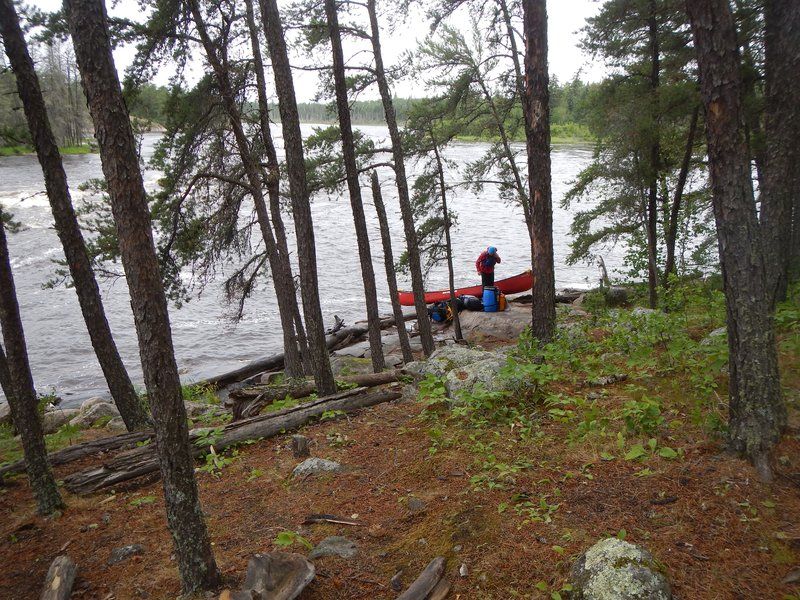 Nice chap at Chap Falls
Rain can't hide the crazy
Portaging the Canyon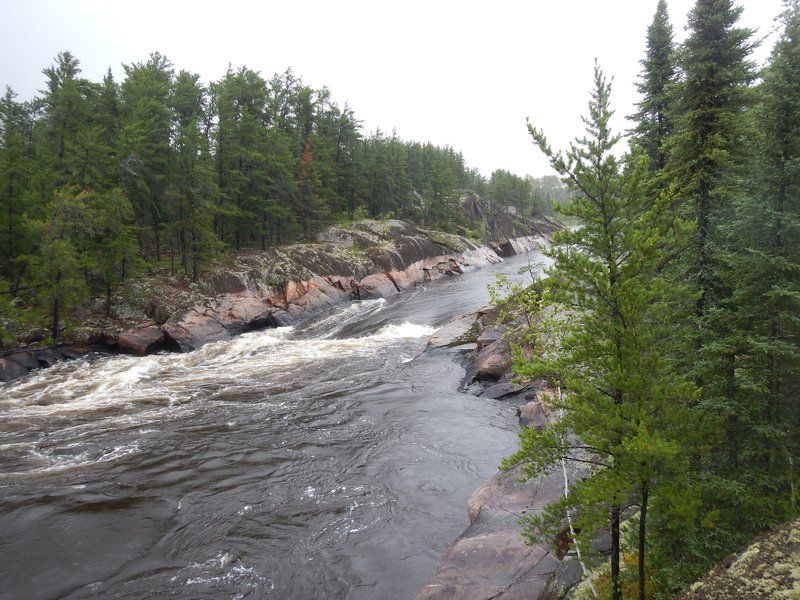 Canyon Rapids
I don't remember where this was but I want to go back...
I woke up during the night to the sound of mice running up the tent, inside the fly, then sliding back down the other side.
Day 12 – July 14 – Hap #65 to Hap #78
We had cloud cover most of the day but thankfully no rain. Perfect day for paddling. Especially since the sun came out in time for camp. Erica saw a Golden Eagle at Golden Eagle (Kineewi) Rapids. Coincidence? Or maybe the birds use the same maps.
There's a few places on the Bloodvein where you can choose a channel. We chose poorly for our water level today. We took the channel that has Hap Rapids #69 & #70. #69 has three chutes where Hap suggests to take the middle one. It didn't look good to us so we shot the river left ledge. We had a bit of a close call but were fine.
Rapid #70 has an unused old portage around the whole rapid on river left and a short portage around the ledgy top on river right. The rapid should be an easy run after the ledge but we decided to portage the whole rapid because of how the high water changed the rapid. The old portage was not fun!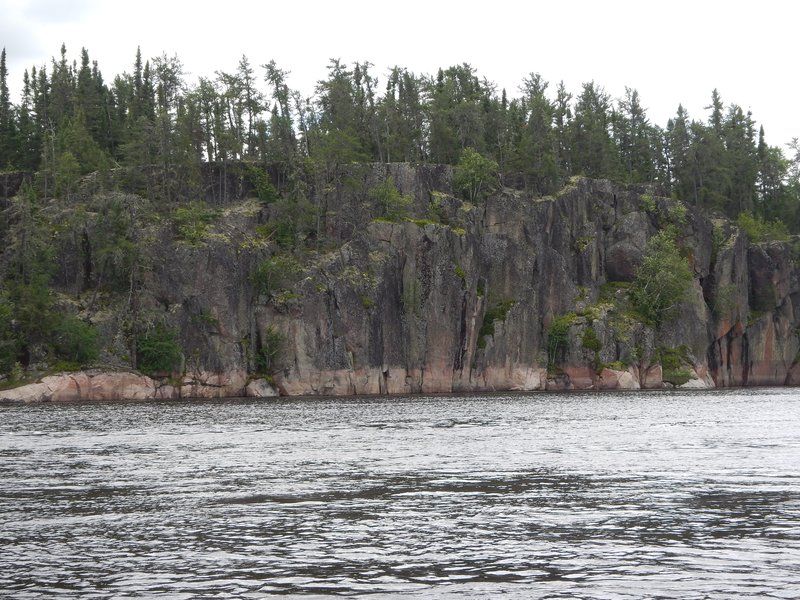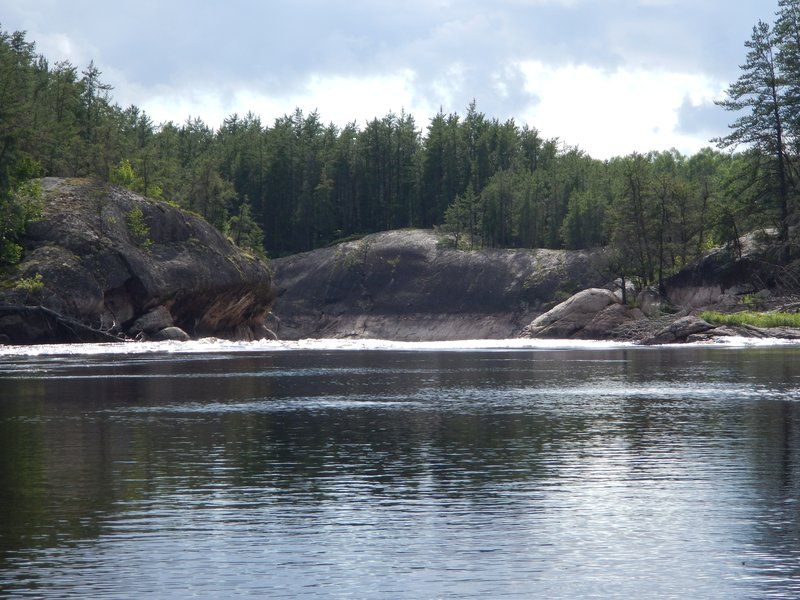 There's a long stretch that Hap marked as Kakeenoteekwayak (the Long Stretch). At the end we found a beautiful campsite at rapid #78. It's funny how different water levels change the river. Where rapid #70 was marked as a Class I by Hap and it ended up being much rougher, #78 was marked as a class I and was barely a swift when we were there.
Day 13 – July 15 – Hap #78 to new PR304 bridge construction site
We realized the day before that if we made good time, we could finish our trip today. We wouldn't get back in time to pick up our dogs from the kennel near Pinawa. We also wouldn't feel comfortable showing up at our old neighbour's on the Winnipeg River smelling as ripe as we did. With that in mind we planned to get a room at the Papertown in Powerview / Pine Falls.
Erica remembered to leave a change of clothes in the car but I didn't so I washed some clothes the night before. I woke up, washed and had a swim in the river. It was very cool in the morning but the river was warm.
Because of the cool morning and fog, my clothes didn't dry so I laid them out on the boat, held in by the air bag strapping and put a set of damp clean clothes on. The first portage had a sloping rock at the put-in. I guess we overestimated the teamwork we developed over the trip and the canoe was drifting away as were loading. I ran down the rock and slid into the river. Both the clothes I was wearing and the clothes in the boat went from damp to wet. I may have let some loud colourful words slip.
We came around the bend to find a family camped on a rock outcrop. I figured they must've heard my cursing but we approched and said hi we startled them as they didn't hear us over the rapid. They were only the second group we had seen on our trip.
When we got to Namay Rapids we came across a group of boys and girls from a camp resting between practicing their whitewater skills. We also came across fisherman from Bloodvein FN in a motorboat later in the day.
We arrived at the construction site for the new bridge. It was a strange site: hard hats, lunch boxes and machines. We found our car waiting for us and bolted down Rice River Rd & 304 thinking of showers, beer & having supper served to us.
We checked in at the Papertown with disappointment. The shower was awful in comparison with swimming in the river in the morning. The meal was okay but sitting in a restaurant booth just isn't the same as eating dinner on a granite ledge overlooking the river. One thing the Papertown had that the Bloodvein couldn't provide; though, was Erica's former student bringing cold beer to our table.
We texted the kennel operator to book a morning pickup. The reasons Erica always wants to push our trip pace were waiting near Pinawa in full maniac form.
Part I:
http://www.myccr.com/phpbbforum/viewtopic.php?f=114&t=45514