This summer, my husband Neil and I paddled the Hayes River from Norway House to York Factory. It had been a dream of mine for a decade to visit York Factory. We traveled the traditional fur trade route from July 17 to August 2. We travelled approximately 620 km in 17 days.
Echimamish River – Painted Stone Portage [days 1-3]
Our friends dropped us off at the ferry crossing near Norway House, and we launched at 2:30 pm on July 17. After spending over a year thinking about this trip, we were finally underway! We saw tons of beavers, otters, and eagles on our way to the start of the Echimamish River. Paddling through Hairy Lake was surreal – it is very aptly named! Thick reeds filling the entire lake, with no open water to be seen.
The Echimamish is very marshy and grassy; not a lot of exposed rock or tree growth along the banks. We were expecting a more typical Shield geography. One of our campsites along this stretch was just a flattened area in a sea of tall grass. We saw the remains of an old HBC dam, and passed by a couple of trappers' cabins. Close to Painted Stone, we had to lift over 3 beaver dams.
Painted Stone Portage was fascinating. As you approach it, it seems as though the Echimamish terminates abruptly in a dead-end. The portage is on the left, and the Hayes is about 4 feet lower than the Echimamish. We used the York Boat rollers (maybe left-over from the Quest for the Bay TV show?) so we didn't have to unload the canoe as we made our way down the sloped slab of rock onto the Hayes.
Painted Stone Portage – Oxford House [days 3-7]
The scenery changed as soon as we passed Painted Stone – more exposed rock, more of that classic Canadian Shield vegetation. On Day 3, we were eager to set up camp at a site Hap Wilson described as "good", but found it is now a bridge for a winter road going toward Molson Lake. After paddling for a couple km looking for any decent spot to camp, we ended up coming back to the winter road and setting up the tent right in the middle of it. Definitely the worst campsite of the trip. As we were hauling our gear up, we though we spotted a black bear cub across the river only to realize upon closer inspection it was the world's largest beaver!
We had to fight some wind & large waves on the final stretch of Robinson Lake. It took us almost two hours to complete the Robinson Portage; the heat and humidity had us moving slowly! Just past the rock cairns after Logan Lake, we paddled right by a large cow moose feeding in the river while her two calves waited for her on shore.
We portaged Oskatukaw rapids, and the Class III section of Hell's Gate. We ran the bottom of Hell's Gate and all other rapids on this stretch. Admired the rock painting on the cliffs leading up to Hell's Gate.
This section of the river is very scenic. One of our favourite campsites was on an island just after Opiminegoka Lake.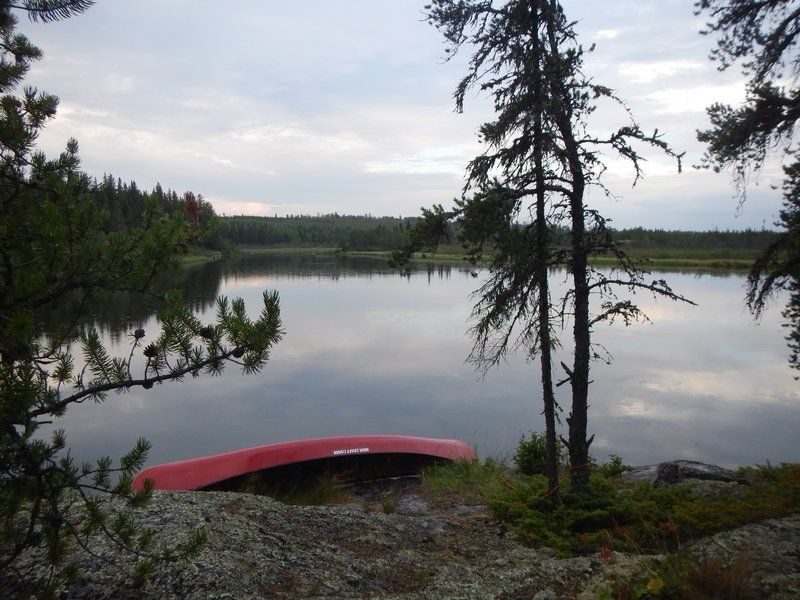 Windy Lake lived up to its name – it was very windy! While lining at Seeseep Rapids, Neil slipped on mossy rock and twisted his knee, but I was able to grab the boat and line it to an eddy. His knee wasn't in good shape but the days of flat-water upcoming would allow it to rest.
We paddled the entire length of Oxford Lake in one day. We started early as the sun rose and the fog rolled off the lake. Lucked out for most of the day: not too windy, partly sunny. For the last section of the lake, the weather did change and it rained steadily on us. Had to fight some wind and large waves as we made our way into Oxford House. Oxford is certainly a big lake that can get scary in a hurry when the wind picks up! After a quick stop in the Northern Store, we set up camp at the beach across from town. It was a long, tiring day!
Wildlife sightings on this stretch included muskrat, garter snakes, rabbits, moose, bald eagles, and beavers.
Oxford House – Swampy Lake [days 7-11]
The Hayes is very low this year – at Oxford House, some locals estimated it was at least 3 feet lower than usual. A lot of the rapids were very rocky, and it could be difficult at times to find a good line. We definitely put a few new scratches on our boat! We managed to run almost everything between Oxford & Swampy – we portaged Trout Falls and lined at a few other spots.
Stopped in at Knee Lake Resort on day 9 and chatted with the friendly staff. Got wind bound for a few hours on Knee Lake on day 10 but pushed on later in the afternoon to try to get at least a few more kilometers in. At one point it rained on us even though there were no clouds!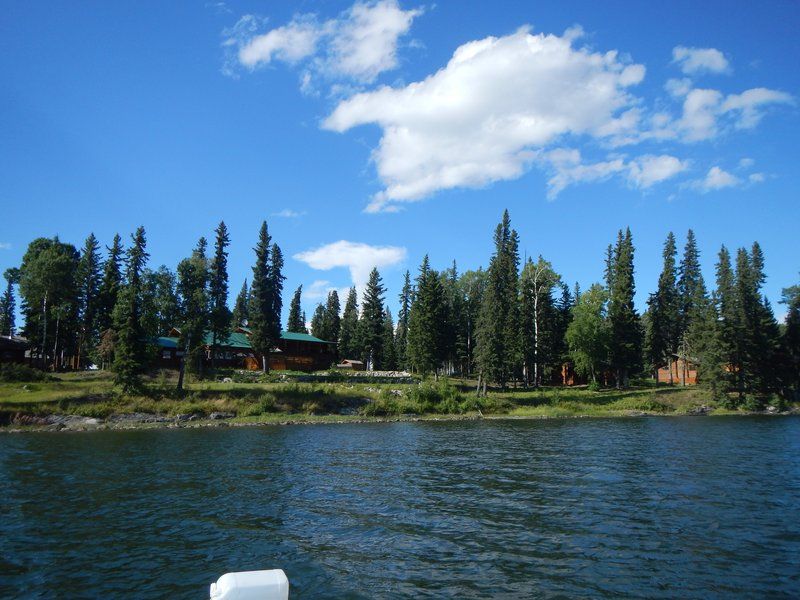 Saw a camp of geologists doing research, and came across a group of 6 paddlers who had launched a few days before us. Pushed on to Mines Point in the wind. On day 11 we made it off Knee Lake under beautiful paddling conditions – no wind, clear sky, warm sun. Tons of boulders to pick through at the end of Knee Lake. A dicey moment on the last rapid before Swampy Lake, but made it through all the rapids on this stretch with the open side up!
Wildlife sightings in this stretch included bald eagles, osprey, beavers, otters, rabbits.
Swampy Lake – Whitemud Falls [days 12-15]
Tons of pelicans on Swampy Lake – they were beautiful and impressive. Many frustrating moments on this section of the trip due to the low water levels and rock gardens we had to pick our way through.
in this stretch in particular, we noticed many discrepancies between Hap's maps and our topo maps and the actual terrain. Had to make a few split-second decisions on some rapids, and several times had to run rapids that went around blind corners or that we couldn't properly scout for fear of getting hung up on rocks on the eddy lines. Made it through everything, but the canoe did take a good bash against a boulder on one occasion.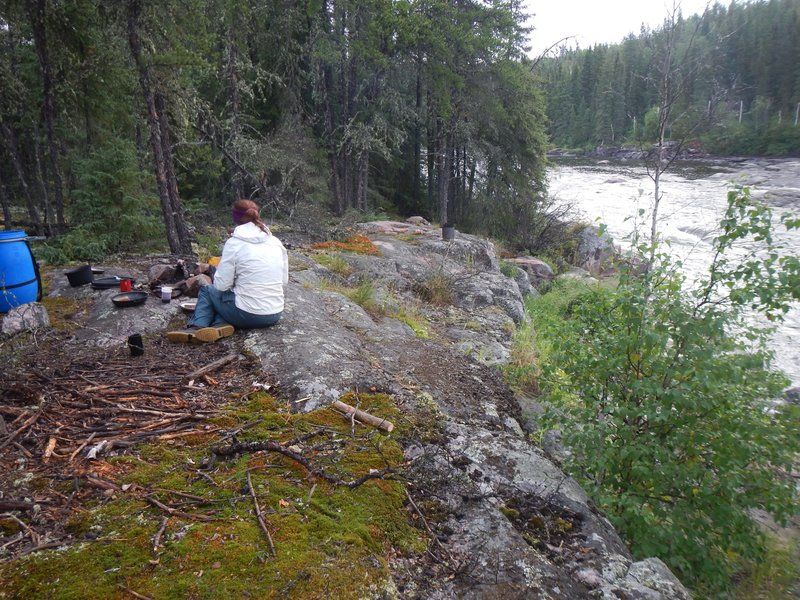 Got caught in a hailstorm and were pelted with large chunks of ice. Luckily the storm passed by very quickly! Group of 6 paddlers caught up to us at Whitemud Falls, and we each camped on one of the small islands there. Whitemud Falls is the last bit of white-water on the river. The ~50 km before it is almost continuous rapids. Most of that stretch is composed of fairly easy white-water.
in this stretch, we portaged Nunatonowago Rapids, Neesootakuskaywin Rapids and Whitemud Falls. Ran and/or lined everything else.
Wildlife sightings in this stretch included pelicans, moose, beavers, otters, golden eagles.
Whitemud Falls – York Factory [days 15-17]
The scenery and the river changed dramatically after Whitemud Falls. There was no more exposed rock along the shoreline, just thick forest all the way down to the shoreline. The riverbanks became higher as well. Gradually the dense forest became more sparse, and clay/sand banks were revealed. In most areas, the banks rose to heights of 60 feet +. The current was noticeably stronger and faster, but the Hayes was still ridiculously shallow. In some areas, there was barely enough water to float us over rocky sections. Camped at the junction of the Hayes and Fox rivers after travelling about 56 km in under 7 hours. The Fox River also seemed low – not a lot of current coming into the Hayes.
Terrain slightly different between Fox and God's rivers – cliffs not as dramatic, fewer spruce trees and more deciduous trees. The river in this stretch is the colour of tea with milk - very silty from all the sand and clay. The river is significantly wider here as well. Not much in the way of wildlife viewing – just some ducks, geese, one moose, and a couple of bald eagles. We were hit by a brief but furious thunderstorm.
On day 16, we arrived at the junction of the Hayes and God's rivers to find it was quite a happening place – there was a group camped on each of the three points: us, the group of 6, and a group of 4 women & 1 dog. The women paddled 66 days from Minnesota to York Factory, and had travelled down the God's River (for more information about their trip, check out their
website
. It was so bizarre to find this isolated spot so populated!
On day 17, we woke up at 03:30. We noticed fresh wolf tracks through our campsite. We launched at 05:00. Our plan was to paddle the last 90 km in one day, to avoid camping overnight in polar bear territory. The rising sun was beautiful, lining the edges of the clouds in liquid gold. The reflection of the sunrise on the backs of the canoes of the 4 women ahead of us made it seem as though we were following 2 lanterns floating on the water. It was a fantastic start to our last day on the river.
The river continued to get wider and wider the closer we got to the Bay. The sky and the weather changed dramatically and frequently throughout the day. The wind was picking up as we came closer to York Factory. It was pretty incredible to see Hudson Bay opening up in front of us and the cupola of York Factory rising above the riverbank to our left. It had been a long day – just under 10 hours – but we made it!
We spent a couple of days at York Factory. We had the good fortune of arriving during the gathering of Fox Lake and York Landing First Nations. Every 4 years or so, members of these communities gather for a weeklong celebration at York Factory. We had expected to see very few people, and were pleasantly surprised to show up in the middle of a party!
We were able to spend a lot of time exploring the depot building, the cemetery, and the riverbank at low tide. So many artifacts are visible on the riverbank, and you can actually gather up interesting specimens to give to the Parks Canada staff. York Factory truly is an incredible place, and we feel very fortunate to have been able to trace the fur trade highway to visit this special location. After paddling the Hayes during low water, we have an even deeper appreciation for the men who worked the York Boat brigades during the fur trade era! I can't imagine heading upstream in a canoe, never mind a York Boat.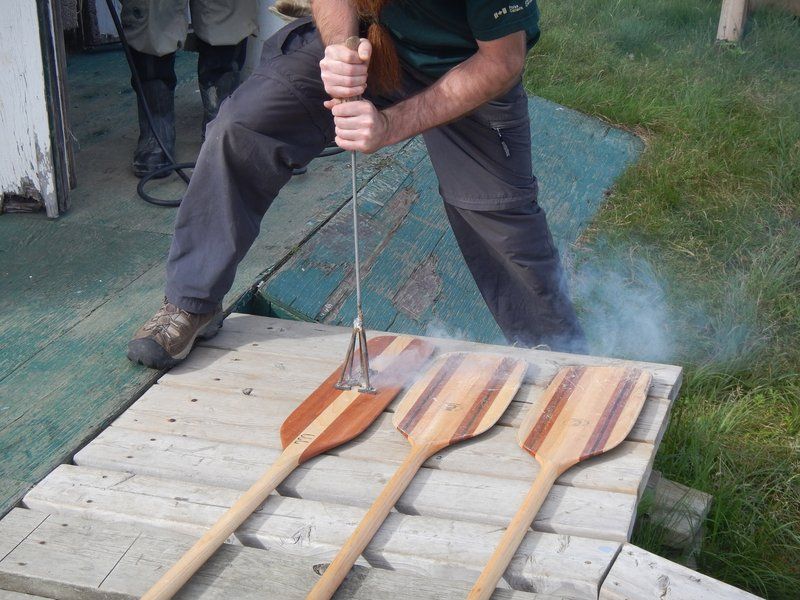 On August 4th, a tiny floatplane from Gillam Air picked us up. Because it was low tide, we had to wait for the plane in the middle of the river. While we were waiting, a seal swam by our canoe. We were at the Gilam train station with the women from Journey 4 Renewal early the next morning. In a strange twist of fate, we also ran into Chris (CCR member Rappi) and his wife Annelies at the station waiting for the same train! We originally dreaded the long train ride back to Winnipeg only to have a wonderful time sharing stories with so many other paddlers.