We had been meaning to check out the Milford Lake system for some time as a possible alternative to Kejimkujik now that it is closed much of the year, apparently the Fisher Lake area was considered as a candidate when Kejimkujik was set up as a park, much of the area still retains a nice wild feel although there has been some cabin development on the highway 8 side of Fisher and Eleven mile lake. The area has been used for canoeing and camping for generations, most of the land was owned by Mersey Bowater who tolerated the activity even providing boat launch sites, when the pulp mill was closed the land was purchased back by the crown details and a downloadable map can be
found here
The Annapolis Valley Recreation Department (AVRD) have a good description of the route and some
good maps online here
I refer to it throughout the report, they mention 3 entry/exit points.
Liverpool Head Lake.
I don't know of anyone using this point instead people ask at Milford House who have been friendly in the past.
Lake Monroe.
As described there is a small pull off from the highway where you can park and launch, I've seen people parked here although you will have to do a portage in short order.
Eleven Mile Lake
This is where we launch, the description is wrong here, there is no steel gate, the gravel side road is approx. 3km south of Monroe lake at N44 31.202 W65 18.149 follow the gravel road in about 100 meters and you will notice what looks like a side road to the right, this is the road to follow for about 0.5km to the lake, you will need a moderate ground clearance vehicle, the is plenty of parking space at the top but only room for 2-3 vehicles at the bottom lake end, please don't block the side road to the cabins.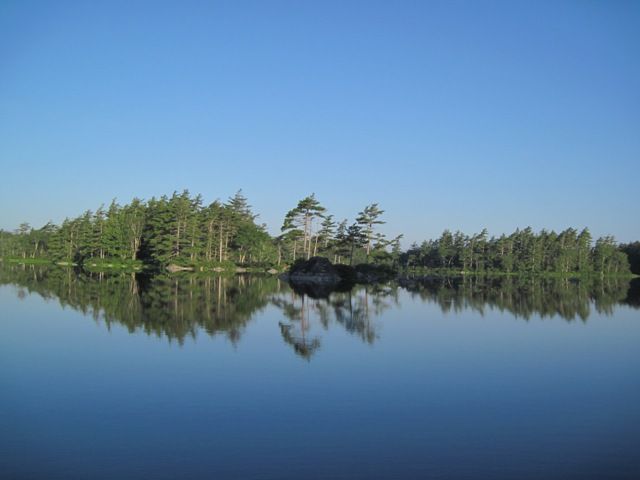 A perfect day for paddling
At the launch point the is a small sandy beach at normal water level, we weren't so lucky on our first trip as the level was unusually high for early July, our route took us down Eleven Mile Lake towards the Mersey headwaters and up to Allison Lake, there are a few pockets of private land on the highway side of the lake with some fairly low impact cabins the last one being near the big island at the east end of the lake after that the area is delightfully unspoilt and very much like Kejimkujik park. We stopped of at the Mersey Headwaters in an attempt to find portage 6 on the AVRD map, we were unsuccessful but did find the messy remains of a cabin at N44 31.627 W65 15.461 it looks like this was an old fishing camp.
Next we proceeded up First Branch lake to Thomas cove in an attempt to find portage 8 and the campsite shown close to it and where again unsuccessful, we were beginning to have our doubts about the information but pressed on and successfully found portage 10 to Rocky lake at N44 32.559 W65 15.562 It seemed like a good spot for a swim and lunch but a short explore after lunch found a better spot at an unmarked campsite at the end of Freemans Run at N44 32.231 W65 12.411 it was an idyllic spot that has probably been popular with fishermen although we saw little sign of recent use.
Due to the high water level Freemans Run didn't look too bad so we decided to try that instead of the portage, a mistake we ended up doing 2 very short carries and lining up a good portion of the way, the portage would have been easier, it's well used and in good condition.
We had a beautiful paddle up Rocky Lake in the 30 degree weather admiring the rocks and another swim at the Rangers Camp, its fairly easy to spot due to the tall straight pine trees which have had the lower limbs removed around the camp. The cabin has an interesting history originally built in 1928 by the province for it's rangers it was then leased to outfitters for a number of years before being officially abandoned at least 40 years ago, according to the log book it has since been lovingly maintained by users including descendants of the original builders, they even replaced the sill logs a few years ago, the log book records about a dozen visits a year.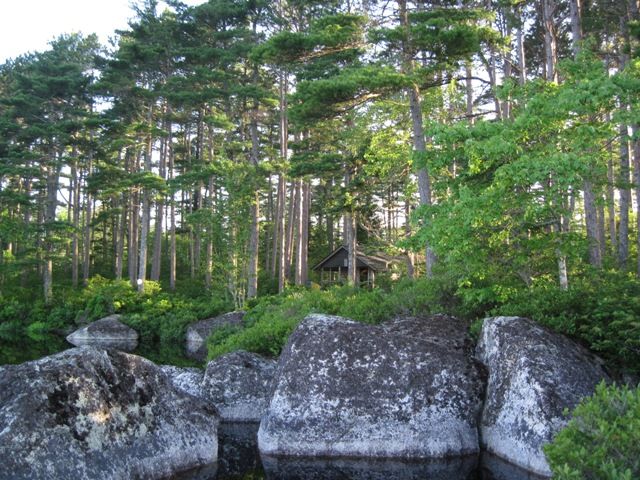 Due to the 30 degree weather we set up the tent in front of the cabin and set up camp on the porch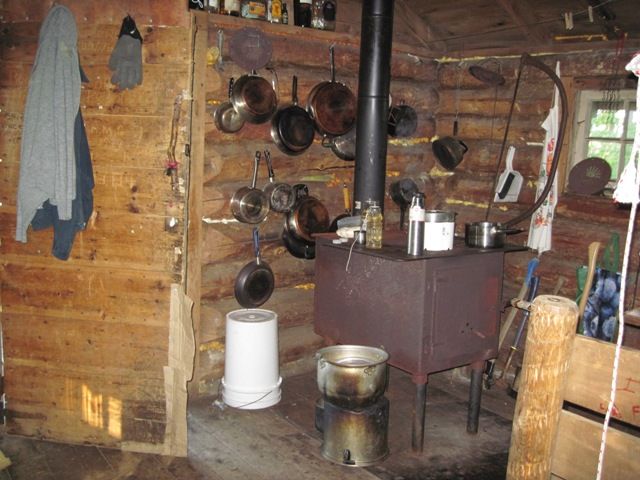 I can see this being a great spot on a cold wet fall day.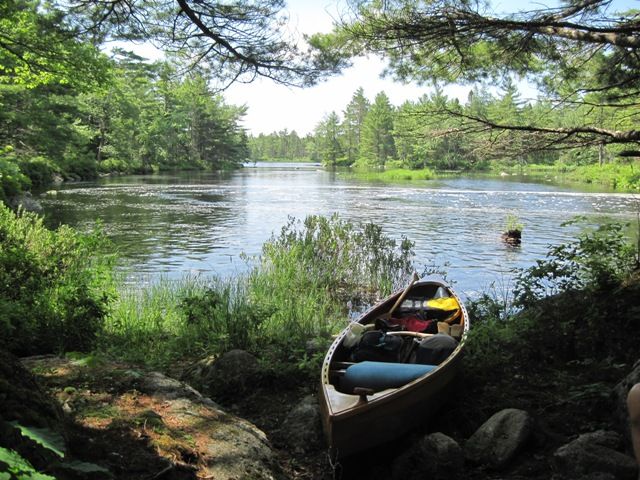 The next day we had an easy run up to the Allison Lake campsite, the short portage from Rocky Lake at N44 33.697 W65 16.077 is easy to find and in good condition.
The Allison lake campsite N44 34.237 W65 16.762 is the best in the whole system located on a peninsular with 2 sand beaches, there is room for at least half a dozen tents in 2 areas 75 meters apart, the soil is a nice coarse sand, there are firepits, tables (one on it's last legs) and even a thunderbox and rarely any visitors in the summer months.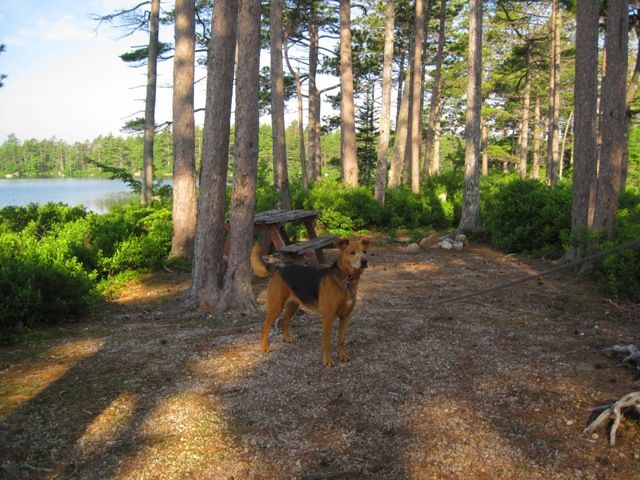 After lunch we attempted to find portage 12 into Gull lake although we did find a trail it was very overgrown in places, I've since talked to a local paddling club who have done some work on the trail and it's now in good condition, next trip we will check it out apparently the used to be good campsite on the eastern side of Gull lake although it's probably suffered from lack of use. We next explored portage 13 around Hubley Runs which was easy to find, there is a small cabin under construction opposite, an interesting spot as the only access is by water and the surrounding crown land is a protected area. I was eager to find portage 14 into Little Sundown lake, Elder lake and hence completing a loop back to Fisher Lake half an hour spent combing the area was unsuccessful, I have since talked with people that know the area well and they think it has been used so little that it no longer exists.
I found
this account
on the web from some folks who where attempting the trip from the other end and gave up (worth checking out for the great pictures) however the is
an account here
starting on page 42 of a successful if tough trip, I hate to see old routes die.
As completing a loop wasn't an option the next day we headed back down Allison Lake, Rocky Lake, First Branch (taking the portage this time) Eleven Mile Lake and into Fisher Lake. The AVRD map shows a campsite at the south eastern end of Fisher Lake which is easy to find at N44 32.538 W65 19.277. This is our favourite campsite on Fisher Lake a nice sandy beach, room for 2-3 tents in the bush, a table and a great view with no cabins or lights in sight.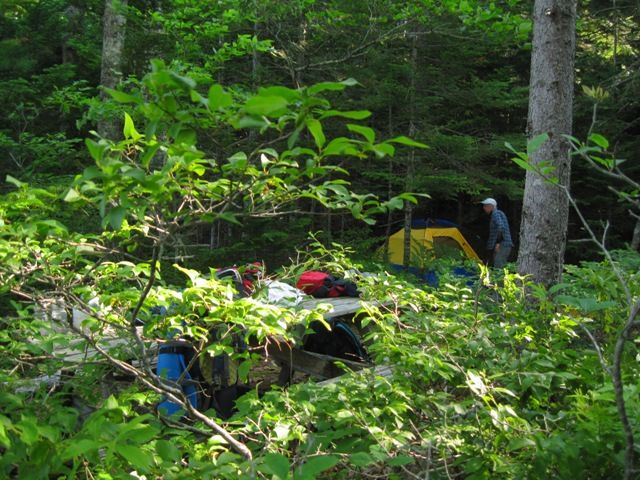 The next day was nice hot as we headed up Fisher Lake, the east side still has a nice wild feel but the west highway side has maybe half a dozen cabins, the AVRD map shows a campsite at the end of Pikes run locally known as McKibbons beach which is a beautiful sand beach with room for one possibly 2 tents in the bush N44 33.543 W65 21.487, this used to be a gorgeous spot but the view has been some what spoilt by a new large cabin about a kilometer away.
The AVRD map shows a campsite at the north end of Fisher Lake near a beach locally known as Eve's beach we did find the beach N44 34.277 W65 21.826 but no sign of a campsite in the bush I suspect people have been camping on the beach but due to the high water level there wasn't quite room for our tent, this would be a great spot with normal water levels a nice coarse sand beach and beautiful view with no cabins in sight.
We had another quick swim and had an unsuccessful look for the campsite near Elder Brook possibly it was under water but as time was running short we didn't spend much time on the hunt, as we wanted to head into Boot lake before heading home. Thanks to the high water level we had an easy paddle through Pikes Run into Boot Lake where we checked out a couple of nice sandy beaches, these are opposite the cabins at Milford House which has a long history, the cabins have been there a long time and are hard to spot unless you are really close. It was time to head home Gang Lake and Thomas Lake will have to wait for another trip.
It's a great area for any thing from a day trip to 3-4 days and possibly longer if you want to explore the more remote areas.