Subtitled "How Fast Things Can Change".
Note Tommy C1s wardrobe from a couple of weeks ago. Our four day trip was less than ten miles from his. We took four days to paddle Chamberlain and Eagle Lakes on the Allagah Wilderness Waterway (also part of the NFCT). Total trip mileage was about 45 miles.
The aim of the trip was to dig up some history of the Allagash and to view the fall colors. Aim number one was met but the colors we saw were mainly shades of grey and black. It rained every day and most days all day. Temps between 0 and 3.
We drove up Sat with the initial intention of launching and getting a campsite before dark.. but sunset being at 5PM(sunrise is at 7 AM) put a damper in that. So we camped at Frost Pond Camps back down an old logging road off Golden Rd near Ripogenus Dam. The camp owner related how he had seen a flying moose that day. Seems the cow went across the dam when he met them on the road and the bull jumped the fence which is pretty high.
Bull went on this side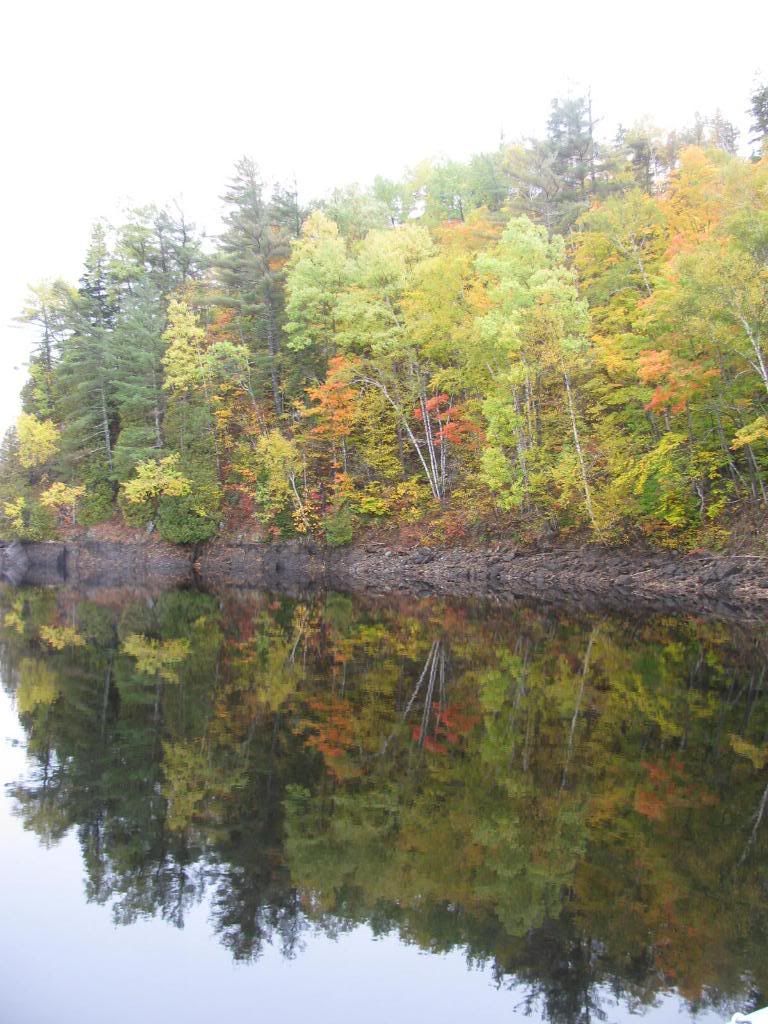 Fortunately not on THIS side
Of course it rained all night. But the next morning had hope. It wasn't raining.
ROCK AND ROLL DAY 1
We drove up to Chamberlain Bridge (about 30 miles ..a 75 minute trip). On the water by about 11:30 AM. By noon it was raining again and a persistent breeze from the east made things rocky on the lake. We were travelling north and the east wind made things rolly in the canoe. There are no islands on Chamberlain which is a pretty good sized lake. Two miles across and 17 miles long.
Doesn't this look like an appetizing day?
After a couple of hours of this and queasy stomachs we made camp at aptly named Mud Brook. For some reason Chamberlain was way down and some of the coves were dry. This leads to the stream to Mud Pond and the Mud Pond Carry(which is not visible here) and Umbazooksus Lake. Appetizing?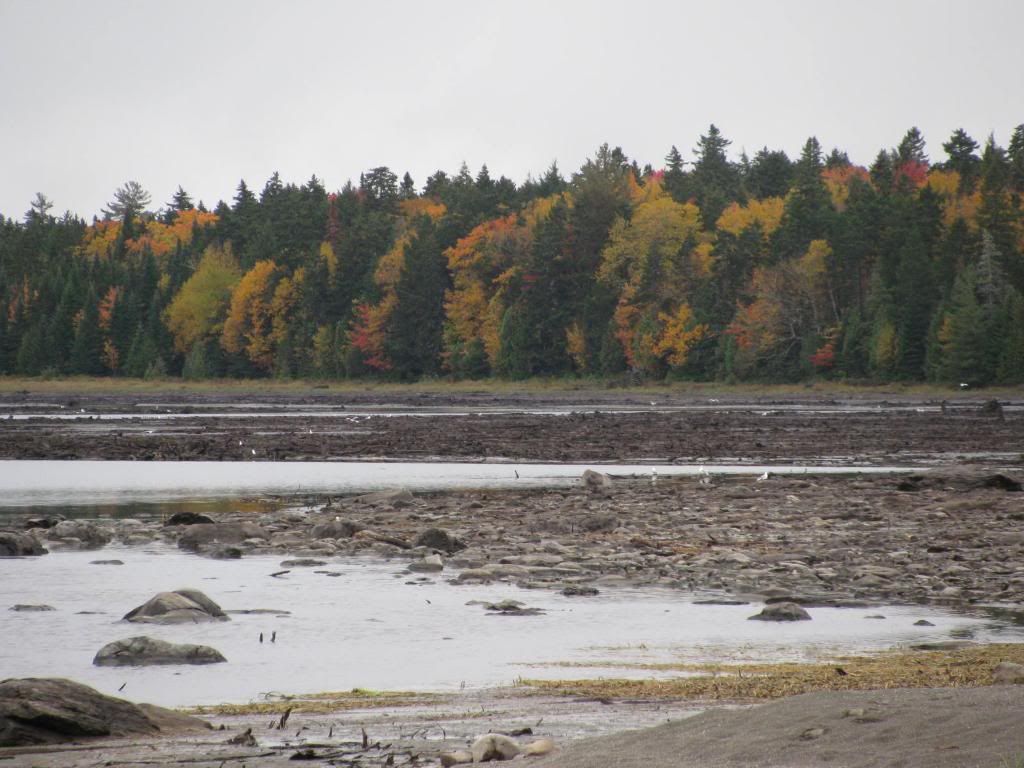 One of the reasons we chose this area was the amenities provided. Sitting on the ground when rain is predicted for four days is not appealing. Picnic tables are a big help. We fished the "It's a Boy" balloons out of the lake and wondered just what hospital someone had lost them at. There is nothing for a hundred miles any direction. With the east wind and the freshness of the balloons we suspected they were from New Brunswick. Anyway if any of you there lost your newborn balloons they were found.
I tried to get pictures of color. It was there but well veiled in rain
MAYBE IT WONT RAIN TODAY DAY 2
At least that's what the dog hopes.
Today we planned to tour up Allagash Stream and visit some relics of a logging railroad that operated between 1927 and 1933. The Eagle Lake and West Branch Railroad..all 13 miles of it. It ferried logs over to Umbazooksus Lake where they could be driven down the West Branch of the Penobscot (that Rip dam did not exist then) to Bangor and the mills. The Depression pretty well killed the railway in short order.
Allagash Stream was a mud flat. Gone were the aims of poling up it. This is what is left of a 1500 foot long railway trestle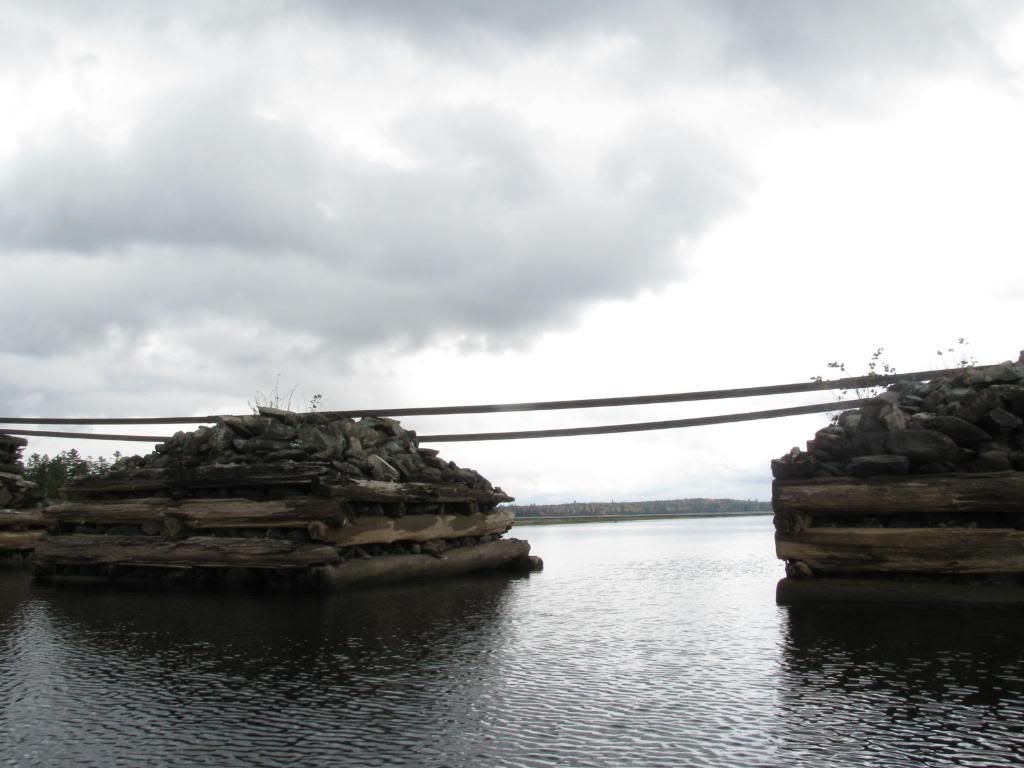 We wanted to find more of the railway but the cove that gave access was dry too…Bah.. We paddled down the eastern shore to Lock Dam where we knew there was a campsite and a stream that lead to Eagle Lake.. Lock Dam was created in 1842 for the purposes of locking up wood from Eagle to Chamberlain (which is a good thirty feet higher than Eagle) and then floating down the East Branch of the Penobscot. It was slow going locking and shoving logs that way.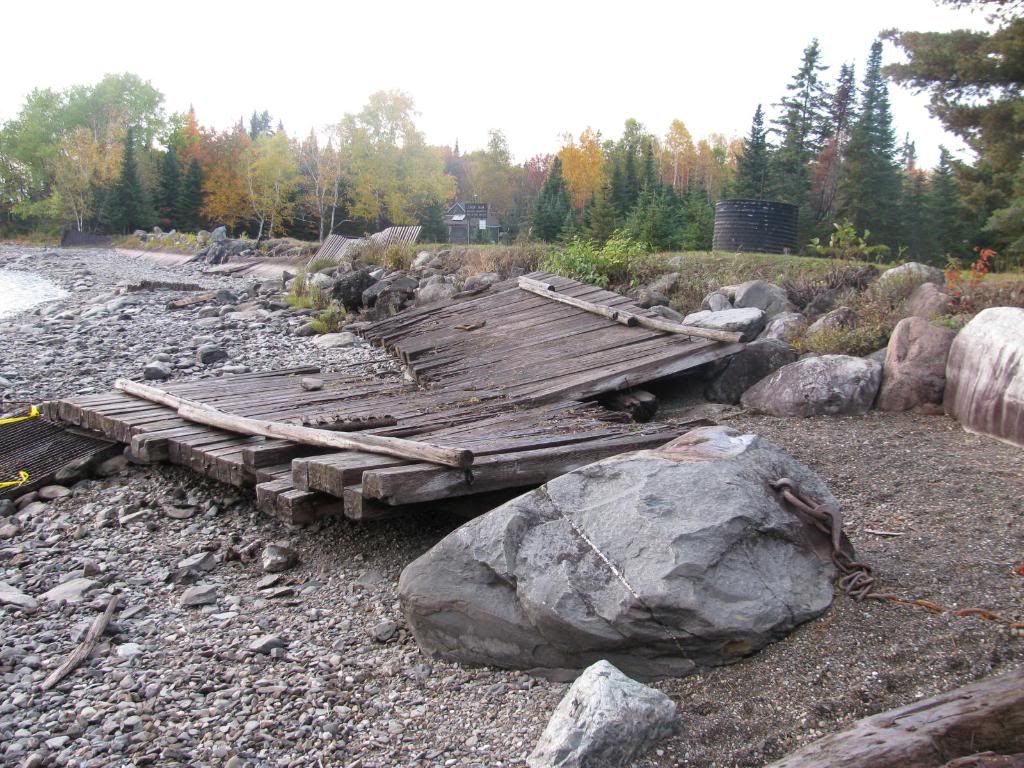 It needs repair again and that turned out why the lake was drawn way down..so that repairs on the dam could be done this fall.
The stream was a mudhole. Luckily off the back of the campsite is a good 600 m portage to Eagle Lake. No recent human steps but the moose had used it.
Actually it didn't rain all day today. Occasionally the sun tried to shine.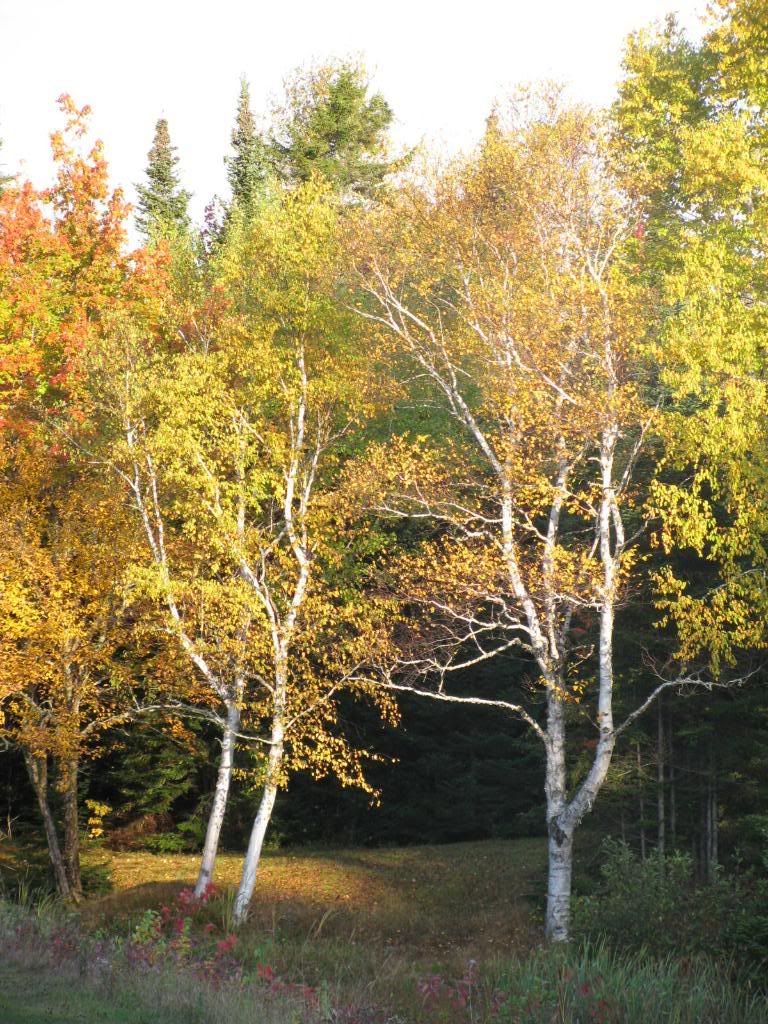 But the wind came up and funneled right through the campsite. Bah. COLD!
DAY 3 RUMMAGING AND A SPORTY RIDE
We got going early and did the portage to Eagle. (Base camped so travelling light..this was almost a mistake). The wind blew first from the south then the north and built up pretty good. Spitting rain again. We paddled about ten miles to the old terminal of the railway. It's a little hard to spot the canal from low water on the lake and we slogged a littletrying to find it. The metal post that indicates the entrance is gone.
So this is what's left of the rolling stock and rails.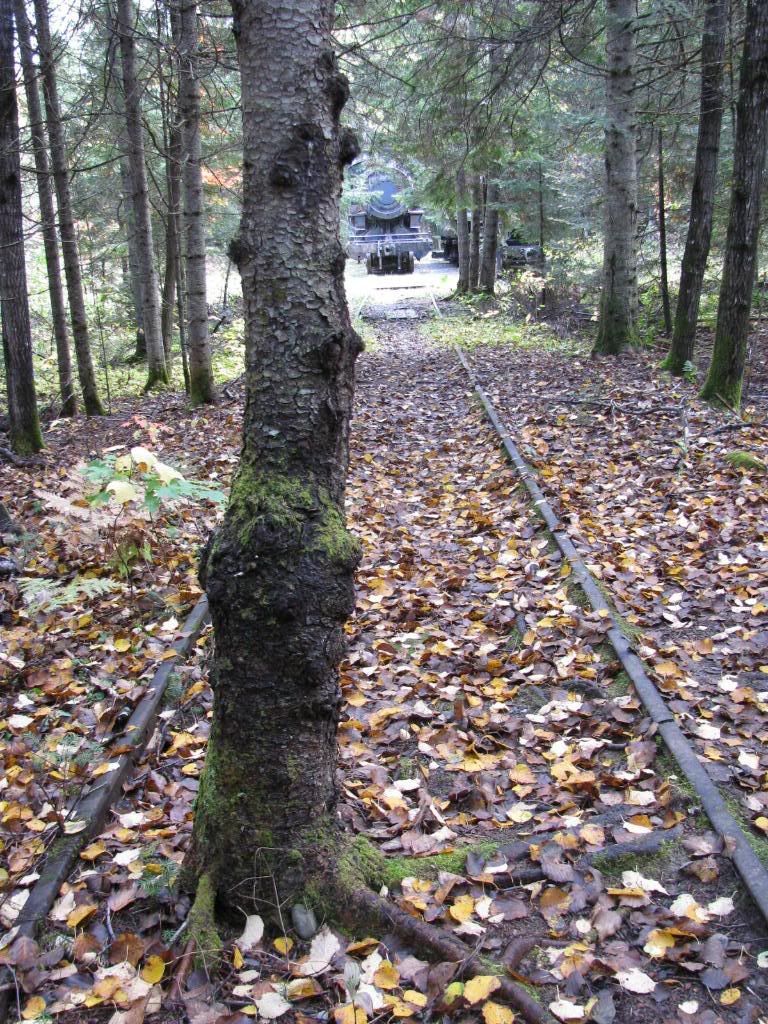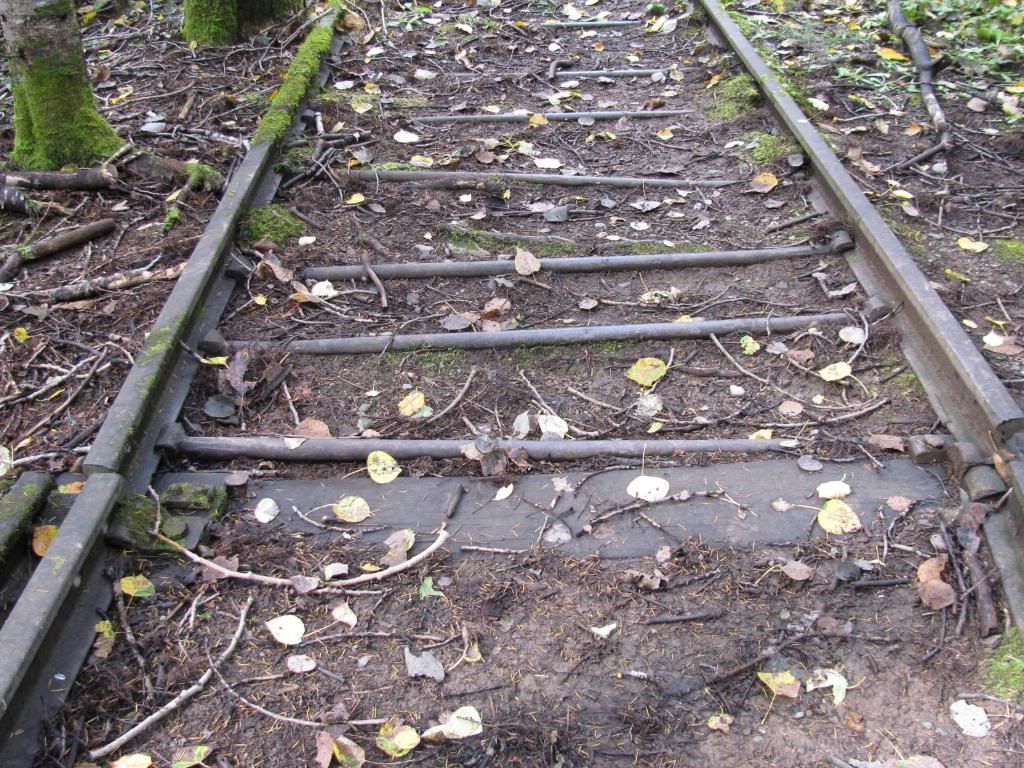 The locomotives have been saved from tipping over by volunteers who came in with loads of gravel by snowmachine some years back. The larger is 100 tons, the smaller 90. Once they were in a barn but that burned down. They are exactly where they were left in 1933. It was too expensive to remove them.
The sporty ride was going back to camp in the rain…three to four foot waves from the stern. Once or twice we bemoaned the folly of being in these conditions. Could it get worse? We did make it back to camp.
DAY 4 IT WAS THE WORST OF TIMES IT WAS THE BEST OF TIMES
The dog says it all… It was TERRIBLE!
This was taken during one of our bailing stops. We had to do a two mile crossing twice..could not be avoided. We could have chosen a better day. It was pouring rain and sleet (that hurts) and a little snow with a brisk wind of 20-25 mph which with the extreme fetch on such a big lake set up rollers. We should have had a full spray deck. It was worse than when we paddled Superior. We had twelve miles of paddling in all and six bailing stops.. Worse the dog shifted badly in the middle of one of the two mile crossings and we somehow were able to make it delicately with a boat 25 percent full of water.
About five hours after we set out we arrived at the truck . The paddle should have taken three. The takeout is by the ranger station but we didn't notice..we were so eager to get the stuff in the vehicle and the canoe tied on that when the ranger came over he kind of surprised us. Ranger Tom Coon said that he would put the coffee pot on and for us to come over even though we were dripping wet. He said to bring the dog in too. We were amazed when we finished packing five minutes later and went on to his cabin that he had made HOT SOUP and sandwiches for us too! Did we look that bad..? We have always found the Allagash rangers very helpful but this was beyond duty! We visited with him in his office..and it seemed that as he is a year round ranger.. he likes company. He told us much of the history of the area and what it is like in the winter. He was part of the crew that righted the locomotives.
Now our worst of days had turned into the best of days and we drove to a motel (!) in Bangor snug and dry.
Sometimes in the North Maine Woods you see the darnedest things.