June 20-24, 2011
The American side of things here has been dull lately so I thought I would throw this on here. Its been on solotripping and the UK forum..just to let you that visit those that there is nothing new.
I was very bummed out when an Allagash River trip fell through. I wanted to see June moose..when the teenagers get kicked out and are confused and the possibility exists of seeing mamas and calves.
I couldn't afford to do the Allagash shuttle solo so I decided on a trip about as long, easier travel but bigger water, and better views. And cheaper as the shuttle takes one hour..not three.
Off to the West Branch of the Penobscot on Monday. Left home at 10 and at two, with a small detour for this view
just outside Kokadjo, was at Allagash Gateway Campground where I met Steve the shuttle driver and new co owner.
We were soon off to the Caribou checkpoint where I paid the daily toll and four bucks a night for camping. Was on the water at three.. First nights destination was only three miles off..Lobster Lake.
Here is an overview map of the area.
http://www.state.me.us/doc/parks/maps/seboomprc.pdf
This was the maiden overnight camping trip for the new DragonFly. Fitting that a large part of the trip consisted of a segment of the Northern Forest Canoe Trail. All Proceeds from the royalties paid to the designer by Colden Canoe goes to the Explorer fund ( for kids canoe trips) on the Northern Forest Canoe Trail.
Here she is loaded and ready to take off.
A short paddle up Lobster Stream.. and whoa there is a wicked tailwind.. the crossing of Lobster in whitecaps..surf dumping on the beach.. Nice beach campsite at Ogden Cove..Things calmed down..
A while back folks posted of the pleasures of an evening paddle.. So I did..and what a reward. I was all alone on this lake that is about three miles wide and five long..just watching. Here is Big Spencer Mountain nearby.
And this sunset lasted an hour..
Bed late at nine thirty..did not get on the water till nine the next morning! That was the LAST time I was going to be that late.
Back past the put in and swung down onto the West Branch of the Penobscot. There is now a headwind..and the river is not moving very fast. It gets windier and windier. I see nine moose and eight escape the camera lens..A mother and calf ..the mother gets right out.. poor calf is so confused. Here is a curious yearling. This area has one of the highest densities of moose in North America.
Whaa? Waves UP the River?
I get to Little Ragmuff and camp. I find a lot of bunchberry and is that a huge anthill? Bunchberry is a food for moose and bear. The ants must be bear dessert. All campsites on this route have table and outhouse. The outhouses are very nice though this one is a little off foundation...wonder if I will tip over..have not seen anyone who could help.
OK game plan for day 3 is on the water at 7 as I have to paddle some of Chesuncook Lake. Chesuncook is native for "big water". The lake is often a screaming witch. Over 22 miles long not including extension arms and from two to five miles wide she is not apt to make life easy.
So I arrive in view of Katahdin..to dead calm???
I paddle to Canvas Dam and camp and lounge taking a ten mile up and back down Black Pond in search of... more curious moose. This one really did not know what to do.. would retreat..stare..retreat stare..finally in the bush..came back out to stare. What a nice day. I stay at Canvas Dam that night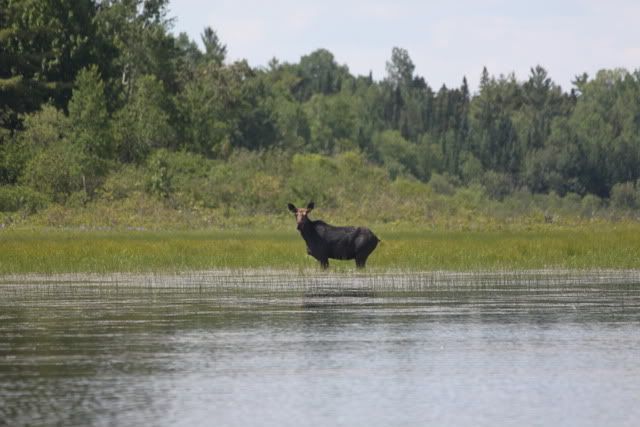 Overnight the wind comes up.. I have over twenty miles of Chesuncook to battle to get back..is it a north wind? Please? NOOOOO...its from the south and at seven am there are already isolated whitecaps..
You are small ...veddy small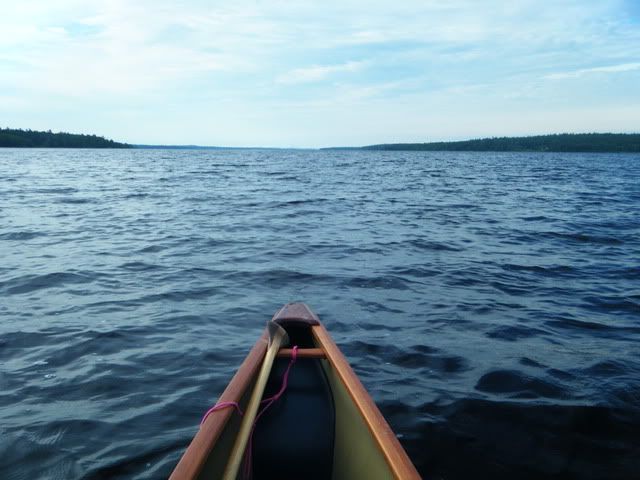 I measure going to visit the village and get fudge and a root beer float vs getting across the two two mile crossings I have to make before things get really hairy...over to Gero and then cross the inlet between Gero and the mainland. I pass on the village visit. By the time nine am has come there are whitecaps everywhere and big rollers. After five hours of paddling I arrive at Red Brook campsite. The wind howls right on to the table blowing stuff right off. I have made maybe eleven miles. 11 more to go tomorrow. The wind does not let up much during the night. I am so tired that I am in bed at six thirty. Its cold..about fifty degrees Fahrenheit. Maybe a little less.
And up at three. Break camp in the dark. Sunrise at four.. Wind at five...sigh... more rocking and rolling..sometimes I can get a picture.
Rest stops are so deceiving
Back at Allagash Gateway Campground at ten.. had to take frequent breaks. The sound of the wind was just driving me nuts.
It was just starting to rain as I pulled in.. No problem...back off through Kokadjo and Greenville. The little store is Kokadjo is a must. Decent food good fries and coffee and interesting pasta for sale.. Warning explicit links.
Penis Pasta
I was tempted as the Big Balls sauce recipe looked good but at $5.99 for eight ounces pasta?
They also had
Pasta Boobs | Boxed Boob Shaped Pasta With Recipe | fredflare.com
And fishing gear and camping gear and bug dope...anything any sportsman or woman would want.
I got home about mid afternoon and at six pm announced I was going to bed!
Total trip length was about 60 miles no portages challenging conditions on a big lake and only a mile or so of mild class 1+ rapids. And no people.
And of course I forgot something. I brought two Lipton Sides and no meat..Oh well. I really did not miss anything.
Bug report..Some mostly at dawn and dusk a few BF mostly mossies and otherwise NOTHING. You think the wind helped?