The trip route and duration of trips in the Deer Isle area can be whatever you want it to be.
We chose a quick out and back from Stonington to Isle Au Haut trip. Its eleven miles one way from Stonington to IAH at Duck Harbor. IAH is the most remote unit of Acadia National Park. The island itself is some eight miles long and a couple wide. A circumnavigation of the island is best done by kayak. Otherwise weather and winds permitting, a person used to sea paddling could do it in a canoe as the many islands of Merchant Row afford a safe haven. There are a lot of campsites. There is also a lot of private land and private islands. Its imperative you know where you are and where to go.
Note that not every dot of land is named on the chart.
http://www.charts.noaa.gov/OnLineViewer/13313.shtml
Here is info on camping at IAH. The Duck Harbor Campground has fresh water . Its a 1/4 mile hike to the pump and the water tastes like old iron. I need not go further. We wrassled with that pump to clear the taste. It might be better with more use.
http://www.nps.gov/acad/planyourvisit/u ... ahinfo.pdf
Kind of looks like Superior,eh or as we say ayuh?
http://www.nps.gov/acad/parkmgmt/isle-au-haut.htm
We launched and parked at Old Quarry Adventures
They have a small tent only campground and nice canoe and kayak launch right on the water. Good store. Good people. Good stories and advice.
http://www.oldquarry.com
Now where to camp on the way to Isle Au Haut. You have some two dozen or so choices depending on if you are a MITA member or not.
http://www.oldquarry.com/kayak/islands.pdf
We are MITA members and hence are allowed to camp on some non public islands, but this trip set off in the fog. By the time we got to Russ we were already thinking camping even though Russ is a public island. We could barely make out...the two masted schooner parked in a sheltered cove discharging about thirty Colorado high school kids.
Well...no not for us. They were going to leave but we hated to mess up their beachcombing.
So we tried to find Steves. Hah.. fogged in. Couldn't see much more than the end of the boat. Meanwhile lobster boats work all around. We wait five minutes and the fog lifts. Steves is a minute island. We see it. We see Harbor and I know that is a great camping island. Taking a bearing before the redescent of the fog curtain we run for it.
Harbor is big and beautiful with hiking trails. The next morning there seems to be less fog. But still no sun. We can see the village of Isle Au Haut and within an hour or so are there. But the campground is some five miles down the island at the end. Its afternoon when we arrive.
We set up a tent in the one of five shelters available. You have to reserve ahead though there was no one else there when we are and tourist day boat trips to Duck Harbor do not start till June 10. Few people want to backpack the six miles from town that is necessary the rest of the year when the mailboat only goes to the village. The trails are rough. But aha... the paddlecraft beach is fine though the campground is a little uphill and about five hundred meters away. That afternoon.. a little reading and seeking sun. Its not warm..about 55 degrees F.
Friday dawns sunny with the promise of warm. We hike the Western Head/Cliff and Western Road trails and then go do Ebens Trail late in the day where we bump into
http://www.yankeemagazine.com/issues/20 ... eenlaw/all
who is the only other person we see all weekend! Conversation is sprightly but brief. We are tuckered having done some ten miles of the roughest terrain imaginable. Its the Coastal Hiking Trail in Superior on steroids. We collapse at six.
Why six? Because NOAA has been changing their minds every day and now promises a gale tomorrow..Saturday. Arriving in the PM. We would like to arrive at Old Quarry before then. So we get up at sunrise. In Maine that's four thirtyish. We are on the water at six..paddling into the tidal current and 25 kph /15 mph wind even then and arrive at the car just before He** breaks loose at 11 am.
PS Since then we have had some 10.5 inches of rain in a week..that's what 260 ? Rivers going good! We are now the adoptive owners of a blue dock that floated in to ours..know not who really owns it.
Some pictures. My "newly charged" Pand S camera ( known last week as POS) decided to not work.
Yes it was really blue.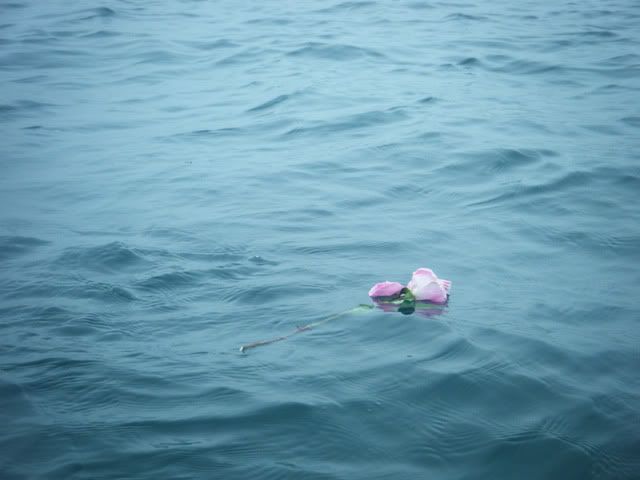 For my friend and paddling cohort Debbie who had died two days before. She loved roses. I will miss her.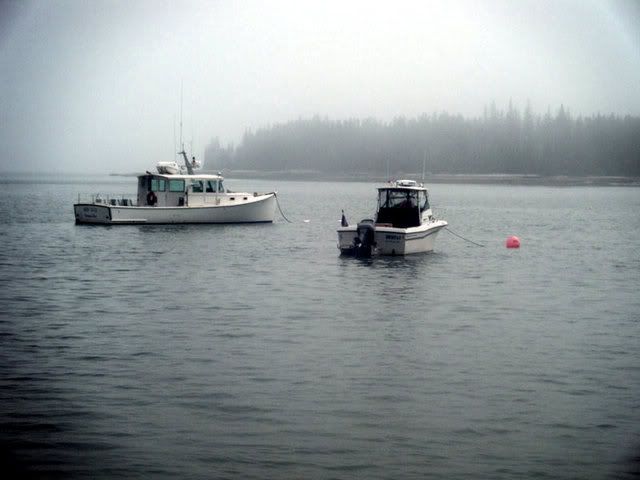 Then the camera went kaput. Dead battery!
Trip notes. This area has a reputation of being very busy in the summer. Aside from "downton" Stonington where you can't park and really do NOT want to try and launch from.. read dock...gear ..in the way and down a ladder ten feet, the area has plenty of places to camp.
MITA membership is worth it
http://www.mita.org/
Even if you don't want to join, there is a great wealth of info on the website
http://www.mita.org/learn/articles