To respond to some of the comments, here's a little more information of some on my techniques:
Reflector Oven:
The reflector oven has become a regular part of our kitchen kit in recent years. I purchased this one from a contact at the WCA. It is a Swedish made Svante Friesen design that is a lighter, more compact version of the traditional rectangular design that has been popular for years.
The reflector oven cooks with indirect heat - the heat that is reflected off your dinner fire. Virtually anything that can be baked at home in your conventional oven can be baked in a reflector oven. We regularly bake breads, cakes, brownies, lasagna, baked enchiladas, shepherd's pie, etc...
Here's a shot of the reflector oven in action, baking a shepherd's pie made with dehydrated ground beef, dehydrated corn, carrots and peas, with instant mashed potatoes on top. Simmer the main ingredients with Cubhouse Shepherd's Pie seasoning, top with the potatoes and bake for half an hour. A 100% dehydrated meal that tastes just as good as when you make it at home.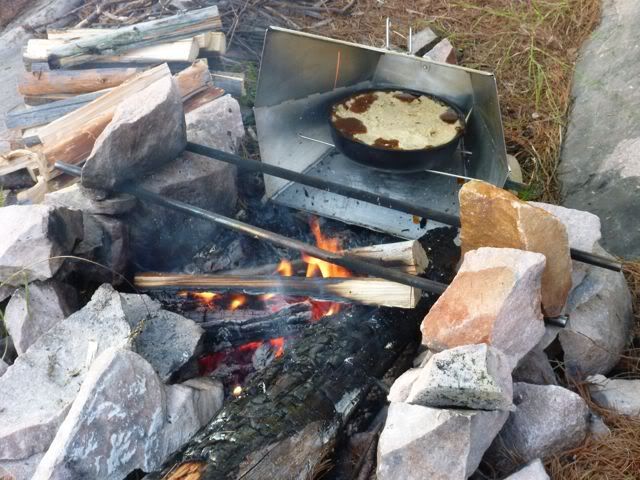 And here's the finished result: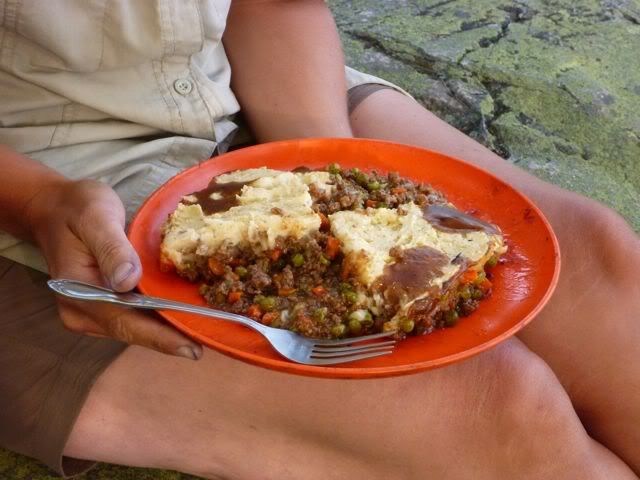 Fire Irons:
I too have never been a fan of using a grill... most are awkward to pack, and others, like the hyped-up Purcell grill are too small to be practical for wilderness campfire cooking: they are fine for simple one-pot meals, but like Doug points out, the food can make or break the trip, so we tend to cook more elaborate meals: we often joke that we eat better on trip than we do at home.
Fire irons allow you to take advantage of the traditional 3-walled fireplace design, and arrange several pots in a row, while still allowing for proper placement of a reflector oven, as seen below.
The Wannigan:
The wannigan began as a bit of an experiment...
Years ago, I spent some time tripping with John Kilbridge of Temagami Canoe Company. He would go on and on, extolling the virtues of tripping with a wannigan. I initially thought it was a ridiculous idea to haul a big box on a canoe trip, but still liked the "romantic" idea of using a traditional wannigan, so I built one to bring on my big lake travel (easy portage) trips.
After taking it on my easier trips, I discovered the many benefits of using a wannigan:
-Fully loaded, It is easier to carry than a loaded food barrel
-It is better organized and easier to find things than in a barrel
-It sits better in the canoe than a rounded food barrel
-It stays much cooler than a barrel - cheese and chocolate don't melt even in 30deg heat
-Because it is always upright, you can carry more delicate items (in our case, leftover birthday cake, still in the pan, wrapped in a ziplock bag)
Because the wannigan is carried with a traditional leather tump, all the weight is transferred directly down the spine, making carrying extremely heavy loads quite manageable.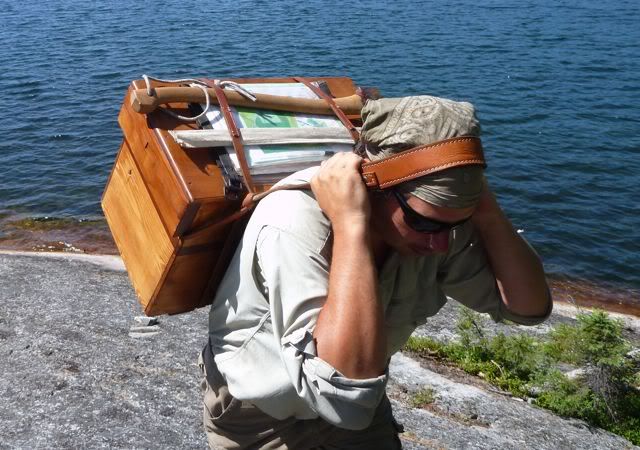 As an added bonus, it makes an awesome camp kitchen:
I originally built the wannigan to use on my "comfortable" trips, but after the first few outings with it, I was hooked.
Now it comes on all our trips.
I likely wouldn't take it on a whitewater trip, as the waterproof qualities of the food barrels outweigh the other benefits of using wannigan, but for typical lake travel trips, the wannigan can't be beat.