---
Merchants Millpond State Park

http://www.ncparks.gov/Visit/parks/memi/main.php

My intention had been to paddle some of the best of eastern North Carolina, and no sampling of NC coastal plain paddling would be complete without a trip to Merchants Millpond.

I have not been to Merchants since discovering the delights of the Black and South River in Bladen County; my last visit would have been in Spring 2004, after Hurricane Isabel devastated the mature beach forests bordering the swamp.

One of the amenities of Merchants is the availability of three paddle-in group sites, available for reservation by any organized group. MMP defines "organized" loosely; essentially any group of 8 or more can reserve a group site.




On arriving that the Ranger station I mention that I really like the group sites and the Ranger give me a wink-wink-nod-nod and allows that I could always claim I got lost and camp at one of the group sites, but also offers that a group is expected on one or the sites on Saturday.

I opt instead for one of the 8 individual sites and am told "Well, I'll put you on #1, but you can stay at any site you like". North Carolina State Park Rangers, finest kind.

I do stay at site #1, with 1, 2 and 3 all being waterfront sites with spectacular swamp views and proximity to the water.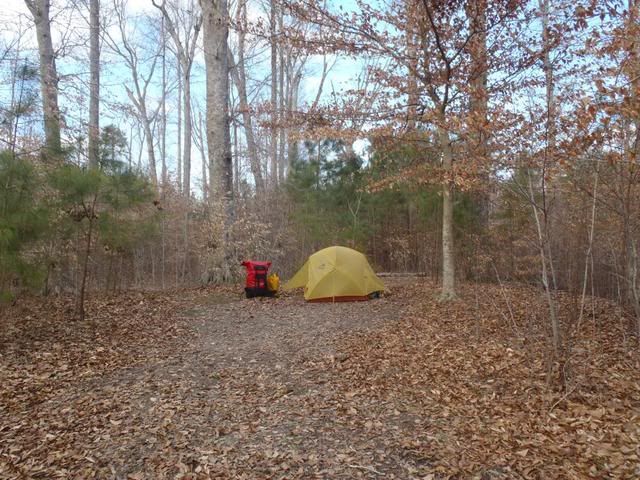 Merchants Millpond is a busy place "in season", peaking in April and may in spring, when the absolute cacophony of breeding frogs (bull frogs, carpenter, cricket, leopard, tree frogs and chorus frogs) get going. The decibel level is astounding, and just when you think it has quieted for good the symphony of meeps, honks, chirps and bellows will commence again.

In early March I heard only peepers, and one whose call sounded like the feeding chuckle of a duck.

Merchants also holds the highest population density of water moccasin I have ever seen. In warm weather, especially at high water levels, every cypress stump holds a coiled cottonmouth. I saw none, nor any of the (very few) alligators in the pond. It is not quite spring at Merchants.

Boat and camp secure I enjoy a long and hearty fire. I brought no saw or axe, but downed wood is plentiful this early in the year before the sites have been repeatedly occupied.




I am pleased with the high intensity reflective tape, both on the canoe and on the food barrels.




As I walk down to the canoe the next morning I am greeted by an inquisitive/belligerent river otter, who plays hide and seek among the cypress trees a few feet offshore, alternately chuffing and, one would swear, grinning.

It is very windy. A good day to paddle in the protected density of the cypress swamp.




As I am picking my way through the cypress I encounter a father and teen age son paddling a heavily loaded canoe. And towing a (barely) floating plastic deer sled piled to zero freeboard with split firewood.

Yoikes. Beyond the coals-to-Newcastle aspect I couldn't imagine towing anything through a cypress swamp on a windy day, much less that contraption. I chat them up briefly and find that they are slightly lost, and that I will have neighbors.

Hoping for the best I spend much of the day poking around Lassiter Swamp far into the eastern edge of the millpond. The inflow of Bennets Creek is nearby, but I'm saving that for tomorrow.

Back at camp I make ready for the night and find that my neighbors are very quiet and respectful. Not a bad reintroduction to people. As far as I can tell they never get much of a fire going, and the father later mentions that the wood got "kinda wet" on the way in.




Next morning I am up early and away from the madding crowd of two, heading for Bennets Creek. There is some open (for a swamp) water and it is still breezy; I'm glad to have the covers on the Penobscot.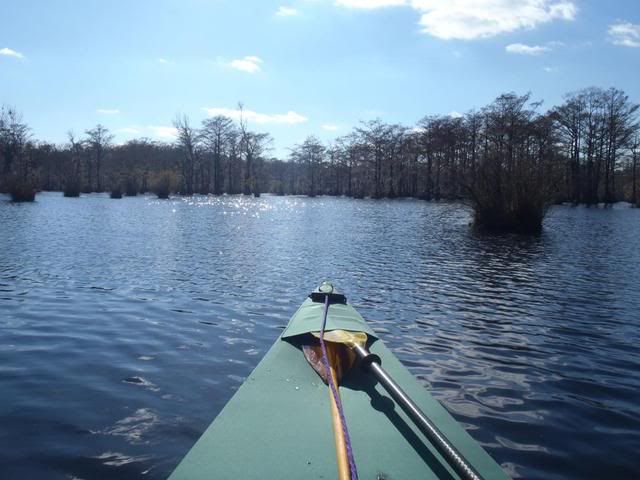 The entrance to Bennets Creeks is indistinct, but eventually discernable by working against the direction of the bent bottom grasses in search of current.




Merchants Millpond has been described in guidebooks as "a gem", and "a gem of the highest magnitude". If so Bennets Creek is the Crown Jewel.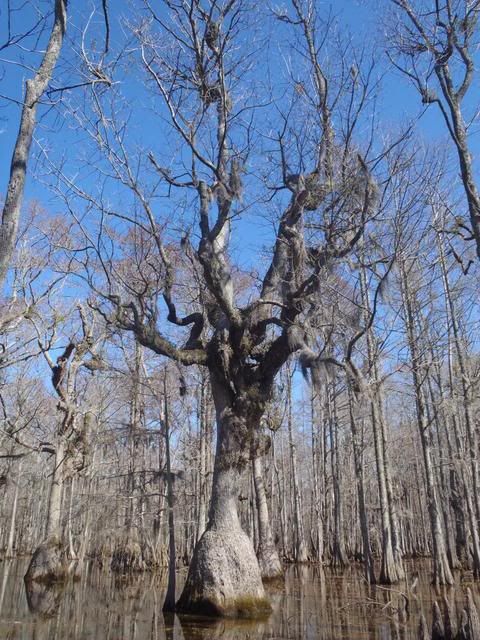 One unusual benefit of the area are the highground slopes and ridges that appear from time to time along the water's edge. Eventually some leg stretching, beech-backrest sitting beckons and I pick out a likely waterside hill.




Serenity, peace and quiet. And, as I am paddling back to the creek, a gunwale thump.

Not a gunwale, a cockpit thump. A group kayakers come into view, paddling upstream. I see that a few are wearing binoculars, and sense some anxiety that I might precede them upcreek.

I make my downstream intentions clear and paddle back downstream, again enjoying the quiet of solitude. Exiting onto the still windy swamp I come across a disaster in the making.

A disarray of a 6 or 7 park rental canoes, each of them pinballing cypress knees, carried along by a stiff tailwind. Each canoe containing one Japanese tourist parent and two Japanese tourist children, all dressed somewhat alike and all thankfully wearing a PFD, but equally clueless about how to even hold a paddle.

One of them put a gunwale to the water as I watched them come, and I snuck into a dense grove of cypress to vacate the field of play as they flailed my way.

What are my options here? "Hello", "Nice day" and "You're all going to die" as they bounced past brought no response. I can't possibly explain that they are going to have to paddle upwind on the way back, much less offer some hint about how to hold a paddle.

If one of them goes over (a better than even money bet) I'll wager that at least one more goes over trying to help. I really don't want to be exercising my bow-over rescue pantomime, especially with spray covers on my canoe.

Gotta go, best of luck. Please don't swim before I'm out of sight.

Once back in camp I kept an eye and ear out for any sign of them returning across the millpond, but saw or heard nothing. I was thinking of letting the rangers know they might need to go fetch them when another canoe cruised past camp at high speed and slammed head on into a cypress trunk directly in front of me.

It occurs to me that not only have I been timeless for the past 3 weeks, I've also been day and dateless, not having a calendar. Or, until now, a care.

It is, I calculate, Saturday. A warm if windy Saturday, and I have violated my cardinal rule of avoiding popular paddling places on weekends.

Tomorrow is predicted to be even more beautiful, mid-60's, sunny skies and light winds. I think I'll get packed up and paddle out early.

I arrived at the launch the next morning to find a dozen cars in the once empty parking lot, and as I was packing the van a number of boats from the group camp paddled in. One of them approached and said "You're Mike McCrea". Having recognized me from the van's Duckhead and Tortoise Reserve stickers Rufus had me at a disadvantage.

Meeting kindred spirits made for a fine re-entry to civilization, and a good way to end a long trip.

Next up, some off topic Tortoise Reserve.