When I was shopping for a solo a couple of years back I was more concerned with the weight capacity that canoe length. I'm 6'2" and thin is but a memory while Corky is 65Lbs. I ended with a Wenonah Wilderness which is 15'4".
Space is not an issue nor is trim. My initial thinking was to use two 30-35 litre backpacks for all my gear and food so I could position them for good trim but, frankly, it has never been an issue. The packs both go behind me and Corky in the bow. Lots of room. In fact, last year I took both Corky and Brownie, a Husky mix of similar size I had "adopted" when her human went down to the US to work, on a couple of weekenders. One went in front of the bow thwart and one behind.
I have more an issue (dog wise) with tandems. Corky will generally start out between my legs in the stern but I have to keep telling her to lie down because she gets in the way of my stroke so eventually she will settle in the centre of the canoe on top of the gear. When loading, I ensure she has a concave "nest" up there so she is comfortable and doesn't move around too much. She's not much of a water dog but likes being left behind even less.
"I'd rather be backpacking."
Corky watching the shore fade away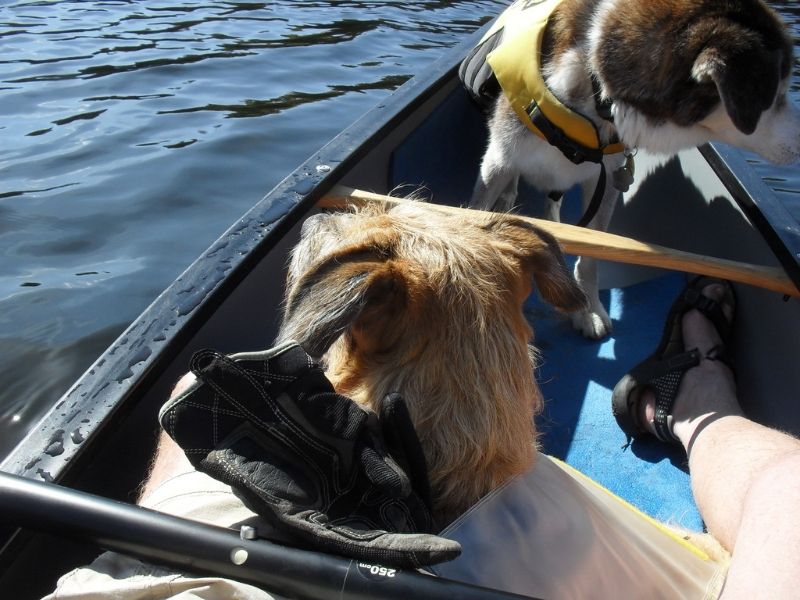 Double trouble!