WARNING I swore in the one video!
Being of an age that I've done a lot of fishing in a lot of different places at a lot of different times of the year makes choices about where your going to fish on any given free time that you have hard. That being said there are some things that are unmissable and despite the weird spring we are having I figured one of my annual gigs might be ready for a go.
A lot of larger southern ontario rivers actually have remnant brook trout populations in them where the brook trout live in the large rivers only when the temps are suitable and then scoot off upstream in coldwater tribs from mid may till post spawn. This allows them to obtain some decent size because of the abundance of food.
There is a special time after opener when the water levels drop and the rivers start to warm up where the specks start to concentrate in the thalweg of rapids and swifts and the fishing for them can be spectacular and steady and the fish of a good decent size.
I was hoping that yesterday was going to be a perfect day for it and picked up my son to go get er done.
My son Griffin hadn't caught any trout yet this year so to ensure a successful trip for him I stopped at a small trib that gets ignored because its right on a main highway and he caught a few little guys to break the ice.
We arrived at our spot and got our equipment ready. I would be fishing my 4# sage using a floating line and a olive bowriver bugger. Grif would use a spinning combo with a panther martin tipped with a worm.
The water was actually still on the high side and a little cool so I think the fishing can only get better in the next week so I might have to hit it again. Most of the spots that hold fish didn't seem to produce anything and despite a prolific hatch fish were not moving to the bugs.
Rust produced a couple misses for me before I finally managed to get one along a foam line in a heavy current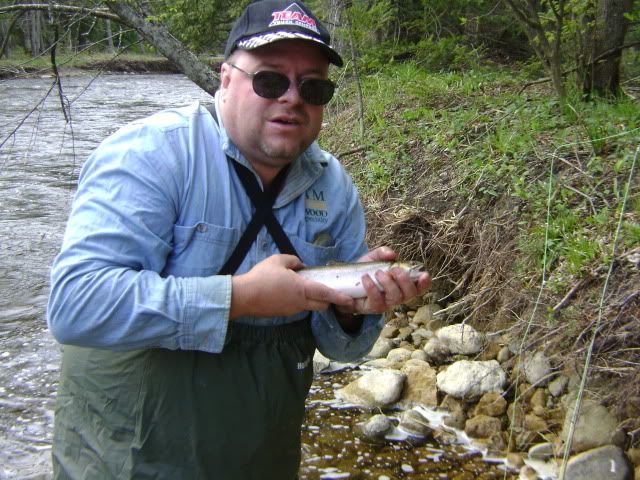 This trip for me was mostly about trying to convince my son that speck fishing was just as much fun as smallmouth fishing but he had only managed to miss one fish. Finally at an overlooked deeper back channel he gets rewarded.
http://www.youtube.com/watch?v=mdWTkMCE_GY
Some stills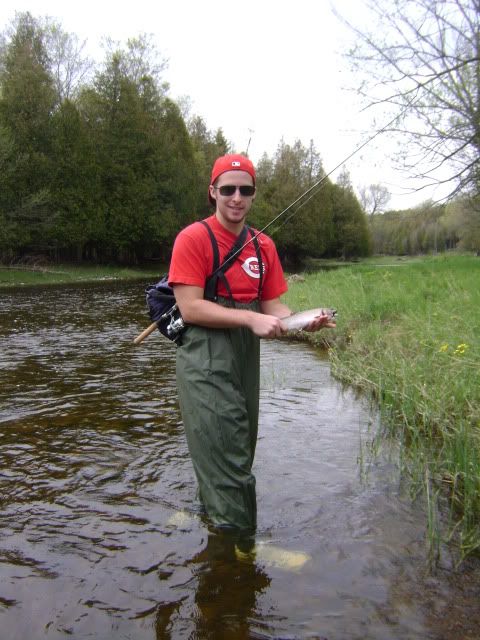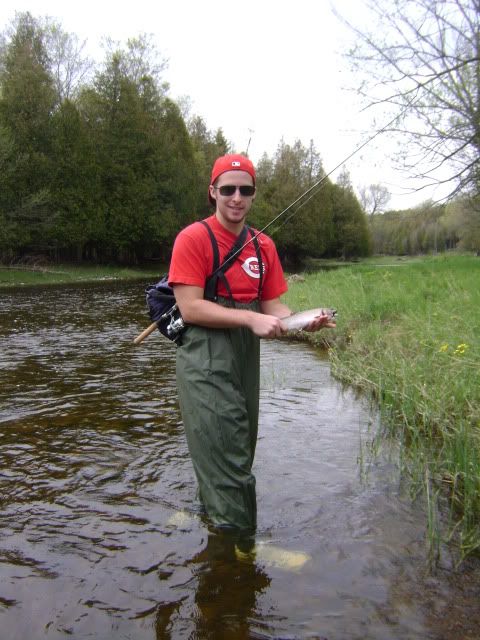 These fish are of an average size for this gig but I was telling my son that there was the odd bigger fish around and I had seen them up to 18" here in the past. We came to a beauty looking spot with strong current pushing into a deep bank with a large cedar providing overhead cover. I knew there had to be a fish in this spot and we were working pretty hard and coming up with only a couple fish so I graciously told him to give her a go. He had a hit on the first cast but it just grabbed the worm off his PM so he rebaited and hoped he hadn't gotten iron into whatever was down there. He was amply rewarded
http://www.youtube.com/watch?v=PbFART49flU
That was 16 inches fork length of beautiful southern ontario brook trout
Some stills
Managed to get one more myself on the fly
The action was slow because I believe its still just a little early. But my son is now totally convinced of the rewards of specky fishing and wants to get out again for my next gig.