If, after reading the preceding posts, anyone might be wondering, like I was, where/how to carry a pin kit, I can recommend one option for consideration.
I made a DIY zippered pouch for the back of my PFD. It doesn't alter the PFD, is easily removable, water flows right through it, it weighs very little, and it is much more streamlined than the commercially available model from the same company as the PFD. And, it costs about $80 less.
It took me maybe a half-hour to make using a sewing machine, but because it's small, if a sewing machine is not an option, it could be easily hand stitched by most folks I think.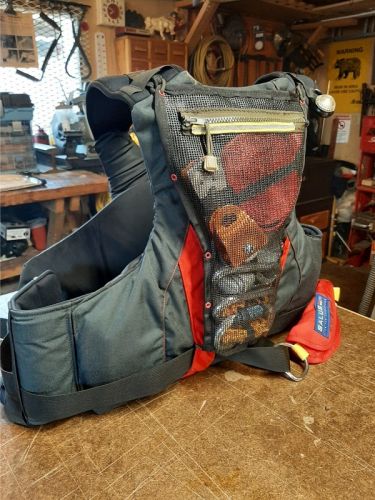 I made it from scraps of rubberized linen mesh left from another project. I double-stitched it, added a zipper, some edge binding, some small grommets, and secured it to the PFD with small pieces of paracord. I ensured that the pouch does not interfere with the release of the rescue belt just below it. To buy the things needed to make this would cost maybe $20. The side view shows how streamlined the pouch is.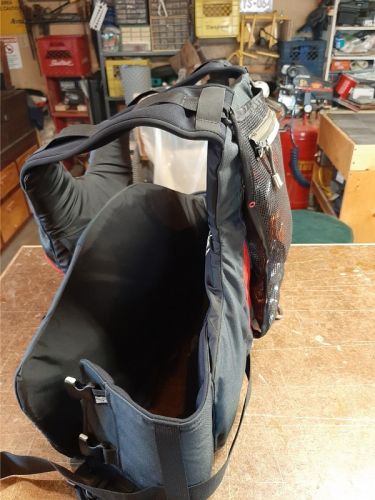 How is it fixed to the pfd? I'd hate to see you get snagged by a branch as you float on your back through a rapid. Very low chance but I've known similar things happen. The pouch on my Palm PFD uses breakaway clips in case this happens.
Inside the pouch, I carry both a larger and a smaller tubular webbing anchor slings, 3 x climbing pulleys, two of which are prussic-minding, 2 x prussics, and 3 x locking carabiners.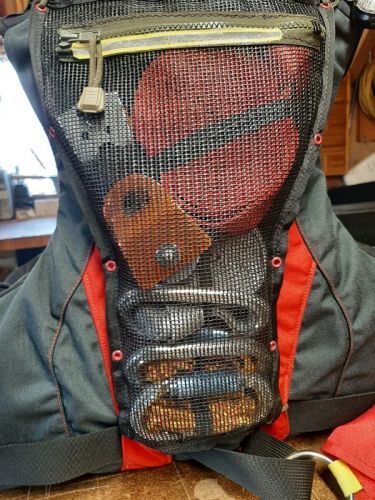 A 4th locking carabiner connects my rear painter to a co-located 75' spectra throw bag.
I have a simpler throw bag close at hand in the paddling station of the canoe as well, and I have laminated Z drag cheat sheets tucked away in a PFD pocket.
The padding in the back of this PFD (Kokatat Maximus Centurion) is substantial, and in the unlikely event of my back hitting a rock in the river, I do believe that the padding would prevent impact injury from the metal bits in the pin kit.
Because the weight in the pouch is minimal and held tight against the PFD, the felt weight while paddling is also near nil.
Anyway, for anyone seeking one, it's another option besides grab bags, leg bags, fanny packs, PFD pockets, etc. for carrying a pin kit.
Cheers all.