OK folks,
I tracked down the data from Epoxyworks with the strengths for various cedar glass epoxy layups. They were done with West epoxy, in 12" squares and then cured fo 60 days, and weighed carefully before being tested on an MTS machine.
The deflection data is how far the sample was flexed at the point of failure.
The table I have attached is the same data as in Epoxyworks #10, pg 5. But I've also added a couple calculated columns (shaded) and sorted the data slightly differently.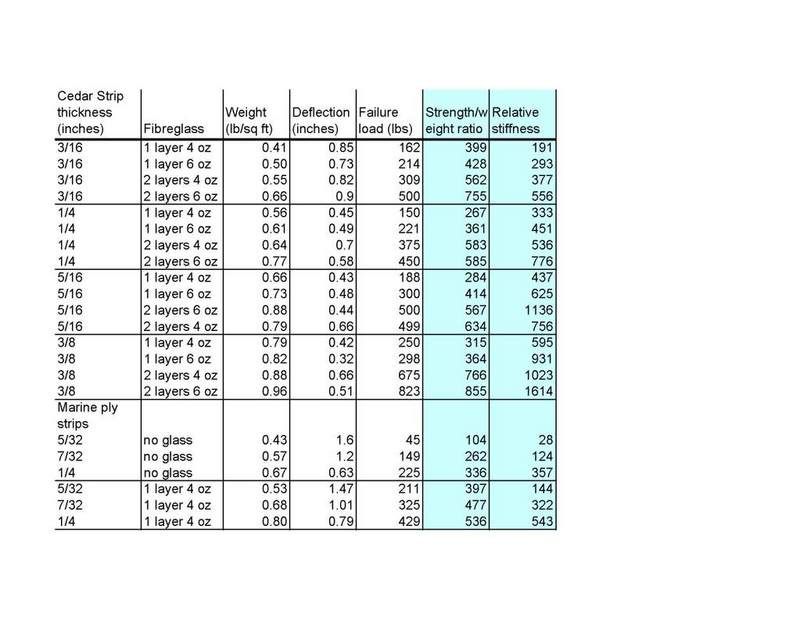 The things I think are of key importance are the 3/16" strip and single 6 oz glass layup and dual 4 oz glass layup as compared to the 1/4" strip and single layer of 6 oz... The strengths of the two 6 oz combinations is so close as to be negligible in difference. However the 3/16" strips give a significantly lighter weight for the same strength. Using two layers of 4 oz with 3/16" strips gives greater strength and still weighs slightly less than the "standard" 1/4" and 6oz.
Food for thought for builders.
If you plan on using your hull lightly then 3/16" and 4 oz is as strong as and significantly lighter than 1/4" and 4 oz.
Further 3/16" inch thickness seems to be the sweet spot in terms of strip thickness for strength and weight. Even for higher strengths requirements. Its only when the requirements become "extreme" in strength or stiffness, that thicker strips gain anything and that requires going to 3/8" strips to exceed the capability of the 3/16" strips.
_________________
Quote:
So many projects, so little time..