Graybeard wrote:
Be cautious in trying to limit resin absorption of the wood. Maximum shear stresses occur at the wood/'glass interface.
I'm not trying to eliminate absorption, just to limit it to the surface. Turns out that may be hard to do according to the guys from System Three. Better, they say, to find a wood that is both light weight and low on absorption and live with how much it soaks up to achieve maximum peel strength. Apparently, basswood is a poor choice for that.
Quote:
I've found that 60-grit, open coat, abrasive paper backed up by a styrofoam block shaped to the curve of the hull, and used vigorously at an angle to the grain direction on white cedar is a
very
fast way to remove stock, and therefore weight. Depending on the shape of the hull, a lot of blocks might be required but they are quickly made by using the hull itself as a backup for the abrasive and sanding the foam to the shape. The problem is avoiding sanding right through the cedar to the outside 'glass. I do that by drilling right through the hull at strategic locations, measuring remaining thickness with a depth gauge, and filling the holes with epoxy when done.
Man, that sounds like a lot of work! Here's a photo of the pile of shavings my aggressive scraping on the inside of the hull produced: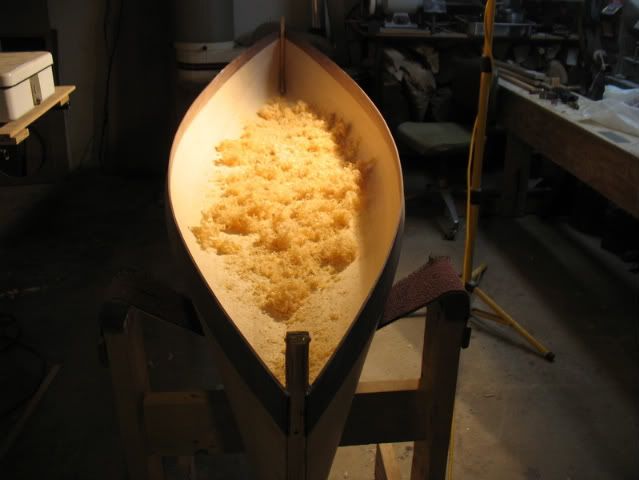 All those shavings
plus
vigorous hand sanding produced only a 12 ounce reduction in weight. Removing a uniform 1/32" (two pounds) from our basswood hull would require sanding away for hours and hours inside the hull, a tough place to sand in the first place. I think using thinner strips would be lot less work and it would be much easier to achieve uniformity in hull thickness.
As far as measuring hull thickness, I used a musical instrument maker's thicknessing caliper to reach most of the hull for
Nymph
. I will be making a much larger version out of Baltic birch and a simple dial indicator. There are other even simpler gauges that can be made from scrap that will do the job fine.
Quote:
For the 'glass I've found that the rule-of-thumb that resin for a thorough wet-out weighs the same as the fabric is fairly accurate. I haven't found a good rule-of-thumb for filler coats.
I don't see how that is possible as the wet out coat is the one that soaks into the wood adding extra weight. In our case, the cloth we used was 3.2 oz. I weighed a carefully measured square foot of the stuff on a gram scale (gee, what am I doing with one of those
) and it weighed 10 grams (just about exactly 3.2 oz./sq.yd.). With about 28 sq.ft. of surface area, we should have had about 10 oz. of cloth/layer.
Well, the first 12 oz. batch of epoxy soaked right into the wood in no time flat. It covered less than 1/3 of the hull after carefully squeegeeing it out. I mixed up 45 oz. altogether and recovered about 5 oz. through squeegeeing (plus whatever dripped onto the cloth overhanging the hull). Even if it was possible to get 15 oz. back out of the cloth we would have added 30 oz. during wet out -
three times the weight of the actual cloth
. Our solitary fill coat on the other hand only used 24 oz. of resin and a lot of that sheeted off onto the overhanging glass. It was plenty thick enough to sand the entire hull down without going into the cloth anywhere.
I'd really love to believe that it was possible to achieve a 50/50 glass/resin ratio upon wet out. On a 10' pack canoe, that would mean a 5.5 pound bare hull (stripped in 1/8" NWC) with only 36 oz. of glass (3.2 oz.) and resin, inside and out. I'd be at 7 1/2 pounds, with no need for extreme reduction in the scantlings. Going to 3/32" planking would get me down to just a shade over 6 pounds.