... with a boat inside it.
Well, I finally got Lady BK her FreeStyle canoe... a nice little Loon Works "Nakoma" made by master canoe builder Tom MacKenzie in wood and...
drop cloth
?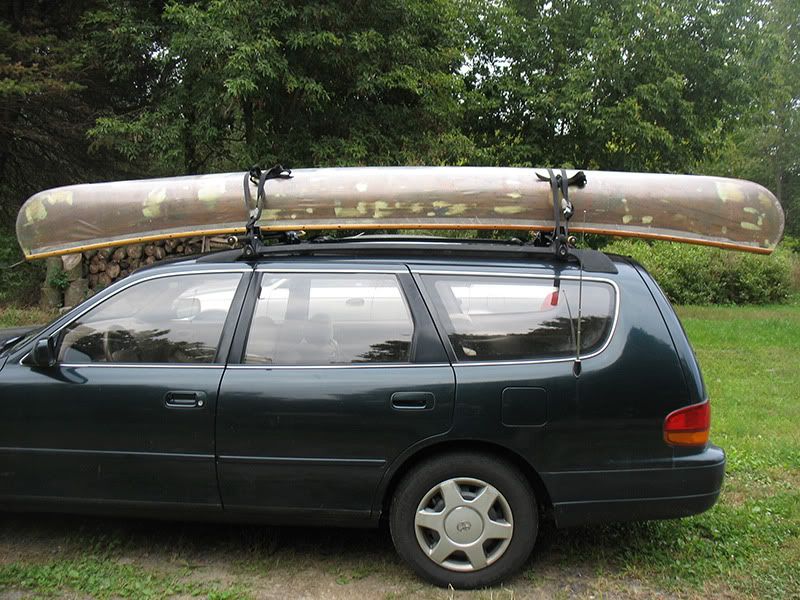 This is the very same canoe that Mark and Becky Molina won National Championships with back in the day. Mark sold it to a guy in Louisiana whose wife no longer used it. It was stored under a porch over an acid soil and the brass tacks turned into little voltaic cells and blew holes in the Dacron!
It made its way to South Carolina (the builder's home state), Tom brought it to the Midwest FreeStyle Symposium in Ohio and my friend Ellen brought it from there to her home in Rochester, NY where we picked it up on Sunday. Tom put a temporary skin on it for me so Lady BK could paddle it until I get around to re-skinning it. I'm told it inspired laughter everywhere it went.
Interesting look at the planking layout of a wood/canvas canoe. This is usually somewhat disguised by the internal rib structure when the boat is finished.
I thought it to be an interesting and cheap alternative to re-canvasing a canoe in order to try it out in a hurry. Maybe I'll leave it this way, just put duct tape on any tears that develop. That may take a while on a FreeStyle boat. Lady BK can take it to the AFS next summer, and when folks ask what's going on with it, we can say, "Yeah, you know... we
did
suspect there was something not quite right about it."
BTW, it's amazing how tippy this boat is compared to it's big brother the "Aria". I paddled an Aria for three days without once feeling uneasy in it. I could easily heel it to the rail without losing my balance. I tried the Nakoma last night and I didn't get 10' from shore before bringing it back. It is only a foot shorter and a mere inch narrower at the waterline than the Aria, and yet, it is totally unpaddleable by me at my size and skill level.