I really like David Carpenter's
Fishing in Western Canada
. It is humourous as well as informative, and is filled with David's not-too-serious and interesting writing style.
http://www.dccarpenter.com/fishing_in_w ... canada.htm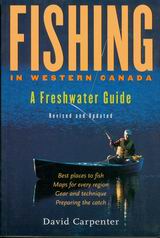 I still suck at fishing, though.
David Carpenter is one of my favourite authors, I love his book
Courting Saskatchewan
and his various works of fiction.
I own a variety of the Lone Pine books, they really are great for those of us in the west. The one that comes most frequently on my trips is
Plants of the Western Boreal Forest and Aspen Parkland
by Derek Johnson, Linda Kershaw and Andy MacKinnon.
http://www.lonepinepublishing.com/cat/9781551050584
The one I don't love is the Lone Pine
Saskatchewan Birds
since it's not sufficiently comprehensive for my preference. It covers all the major birds found here, but excludes some that are a bit less common. That of course is a plus for some folks since it produces a more simple, smaller guide.
http://www.lonepinepublishing.com/cat/9781551053042
I used to have a bird guide that I loved, but I loaned it to someone and never got it back (it migrated from person to person and beyond my practical reach). I prefer bird guides with drawings rather than photos - photos are great but a well drawn image can really show the salient points so well.
I look forward to seeing other's suggestions! It's been a long time since I've read that
Selfish Gene
book, probably just after finishing my undergrad in biology.
Cheers,
Bryan