Post 6, of 7
Contents:
Appendix D: Gear
Appendix E: PakCanoes
Appendix F: Accommodation in Yellowknife
Appendix G: Accommodation in Baker Lake
Addenda: Fidler Lake and Hans Schneller
Photos
Please note that much of the information in the appendices comes from 2005.
Appendix D: Gear
Tundra gear:
The best article I know of is Bill Layman's
Canoe gear for the subarctic
.
http://www.townoflaronge.ca/features/bl ... icGear.php
Shelter:
We borrowed George Drought's Tundra Tunnel (Mk II or III); thanks for the loan! Eureka sells the commercial version. It holds 8 people comfortably, and we had 10 in it for several nights when Hans and Hans joined us. It really takes a lot of bite out of the barrens. I suggested sending it back from Mission Island but was really glad later that the other three on the lower river voted me down, for the weather got a mite nasty the last few hundred km; we got away with putting it only 2/3 up.
Bears:
We had two cans of spray, two sets of bangers and Bob's 12-gauge shotgun, with slugs. Again, thanks to Levi Waldron for getting the spray and bangers to Yellowknife for us. Several of us had POL/PAL certificates; we practised at Bob's cottage.
Boats:
On the upper Back, we had an Esquif Canyon (rental) used by Gene and Bob, and three PakCanoes, one 165 and two 170s. Our plan was to send the rental back from Mission Island with Daniela and Doug, whose 165 would be used on the lower river by Gene and Bob. Gene and Bob returned from Mission Island with the rental and the 165 and we paddled the lower Back in the two 170s.
Spray covers:
We put them on in the morning of the first day and kept them on until we finished the trip. They were essential in Rock (we would have swamped without them) and likely saved our bacon other places too. And they help keep you warm and dry.
Satellite phone:
Though connections were fragile, Marilyn's Globalstar proved invaluable both at Mission Island and at the end.
Stoves and fuel:
We had Stephen's MSR and we bought a two-burner Coleman in Yellowknife. We had 5 cans of fuel for the upper Back and 4 for the lower. The figure I use is 100 ml per person per day.
First-aid:
We were in good shape here; Marilyn had the right stuff and Gene is an MD.
Gloves:
I believe we all had paddling gloves, but some of us found them insufficient. I had brought some ski overmitts; Daniela and Doug used plastic bags.
Water:
Most of us used our pump/filters. The others thought we were crazy; we reciprocated. The coffee filters I brought along in case the water got silty or otherwise messed up were utterly useless.
Appendix E: PakCanoes
Our boats:
Daniela Kosch and Doug Bell bought their 165 in 1999, I believe.
Marilyn, Stephen and I bought two 170s (2005 models, red of course) from
Paul Gorodko: Canada Portable Kayaks, 1271 rue Richard, Sainte-Julie, QC J3E 1W4;
http://www.kayak-canada.ca
; contact AT kayak-canada.ca
Telephone: 514 704 9836. FAX: 450 922 1245?
Paul went well out of his way to be of service and we recommend him highly.
Others':
Mary and Jan Edick bought one long ago. So did Bev and Joel Hollis. George Luste bought one.
Opinions:
Most comments I've seen or heard are favourable. Everyone I know who owns a PakCanoe is highly pleased with it, but I know some non-owners who don't like them. Several of us (I was one) thought initially that people were crazy to use folding boats on the big northern rivers but we changed our minds. It was paddling the Horton with the Edicks that convinced me.
Handling:
On the Back, they handled big water better than any hardshell I've paddled. They flex going over big ledges (whereas a hardshell submarines); they flex the other way in roostertails (whereas hardshell gunwales go under). Some rapids we ran on the Back would, I think, have swamped almost any hardshell, even with spray covers.
They track well on windy lakes and turn reasonably well in rapids; I've noticed little difference in these conditions compared to a tripping hardshell similarly loaded but then I'm no expert in boat handling.
They are however noticeably slower on flat water, less than 1 km per hour I believe.
Expense and convenience:
They cost more than a good hardshell.
They saved us a bundle of money (hundreds of dollars) and lots of trouble getting into and out of the Back. The Edick's did the same on the Horton. Doug and Daniela's paid for itself several trips ago.
As I discussed at length in Appendix A (Boats), it is both difficult and expensive to use hardshells on the Back, and in fact on many other northern rivers.
Storing them is far easier than storing a hardshell; I keep mine is in the spare bedroom.
Fragility:
They are obviously not as tough as hardshells but they got us down the Back with only minor damage. Marilyn bent some tubes in true Malley when she hit some rocks. I bent some later, lifting a loaded boat by the stern to get it over some rocks.
The sides are delicate though and have to be protected when, for example, loading below rapids.
The bottoms are very tough and the boats stand up well to dragging. The Edick boat did so on the Horton; Daniela and Doug have had no problem with theirs; Bev and Joel Hollis report only minor damage, easily repaired, from dragging on the Hood
http://www.pakboats.com/exper25.html
. Cliff Jacobson had no difficulty on the Snake [Fels].
But [Fels] also reports severe damage on the Parent (Coppermine tributary) due to pushing; they tend to buckle.
Seats:
Many paddlers found the seats on models produced before 2006 or so uncomfortable. Daniela and Doug used them as purchased. Marilyn, and Stephen & I, made our own seats following Jim Mandle's design. She had no problem, but we deviated by substituting wooden canoe seats and aluminum tubing (1/16" wall). My weight was too much however and we now use stainless tubing.
The newer models (post 2005 or so) have much improved seats. I haven't spoken to anyone who has them, but I'm sure thinking of buying them.
Appendix F: Accommodation in Yellowknife
NB:
Nearly all the following is from 2005.
Note: Plastic is less useful for paying for things than it is down south; don't expect to be able to use credit or debit cards.
Overnighting in Yellowknife:
http://www.yellowknifelodging.worldweb.com/
Campground:
I've heard of paddlers staying there but don't have first-hand information; I don't know that it accommodates tenters.
http://www.yellowknifelodging.worldweb.com/Campgrounds/
Hotels, Motels and Lodges; Cabins, Chalets and Cottages:
http://www.yellowknifehotels.worldweb.com/index.html
http://www.yellowknifelodging.worldweb.com/Lodges/
http://www.yellowknifelodging.worldweb. ... tesHotels/
http://www.yellowknifelodging.worldweb. ... sCottages/
B&Bs:
http://www.yellowknifelodging.worldweb. ... reakfasts/
Check the map provided for each B&B for the location.
In 2005, we stayed at Island B&B (near the float-plane base) and at Ptartan Ptarmigan B&B (downtown); we were happy with both.
Partial list of B&Bs in Yellowknife (I guess those that paid to be listed):
http://listingsca.com/North-West-Territ ... fe/Travel/
Many paddlers like to stay near the float-plane base (and so near the Wild Cat), which is something like a half-hour walk from downtown. As far as I know, the B&Bs that qualify are Island, Bayside, Back Bay Boat, Captain Ron's, Blue Raven and Gill Power.
Waterfront B&B is about halfway between downtown and the float-plane base:
Ptartan Ptarmigan, Embleton, Dreamcatcher and Jam's are downtown.
Other B&Bs that I know of (and I think are on the other side of downtown from the float-plane base) are Anita's, Arden Avenue, Eva and Eric's, For the Birds, Gitzel House, Lower's Landing, and Tessa MacIntosh.
Appendix G: Accommodation in Baker Lake
NB:
Except where noted, all the following is from 2005.
Baker Lake's economy is based on cash. Cheques are often accepted; don't count on being able to use a credit card; don't count on finding an ATM; don't expect to be able to use debit cards. The same likely holds for Rankin Inlet.
Baker Lake is dry. The main store has limited hours; there's a great museum, a community centre and craft stores; why not contribute to the local economy?
In 2005, accommodation came in three forms, free (campground), moderate (Baker Lake Lodge) and very expensive (Iglu Hotel). Check things out at
http://www.nunavut.worldweb.com/BakerLake/WheretoStay/
Campground:
Located about 2 km west of town, toward the airport, it has four tent platforms, rudimentary toilet facilities and a cabin that will sleep four.
We stayed there one night after our 2003 Kazan trip; it's a nice way to meet local people, especially children.
The web site lists the hamlet office number 867 793 2874 in connection with the campground (to reserve?, to alert people that paddlers are coming and to open up the cabin?).
Baker Lake Lodge:
867 793 2905, no email or web site. It is owned by Boris and Elizabeth Kotelewetz. The Baker Lake web site says that it accommodates 20 persons in five cabins. Information obtained by telephone call (in 2005) follows:
Cabins: Sleep 3 in comfort; bathrooms outside somewhere; $75 per person per night; no minimum number of people unless lodge is busy. We stayed there in 2005 and recommend them.
Lodge rooms: $120 per night single, $200 per night double; bathrooms en suite?
The lodge provides courtesy rides to airport.
Iglu Hotel:
888 866 6784 or 867 793 2801; unsure phone numbers are current; the website
http://www.bakerlakehotel.com
was functioning in late October 2008.
One web site lists 17 doubles, 4 singles and 4 suites, another 5 suites and 20 twin-bed rooms; $185 per person per night.
Nunamiut Lodge:
Added to the list in 2008; click on the WheretoStay link above.
Addenda
Fidler Lake:
I assumed that the lake was named for one or both of the Fidler brothers (John and Henry/Harry) on Anderson's 1855 expedition. It occurred to me later is that it might have been named for the surveyor and explorer Peter Fidler (1769-1822) (who certainly did not visit that part of the country, for Back would have known in 1834 of the river that now bears his name).
BTW, Toporama gives five Fidler Lakes in Canada, two in MB and one each in ON, SK and NU; there's also Fidler (unincorporated area in AB), Fidler River (ON), Fidler Bay (SK), Fidler's Hill (ON), Fidler's Island (SK) and Fidler Point (AB).
I wrote to
http://www.peterfidler.com/index.php
asking about the connections between Peter Fidler, John & Henry Fidler, and Fidler Lake. Here's the response from gnstill, site administrator:
Welcome to the Forum Allan

John (b-c1825) & Henry FIDLER (1831-1908) were half-brothers, sons of Thomas Jonathan FIDLER (1795-1875). Peter FIDLER of Bolsover (1769-1822), HBC surveyor, explorer and fur-trader, was their grandfather.

John FIDLER was a canoe-middleman during Dr John RAE's expedition of 1850-51.

On Feb 19, 1853, Henry FIDLER agreed to join Dr RAE's Arctic Expedition of 1853-54 as a middleman and laborer. He accompanied RAE as far as Chesterfield Inlet and when arrangements had to be made to winter at Repulse Bay he was one of the men sent back to York Factory. His share of the Government's reward made to Dr RAE for first ascertaining news of the fate of Sir John FRANKLIN's Expedition amounted to 30 pounds.

Both John (as a steersman) and Henry (as a middleman) were with James Green STEWART & James ANDERSON on their journey down Back (Great Fish) River in 1855.

I haven't seen anything connecting John or Henry to 'Fidler Lake', but if there was a link it would most likely be one of them rather than their grandfather (Peter).
Hans Schneller:
Our companion for several days on the Back died kayaking earlier this year.
An email message from Daniela Kosch follows:
Hi Al,
Hans Baumgartner called me this morning to fill me in on the details. He is finding it very hard, especially as he was the one who pulled Hans from the water and tried to resuscitate him. He's sending me a CD with the photos of their Back River trip last summer. I'll bring it to our Georgian Bay weekend. I've also sent our condolences to Lydia Schneller, and received a short (and heartrending) reply back from her.
Hans died of a heart attack while paddling on a whitewater river in the Bavarian Alps with Hans Baumgartner and other friends. His boat overturned in a quiet stretch of water, and his friends were unable to revive him. There was no water in his lungs, so he had died before the capsize.
Would you please forward this to George Luste. I'm sure he'd want to know.
We met Hans on the Back River in July, 2005. Bad weather had brought him and his friend Hans Baumgartner into our camp. He was unassuming and modest to a fault, quietly introducing himself as 'a miller'. And then the stories tumbled out, and we began to realize this was one extraordinary miller. One who lived for adventure, not afraid of taking on the most daunting challenges - and of meeting them all with success.
We visited Hans in Germany and learned that this humble miller had turned his centuries-old family milling business on the Danube River into the largest and most modern family-run flourmill in the country. His large collection of vintage sports cars showed us yet another side of Hans, and we learned that his second love, beside the Canadian arctic, was the Sahara desert, which he explored every winter in jeep safaris with his friends. In his wife's sporting goods store, on the mill property, we watched as customers were shown into a comfortable office to discuss their upcoming trip over a glass of champagne with Hans and Lydia. Adventure was a noble pursuit for the Schnellers.
Hans was a true gentleman of the old school, an innovator, an elite sportsman and a phenomenal human being. We are so sorry for his loss.
--------------------------------------------------------------------------------------
Translation of the Death Notice for Hans Schneller:
Johann Schneller
21 March 1936 – 10 May 2008
--
Master Miller
German Kayak Champion
Member, Explorers Club, New York
--
A humble, honest man
Who knew how to
Turn his vision into reality.
--
Found in the personal travel notes of Johann Schneller on the theme
"Paddling in the Arctic":
In order to have fear,
you first need an understanding of danger,
you need the profound experience of being alone.
In the Arctic Ocean,
you can be utterly alone in an instant –
you are practically always alone.
I never feel euphorically happy
or self-confidently superior.
I am always on guard.
--
Many live a quiet life in order to ease the transition to death.
A long life is not the most important thing.
Instead, what matters is what you put into your life,
what all you can experience in the time you are given.
Photos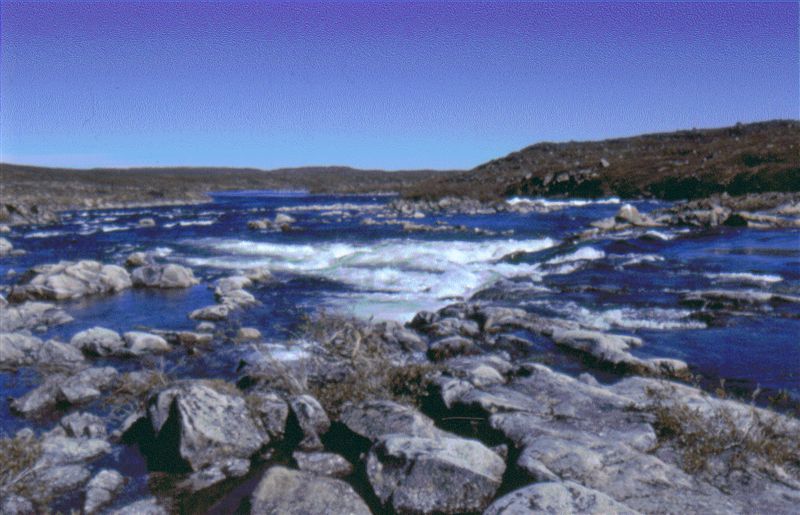 First rapid below Jim Magrum Lake; 6 July 2005.
Back, 4 July 1834:
An increasing current brought us to a strong rapid and fall, with an island in the centre; ...
Anderson, 14 July 1855:
The ladings were carried at the Rapid where Back nearly lost his boat, but the canoes were merely lifted over a ledge of rock ...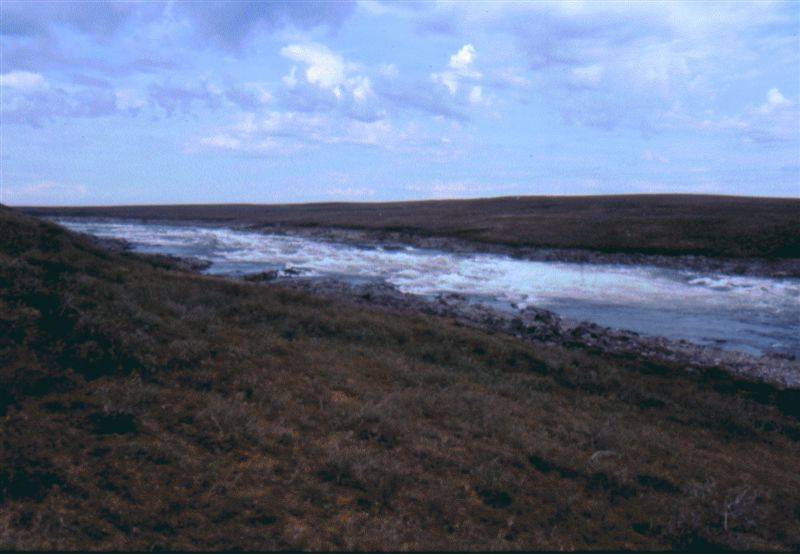 Lower part of Beechey cascades, from the end of the portage.
Back, 15 July 1834:

... loud roar that was heard long before we got to it ...
... an awful series of cascades, nearly two miles in length, and making, in the whole, a descent of about sixty feet.
Anderson, 17 July 1855:
A complete portage was made at the Cascades ...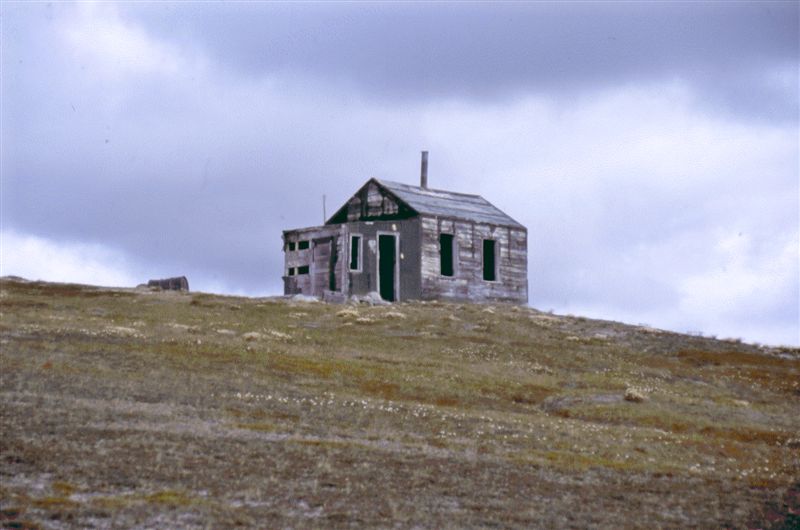 Father Buliard's cabin on Mission Island, Upper Garry Lake.
Father Buliard disappeared on 24 October 1956; he had gone out to visit his fishing nets. His body was not found. There is no evidence that his death was anything but an accident and this was the finding at the time. Only years later did the unconscionable, indeed scurrilous, rumours start to circulate that he had been murdered by the local Inuit. These rumours continue to see the light of day even now.
I tried to capture the spooky feeling I had when looking at the cabin.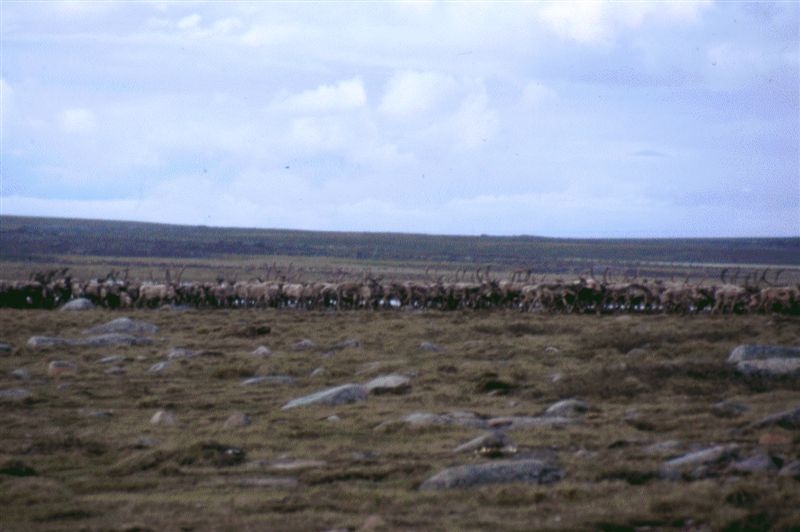 A caribou herd 3,000 to 4,000 strong passing our campsite about 2/3 of the way through Rock Rapids. It was followed shortly by a wolf.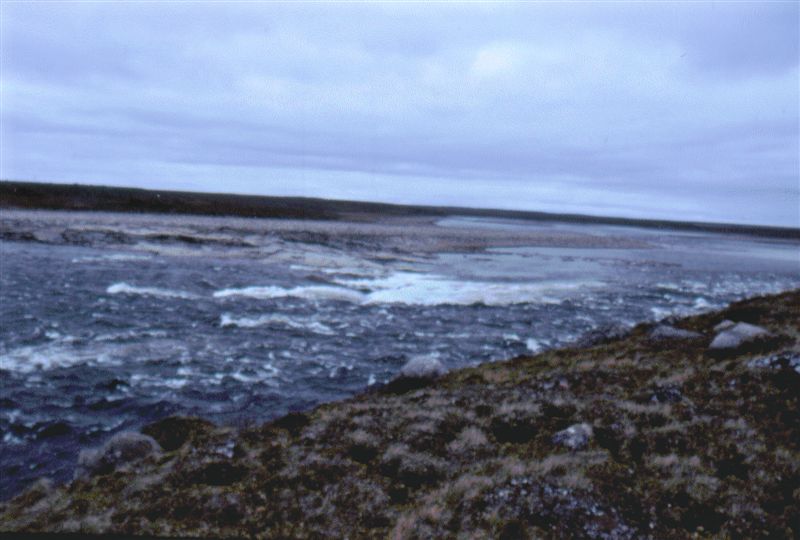 Lower part of Escape Rapids.
Back, 25 July 1834:
... a mile of heavy and dangerous rapids ...
... in the most imminent danger of perishing by being plunged into one of the gulfs formed in the rocks and hollows of the rapid ...
... singular and dangerous spots, which partake of the triple character of a fall, rapid, and eddy in the short space of a few yards ...
The power of the water so far exceeded whatever had been witnessed in any of the other rivers ... that the same precautions successfully used elsewhere were weak and unavailing here.
Back's boat was almost lost here:
... it seemed uncertain whether the boat and all in her were to be hurled into the hollow of the fall, or dashed stern foremost on the sunken rocks ...
The crew, one of whom began to cry aloud to Heaven for aid, just missed being buried in the frightful abyss
,
good enough reason for the name Escape.
Back quotes McKay as exclaiming, in response to the cry for help from above,
Is this a time for praying? Pull your starboard oar.