In the fall of 2013 I decided I needed a big trip in the great wide open. I was of a certain age and the realization I was a lot closer to the grave than the cradle lent some urgency to the plan. I contacted John McInnes and he was a wealth of information and help. He laid out a plan for a month-long trip in the NWT starting in Bechoko and proceeding up the Marian River and through various and sundry lakes before returning via the Emile River and back to the starting point. John had paddled all the various parts of the route and provided detailed trip notes and info. I started planning, gathering maps and drying a months' worth of food. Along about the middle of July a few weeks short of my take off news started coming out of the NWT about the worst fire season in thirty years. I called a resource officer in the NWT and the news was not good. My proposed route was in the middle of one of the biggest fires. I began casting around for an alternate and soon settled on North Saskatchewan. John seconded my plan and a few emails to Ric Driediger in Missinipe had me planning for a trip on the Churchill/Reindeer and up the Wapiscau then back via a chain of lakes to Missinipe. August came. I packed my gear and boat and hit the road for Saskatchabush.
In Missinipee I met with the affable Mr. Driedeger and was soon off on the broad Churchill. A bronzed chappy in a light canoe came out and circled me once or twice as I laboured out of Walker Bay showing off his fine technique and the wonderful musculature of his shoulders. I had encountered him earlier on the quiet road from where the cars are parked and well I do admit to being a rather sorry sack of shit a nod and a smile is my usual greeting, but he deigned to acknowledge my existence. He slagged off home eventually. Probably fondling a bent-shaft somewhere as I speak.
So it went. The first portage was a short hump over a rock spur around the east end of Robertson Falls. I found the gear to be repulsively heavy. Three-hundred meters later I pulled into a fish camp and the operator eyed me up and stated " I meet all the crazy people." He then loaded all my gear onto his quad and transported it to the other end of the portage where he had a huge diesel generator and a complicated cart and cable system which lowered down a hill to his dock. He wished me well and I was on my way. A few kilometers later I pulled in to an outcrop on Cow Island and made camp. It was hotter than the hinges of hell and I slid into the warm river for a swim. [URL=http://s582.photobucket.com/user/Stencil1/media/Churchill%20Reindeer%20Wapiscau/DSCN0214_zps0bbb74f7.jpg.html]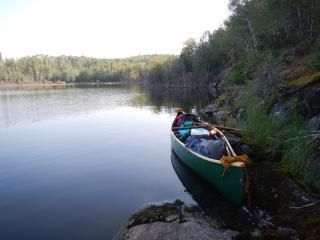 In the morning it was still warm and I sweated -up loading the boat. I headed on down past many islands and channels to Stanley Mission where I visited the old church and was chatted up by the fellows working on maintenance. They told me there were lots of rapids ahead and advised that I "take care." I portaged Little Stanley rapids and then went on to a small, well-used camp on a tiny islet just NW of Potter Rapids. There was another fish camp there and a long boat portage boardwalk. As I schlepped my dunnage across a fellow in an orange windbreaker having a quiet smoke watched me."Portaging today." He said. I agreed with him and launched myself into the spray and waves below the rapids. A giant and unseen hand grabbed my boat and began skidding it toward the maelstrom. I did a draw and dipped a gunwale and started to pay close attention to what was occurring. There are great unseen currents at play in the Churchill and one had to be on guard against the consequences of complacency. [URL=http://s582.photobucket.com/user/Stencil1/media/Churchill%20Reindeer%20Wapiscau/DSCN0213_zps89f4e8ea.jpg.html]
Inman channel beckoned and I entered this small and scenic passage North of Garr Island following it for kilometers as it wound North and East around Keg Lake. As I slid my boat over a short ramp at Inman Falls there was a sudden and terrifying roar and a boat of local lads came flying at full speed airborne over the rapids. They landed with a splash and huge grins and disappeared as quickly as they had come.
The next big set was Keg Falls and I could hear them roaring long before they came in sight. The portage started at a safe take-out but I noticed my hands were shaking and I could feel THE FEAR creeping into my bones. Now THE FEAR is a good thing if you use it properly. It can keep you alive and has done just that (along with a little luck) for me for many years. It can also kill you if you let it paralyze you when you need to move. But I was safe and sound and humped my chattels over the eighty metres of hill to a nasty little stick-bound and wave- pummelled put-in below the roaring falls. [URL=http://s582.photobucket.com/user/Stencil1/media/Churchill%20Reindeer%20Wapiscau/DSCN0219_zpse19f83d1.jpg.html]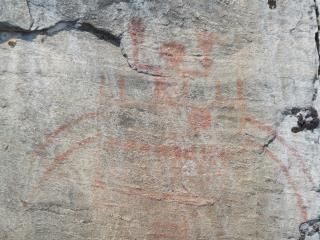 Within four kilometers I came to the first big portage of the trip around the Grand Rapids. There was a steep and rocky take-out and I shouldered a pack and struck out on the 600 metre trail. Within two-hundred metres I came to a series of big spruce trees jack-strawed across the path. Someone had bucked off the branches but I still had to climb up and on and over the trees. A little further there was another set of the same. The portage ended in a steep 20 metre skid under some more blowdown and another wave-swept put-in. As I sauntered back across the portage I indulged in a little botany. The herb layer was dominated by Bunch Berry accompanied by Purple Aster, Strawberry, Wild Sasparilla and Kinickinick while the shrubs were Rose, Saskatoon, Blueberry, Choke-cherry and Snow Berry. The four trips took a couple hours and I returned to my old profession of line-cutter removing some overhead obstacles and clearing the way where I could.
All the exercise had added up and a tired canoeist soon found a ledge camp on the south side of Trade Lake a kilometer West of the narrows. I had with me a few ounces of a fine whisky and I had got into the habit of having a small dram while I wrote up my notes and waited for dinner to rehydrate. A Coopers Hawk called from a tree above and fish jumped in the fast water running past the ledge.
In the morning the mosquitoes decided to assert themselves and a battle ensued while I ate my breakfast. It soon became apparent that this was a battle I would lose and I was driven to the boat and off to Ithaca and beyond. The southern shore of Trade Lake is scenic and the water was dead calm as I moved along with small mists rising in the bays and loons calling and calling again in the still of the morning. After some kilometers I entered an area of lowlands that had suffered a catastrophic blow-down event. The damage extended for many kilometers and the survival of anyone caught in it would have been unlikely indeed. Frog Portage showed up and I pulled in for a brief visit. This is a place of great historical and geographical significance being the transit between the Saskatchewan and the Churchill river systems. It is a shithole both literally and figuratively. There is a monument there and people have been using it to brace themselves during the process of elimination. I wasted no time in putting the place behind me as it was the nastiest thing I saw in Saskatchewan outside of downtown Prince Albert.
[URL=http://s582.photobucket.com/user/Stencil1/media/Churchill%20Reindeer%20Wapiscau/DSCN0226_zps89d83404.jpg.html]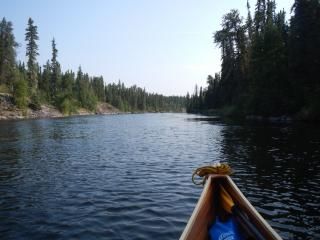 [URL=http://s582.photobucket.com/user/Stencil1/media/Churchill%20Reindeer%20Wapiscau/DSCN0235_zps2b488664.jpg.html]
I camped at two on a point on the NW shore of Usik Lake. I did laundry and tried unsuccessfully to fix my water filter which had blown apart. I had a swim and lay about. A big thunder storm blew in and I discovered that the tent fly leaked like a sieve. This pissed me off somewhat as I had tested it before leaving and found it sound. I lay there dodging drips and scheming as to how I would fix this thorny problem.
In the morning a mist covered the lake and grew thicker as I moved eastward toward Kettle Falls. I navigated on a compass bearing and by the distant roar of the water. Loons were calling in the mist as I paddled along lost in world of grey with no horizon or reference. I pulled in well before the falls and inspected the take out. There was a good current running and I was not going to risk being pulled into the grinder. Some people get all wound up about waterfalls and slap their bellies and wave their hands in the air while going ooh and awww. Not me. I see them as a meat grinder and am very cautious about being sausaged.
[URL=http://s582.photobucket.com/user/Stencil1/media/Churchill%20Reindeer%20Wapiscau/DSCN0247_zpsf9288025.jpg.html]
It was another shit-strewn and well garbaged trail that ended at what was described as the best fishing hole on the Churchill. I duly pulled out the rod and after a bit of dicking about I pulled in a fat fish on my sixth cast. I loaded the gear and the now defunct fish and did a short portage at a second set of rapids. Soon I was at the confluence of the Reindeer and the Churchill. This was a wonderful open place with fine rock, and islands and flocks of birds wheeling and calling in the sky above.
[URL=http://s582.photobucket.com/user/Stencil1/media/Churchill%20Reindeer%20Wapiscau/DSCN0252_zpsd6255ff1.jpg.html]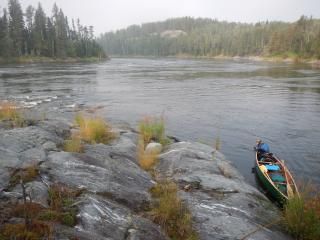 I had been having some misgivings about the route up the Reindeer as I was concerned about paddling against the current. My fears were soon put to rest as the current was negligible. I portaged Atik falls on the rocks of the eastern shore and paddled on up the stream. It soon opened up into a wide and shallow lake. A following wind blew and I coasted down the lake in fine style. Big flocks of Canadas were heading south and there were Pelicans on the rock islands and river otters diving and playing near the shore. I found an excellent open camp on a rock spur and pulled in and built a fire to barbecue the fish on. A psychopathic dentist had told me that Walleye were the finest eating fish and I had to agree that it was very good indeed.
The next morning I was away early up the broad Reindeer. I saw otters again and beavers for the first time. By noon a headwind had built and I stopped on the point of one of many islands and waited an hour. I timed the gusts and the lulls and decided that the latter were longer and headed out again. It went OK and after some time the river necked down and Steephill Falls came in to view. I powered up the current through some fine rock scenery and explored the portage running through alders over a hill. As I emerged from the bush I came upon a pile of filleted Walleye remains and a huge Pike eviscerated on a rock. It was fresh and had not yet begun to stink. I retreated back down the portage and paddled across the stream to the opposite bank to set up camp under the trees in the rain. I strung the tarp for the first time and enjoyed a good dinner couched in the deep moss of the forest floor. In the night some creature walked past the tent but it left no track in the moss and I was left wondering what it might have been.
[URL=http://s582.photobucket.com/user/Stencil1/media/Churchill%20Reindeer%20Wapiscau/DSCN0274_zpsbe88800e.jpg.html]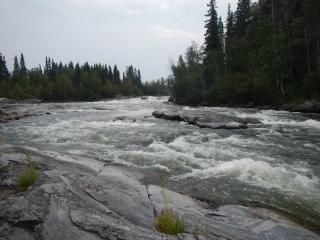 In the morning I portaged the falls to the put-in by the now somewhat fragrant pile of culturally altered fish. [URL=http://s582.photobucket.com/user/Stencil1/media/Churchill%20Reindeer%20Wapiscau/DSCN0275_zps8be6c237.jpg.html]
It was cloudy and cool. As I paddled through the SW corner of Steephill Lake the combination of water, rock and trees became sublime. I took it in watching intensely knowing I would never see or experience this place again. As I arrived at another falls joining Steephill to White Lake the atmosphere became brooding and it was suddenly dark. [URL=http://s582.photobucket.com/user/Stencil1/media/Churchill%20Reindeer%20Wapiscau/DSCN0290_zps792ac54a.jpg.html]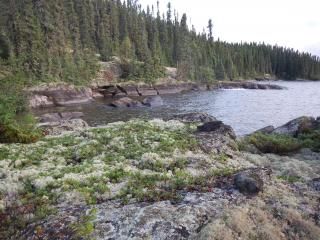 As I hauled the gear over yet another rock ledge the storm broke and the air was full of wind and water. I hastened to erect the tarp and then cowered beneath it. I was already soaked, rain-gear and all. The wind increased and was soon driving the rain through the tarp. This was getting serious though it was still relatively warm and I was glad not to be in the Rockies with their much cooler temperatures. Finally, I set the tent up under the tarp and crawled in to my bag and snoozed while the storm raged. It blew for four hours and deposited over an inch of rain. I was somewhat disappointed in the tarp as it was an expensive piece of gear from a famous Swedish tent-maker. I fantasized about how it may have come to be.
"Hey Barnje these tarps are no good they leak and the stuff sacks are much too small."
"Ya, Hilmer designed them while he was drunk."
" What should we do with them?"
" Well, we could sell them in Canada."
"You really think so?"
"Oh for sure, they bought a lot of Abba records and they buy all that stupid furniture too."
"I see what you mean. Anna! Make up an order for Canada!"
In the aftermath a fresh wind continued to blow and I set up lines to hang gear and dry things out. It had been an intensely scenic and entertaining day. All big trips have a storm and I was glad to get this one under my belt.
The following day was cloudy and a headwind made me work on the transit across White Lake to the Wapiskau. The falls into the lake were visible for some distance and I could see all the country for miles burnt over in a great fire. I portaged the first set, paddled for five minutes and portaged again. This set the pattern for the Wapiskau. Short ,steep, ledge rapids joined by shallow ponds and marshes. I portaged three times in the first 800 metres and then ten or more times during the course of the day. The walking was often over rough submerged stones and boulders and the sharp rock began to chew the hull of the boat. I went on. At one place I humped the gear over a rock knob and then ferried the boat across to the opposite side and paddled and lined up until I could come across and fetch the packs. All a learning process and it worked and I had fun doing it. [URL=http://s582.photobucket.com/user/Stencil1/media/Churchill%20Reindeer%20Wapiscau/DSCN0306_zps3186c6a7.jpg.html]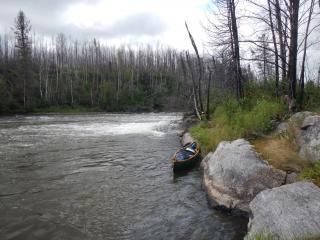 Eventually the river gave way to a larger lake with an impressive falls coming in from the West. This was the highest escarpment on the river and offered good camping and a fine view out over the lake to a tract of un-burnt forest beyond. I made camp and broke out the whisky as it had been a demanding but worthwhile day.
[URL=http://s582.photobucket.com/user/Stencil1/media/Churchill%20Reindeer%20Wapiscau/DSCN0325_zps19e498fb.jpg.html]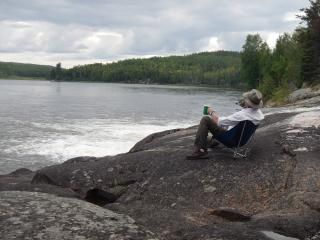 The next day was my ninth and just a kilometer from camp I was stopped by wind and rain and forced to seek shelter on an island. The squall blew for three hours during which I hung out under the tarp (which did not leak) and tried half-heartedly to build a fire using wet birch-bark. I then continued on across a series of lakes, through constrictions and over ledges and around falls to Lavender Lake. There were four portages in all including one troublesome one which ended in a submerged boulder field forcing me to strip off and wade out with the gear scattered on adjacent rocks while I loaded the boat. It seemed a recipe for some sort of injury and I was pleased enough to see the end of that particular endeavour. [URL=http://s582.photobucket.com/user/Stencil1/media/Churchill%20Reindeer%20Wapiscau/DSCN0315_zps4f7efe7e.jpg.html]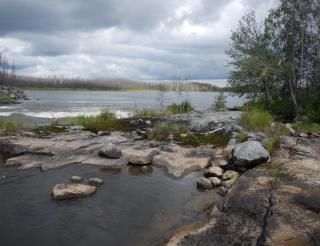 Eventually I broke out onto the wide and windy Lavender Lake. There were Pelicans riding the rocks and I saw an Osprey, a rare sight. I made camp on a windswept rock spit in the SW corner and hung the gear to dry yet again.
The morning dawned fair and I celebrated by canoeing down Lavender and getting sidelined on the wrong side of a peninsula. I backtracked, found the inlet and portaged and lined Lavender rapids. I then came SW down East Knight bay and over to West Knight and West again to Doerksen Bay which I followed to its end. There is a large swamp separating Doerksen from the un-named lake to the SW. I followed a small stream channel through the reeds and then took the left fork which led to a portage through the forest. [URL=http://s582.photobucket.com/user/Stencil1/media/Churchill%20Reindeer%20Wapiscau/DSCN0342_zpsff0dab7a.jpg.html]
It was a good trail of some 280 paces ending in a bog. A stream channel led to a small kilometer-long lake and another portage. Here I enjoyed my first experience of muskeg. It was difficult to walk through unencumbered and with packs it was a yell of laughter. I dragged the boat through unloaded and was well shagged and somewhat relieved to put it all behind me. I continued down the unnamed narrow lake toward the interestingly named Kakabigish. A small channel choked with horsetail lead to a slough and the portage south into the lake. It was late in the day for me but I walked the portage trail up and through an old burn to the end. There were berries in this area and I came across a bear scat of huge proportions. It was either a big bear or a regular sized bear with a very large fundamental orifice. [URL=http://s582.photobucket.com/user/Stencil1/media/Churchill%20Reindeer%20Wapiscau/DSCN0346_zpse2204f19.jpg.html]
I canoed back upstream for ten minutes and made camp on a narrow spit adjacent to another swamp. It had been an interesting day with some small passages, muskeg and the first signs of any large animals --- wolf, moose and bear. As evening fell it became preternaturally calm and quiet. There is sometimes a big silence at play in the natural world and I was in the middle of it.
For breakfast I had eggs and four times 400 metres of portage. I made some noise in deference to my ursine and scatological friend and was soon coasting down Kakabigish on a strong following wind. I saw two canoeists in a tandem and I snuck up on them startling them with a hearty "Good Morning." They gave me some advice on camping prospects, or the lack there of, and I was soon portaging the somewhat slimy trail into Settee. The kind wind blew me down Settee and I portaged on into Solymos. There were some good cliffs and narrow straits through Solymos ending in another long portage into Stempel. Once again the rigours of the day began to tell and I pulled in on the eastern shore of Stempel at a good site with a bronze plaque commemorating the dead veteran of the Second War for which the lake is named. The eponymous presence filled me with a mild melancholy and I speculated on the tragedy of the man and remembered my many lost friends.
Morning brought cold and mist and Stempel was transformed from a mundane and average lake into a place of exquisite beauty. [URL=http://s582.photobucket.com/user/Stencil1/media/Churchill%20Reindeer%20Wapiscau/DSCN0355_zps130f3ab9.jpg.html]
I loaded the boat and paddled quietly through the mist with the loons calling and geese honking along the Western shore. I portaged into Luther Lake followed by another into an unnamed lake and yet again into Buchner. From Buchner a longish portage took me into the complex and scenic Kemp. And here I became lost. I paddled into two different bays and neither seemed to fit what the map was showing me. I worked my way south by compass past many islands one of which was the most aesthetically beautiful I have ever seen until I noticed it was graced with a lavatory. I did not stop. Finally, the SW corner of the lake was revealed and the outlet stream running away to the west. This proved to be a lot of fun. It was mostly lining over rocks and shallow channels with rock cliffs bordering and often trees and shrubs obstructing the way. It went on for some time with route finding and wading and bushwacking.
[URL=http://s582.photobucket.com/user/Stencil1/media/Churchill%20Reindeer%20Wapiscau/DSCN0363_zpsd695589f.jpg.html]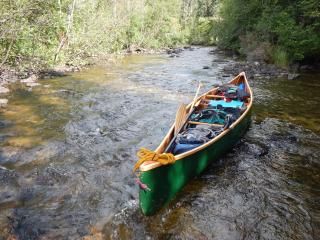 Eventually the stream broke out of the bush and became a quiet channel running through a marsh. I rested and changed out of my wet clothes. I went on. I was now on Hood Lake. A cabin graced the North end but I was headed south and eventually I made my way to a fine exposed rock camp on an island half a kilometer North of the passage into Sotkowy. This was to be my last camp. I had been eating hugely and I found I could eat a big meal and then snack non-stop and still not feel overly full. [URL=http://s582.photobucket.com/user/Stencil1/media/Churchill%20Reindeer%20Wapiscau/DSCN0369_zps6c2f7578.jpg.html]
I was up very early and Ursa Major hung in the Northern sky with Mars and Venus to the North-East. [URL=http://s582.photobucket.com/user/Stencil1/media/Churchill%20Reindeer%20Wapiscau/DSCN0370_zpse78b1e0f.jpg.html]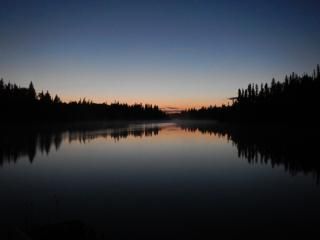 By 5:30 I was away and down to the swamp which separates Hood from Sotkowy. And here things began to go sideways. The Canoe Saskatchewan Guide describes a navigable channel here but it did not exist for me or I was unable to find it. I could not paddle the swamp nor could I walk on it. I could take maybe two steps and then fall through into a waist-deep hole. I would then haul myself back into the boat along with a gallon or two of water and pull myself along by grasping reeds and grasses until unable to proceed and then repeat the process. I explored my extensive vocabulary. After some time and not a little struggle I emerged into an open bay. My double-blade was gone, lost in the swamp. I couldn't face the bog again so I paddled off into the mists of Sotkowy searching for the long portage into Guncoat Bay on Mountain Lake. I missed it in the fog and ended up going ashore and changing my clothes as I was well and truly soaked to the pills. I backtracked up the lake and took a compass bearing to help determine my position and soon found the portage complete with several large boats. I dragged the canoe ashore and trotted off on the wide and open trail through the forest. It was a long one of 800 metres or so mostly downhill and boggy enough in places to keep you on your toes. I doubled packed the canoe and a pack the only time I did so on the trip. Loading the boat I discovered my PFD to be missing so I humped it back across the portage knowing I would not find and I did not. It was lost to the swamp as well. I headed out onto Guncoat Bay somewhat chastened and immediately missing the double-blade in the building headwind. So it went. I hammered my way down the long bay for hours in an evil wind. [URL=http://s582.photobucket.com/user/Stencil1/media/Churchill%20Reindeer%20Wapiscau/DSCN0374_zps129f5448.jpg.html]
Making the turn North toward Otter Lake I was in a cross wind and fought it all the way North past Richardson Falls (two portages). I entered MacDonald Channel and the current was against me as well. I kept working my way West sheltering behind islands when I could and getting closer to my goal of a beer and a burger. Finally I made the turn into Walker Bay and the wind really kicked up. The last three kilometers were nasty and I was about done when I finally fetched up by the boat launch at Missinipe. I'd been on the go for twelve hours and felt it. I went searching for a beer and found one and it did not live up to expectations. I ate some greasy food. I had occasion to look at myself in a mirror and the face staring back was as wasted and hacked a visage as you would want to see. I have felt worse.
[URL=http://s582.photobucket.com/user/Stencil1/media/Churchill%20Reindeer%20Wapiscau/DSCN0376_zps9dde8b29.jpg.html]
Trip Notes:
360+ kilometers. 40+ portages 13 days.