A brief summary of my nine-day (one day windbound) solo trip in September 2015.
Again I based the trip out of CRCO in Missinipe. I was shuttled in my car to Southend, on Reindeer Lake. From there I paddled south on the Reindeer River to Steephill Lake, and then went west up the Wapiskau River to Brabant Lake. From the south end of Brabant, I followed a drainage southwest through Kakabigish Lake to Settee Lake. From Settee, I went west via a series of lakes - Colin, Versailles, Minuhik, and Berven - to finish at Hailstone Lake where there is road access.
Day 1
After the shuttle from Missinipe and some final organizing, I launched from the dock at Southend at 10:00 and headed south down the Reindeer River, making good time on an overcast day with just light breezes.
Launch, looking down the Reindeer: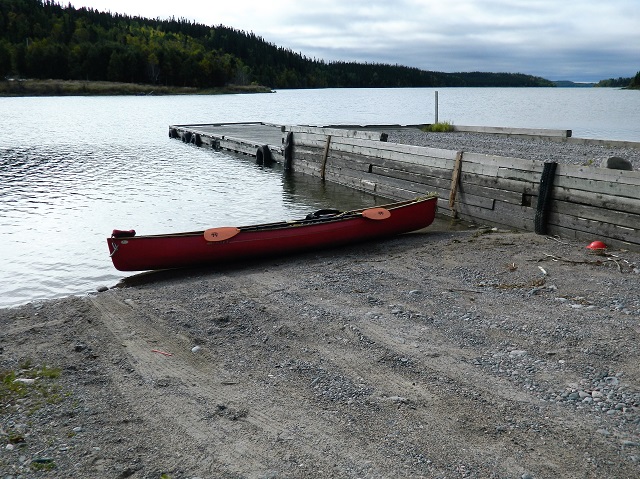 I stopped at a narrows in Marchand Lake for a short break. This spot was once the site of a rapid - Rocky Falls - and the first control dam on the Reindeer. (See P.G. Downes' writings.) It's now flooded by the new Whitesand Dam, a few kilometers downstream.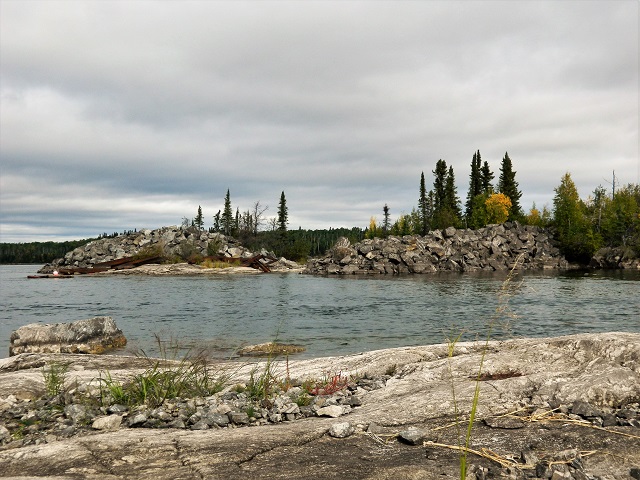 Those who like obvious portage signs would love Whitesand: I sense lawyers were involved.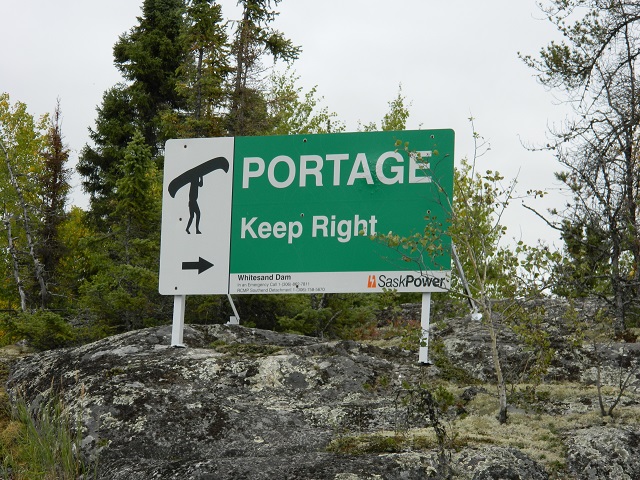 This ridge of sandy clay just below gives the dam (and previously the falls it replaced) its name.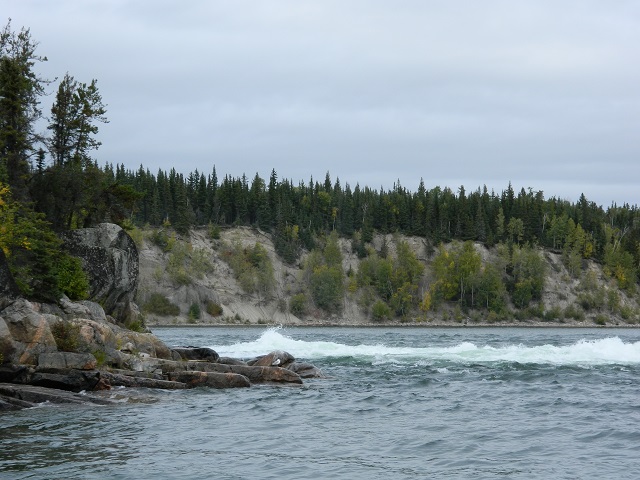 Although it was still early, I stopped to camp on an island in Fafard Lake, as dark clouds were rolling in from the west. I managed to get the tent and tarp up before the rain began at around 3:30. An easy day, 17 km and just one portage.
Rain coming: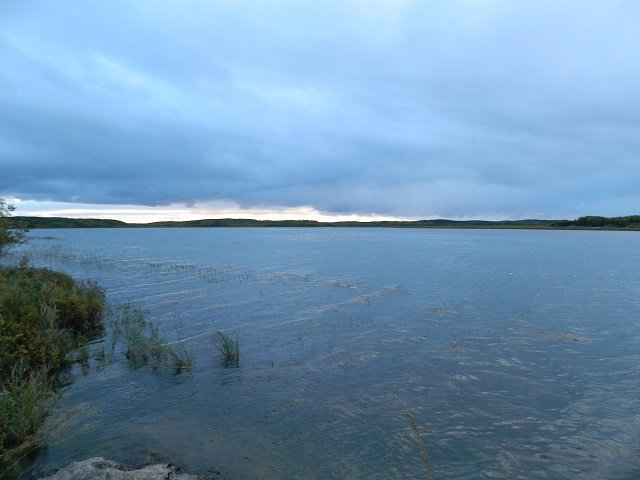 Day 2
Rain early in the morning, then heavy rain during breakfast. When it eased to a misty drizzle, I set out down the Reindeer. Devil Rapids was easy, really just a swift with some turbulence below. I made good progress on a cool and misty day: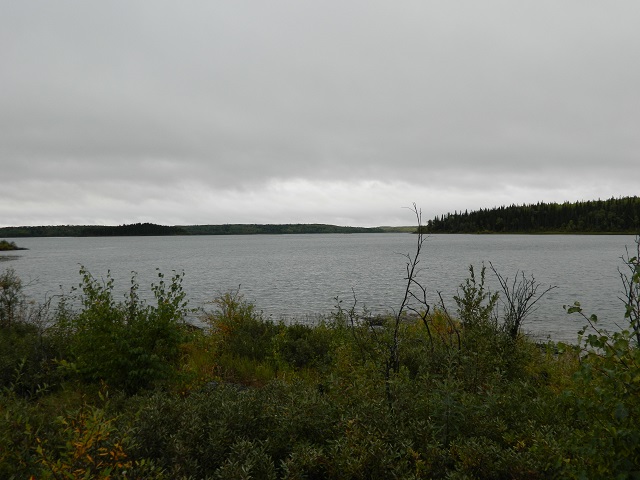 I was disappointed to find that a good campsite I had used before in Royal Lake had burned: fortunately I was able to rig a camp on another island nearby.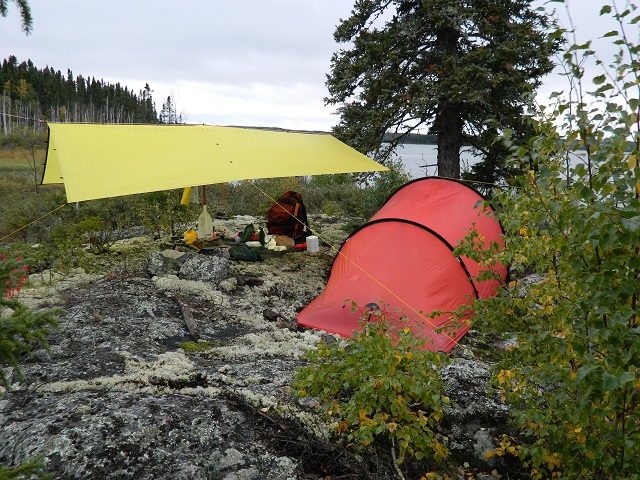 It was cold in the evening, and drizzling again: swimming was not on the menu. 25 km today, no portages.
Day 3
Just high overcast when I awoke at 6:00, but low cloud had returned by the time I set off. I stopped to check out a cabin in the narrows below Royal lake, and snapped a few photos.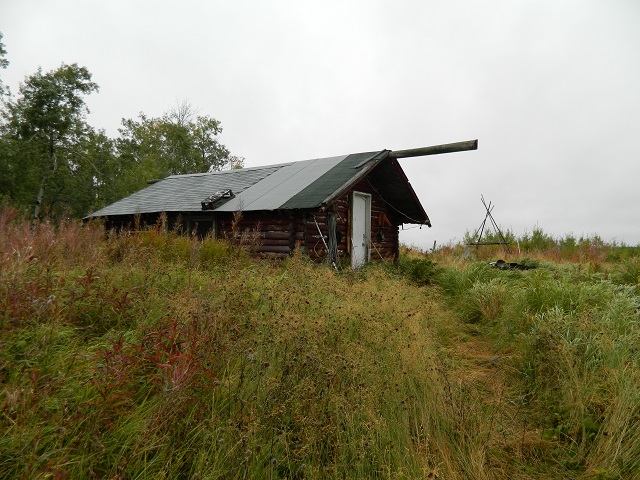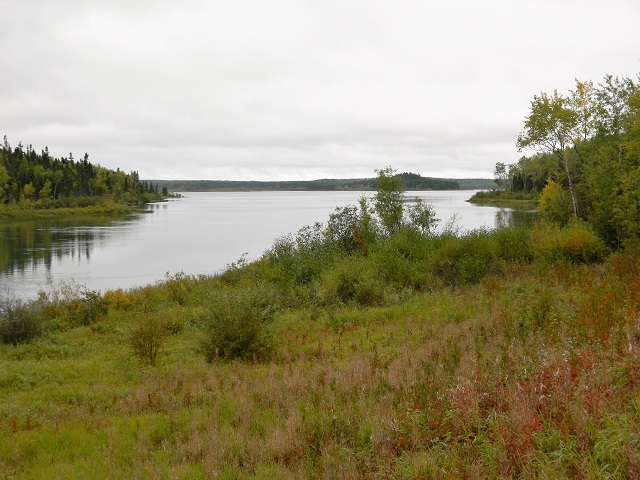 As I continued on, the wind was rising from the northeast, and I had a tough crossing of the open section of Steephill Lake. After checking out an island campsite, I elected to stop despite the early hour - 2:00 pm. I wasn't sure I'd be able to cross some open stretches ahead, and besides, it was starting to rain again. Just 18 km today, again no portaging.
Day 4
Stopping had been a good idea. High winds and heavy rain continued from yesterday afternoon through noon today. Except for forays to the tarp for meals, I curled up in the tent and read.
A damp camp.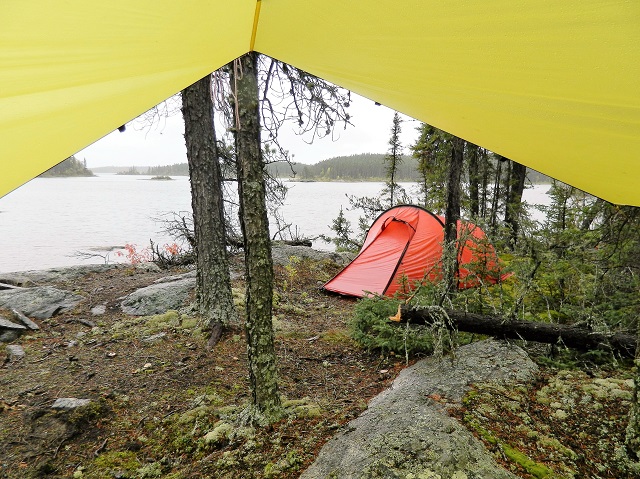 0 km, no portages, 2 books read.
Day 5
After my lost day, I needed to pick up the pace, so was glad that the rain had stopped and the wind dropped by morning. I packed up my soggy camp and headed off at 8:30, paddling across to the falls exiting White Lake, the start of the journey up the Wapiskau. Frequent short, sharp drops characterize the Wapiskau. Portages are short, and mostly over rock, but today the slick coating of soggy lichens required careful foot placement.
Wapiskau falls: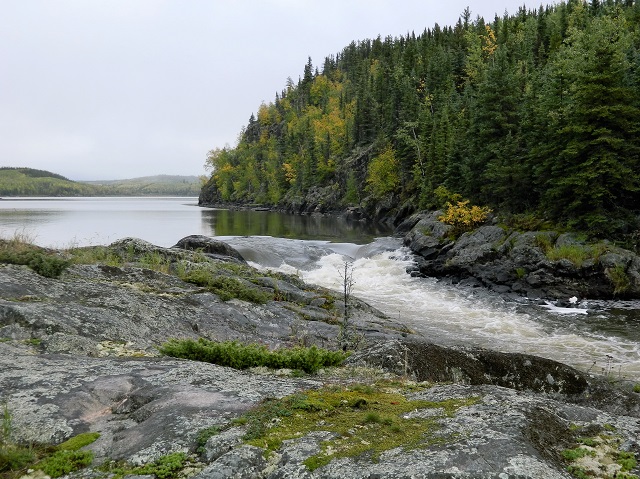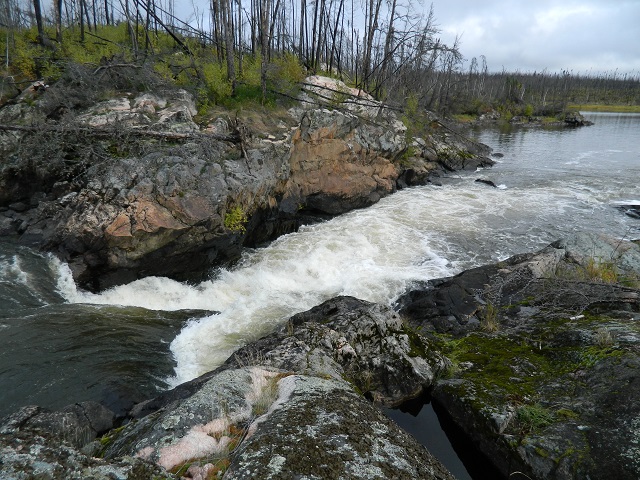 Much of the country along the river has burned since I was last here. The low gray skies and burnt forest gave even the flat stretches of the river a foreboding appearance.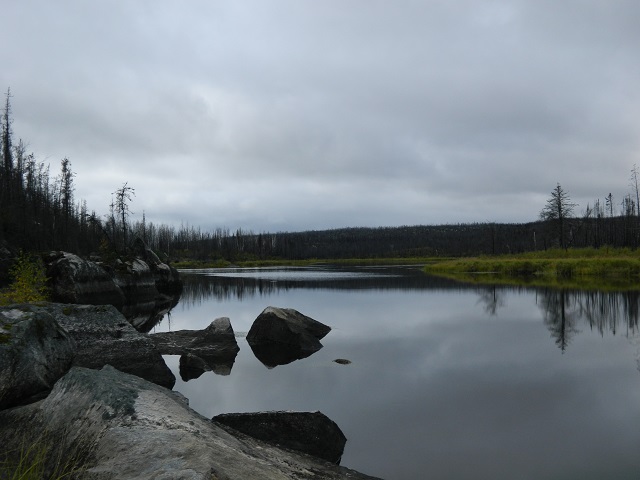 I continued portaging my way upstream.
Rapid: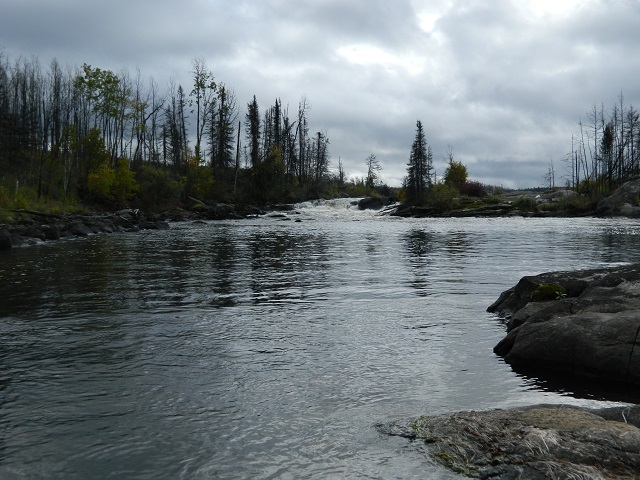 "Big Falls":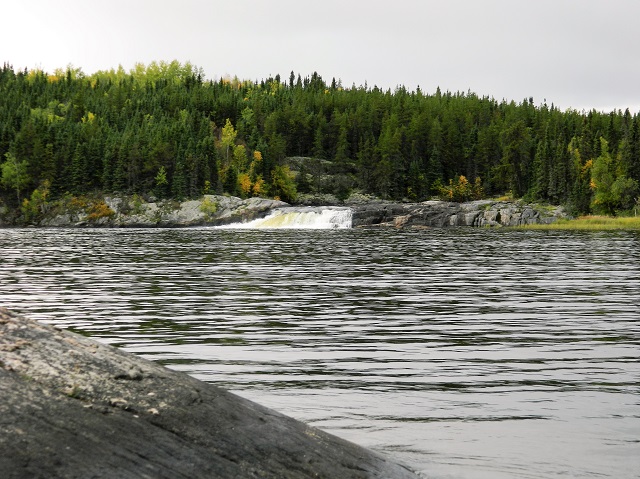 As I portaged the "big falls" I was caught by the only real rain shower of the day. But when I paddled out into the expansion above, things improved quickly. A good campsite appeared on a small island, and the sun broke through the clouds. It made for a more cheery, and less monochrome, evening.
Campsite: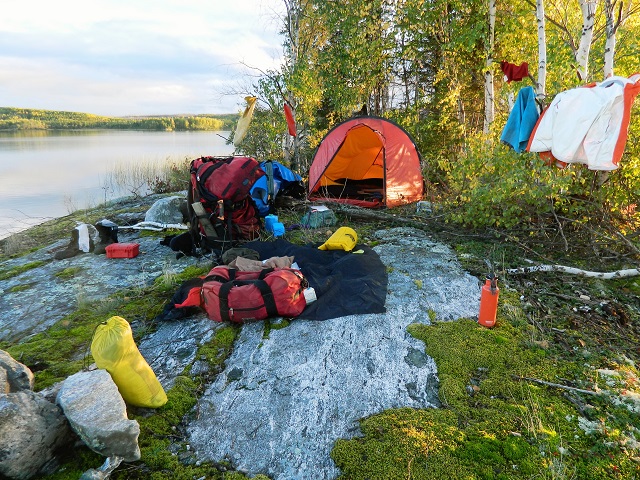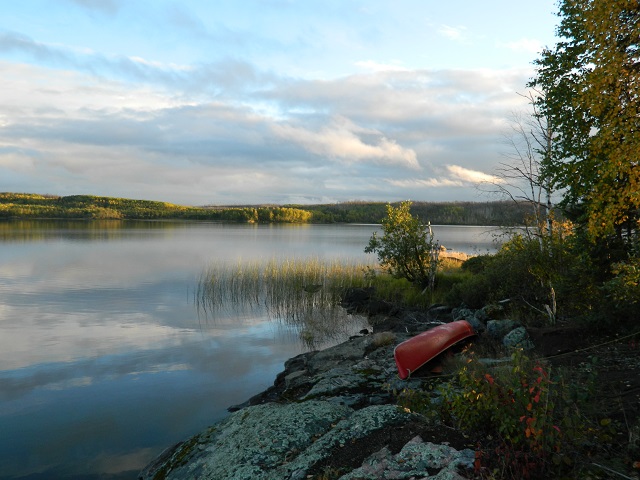 21 km today, plus 9 portages and some wading/dragging up swifts.
Day 6:
Blue skies today as I continued up the Wapiskau. Today marked a change, from the days of rain to the days of headwinds. Oh well. I continued portaging my way up the Wapiskau, wading and dragging the occasional swift as well. I saw a small black bear along the shore, who fled as I drew near.
Blue skies: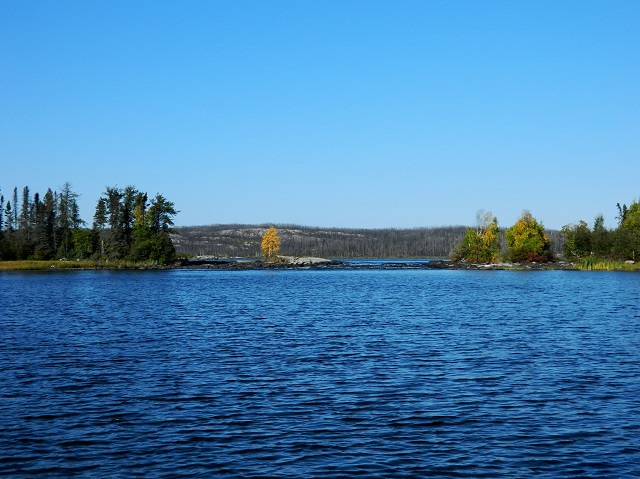 Major rapids below Lavender Lake: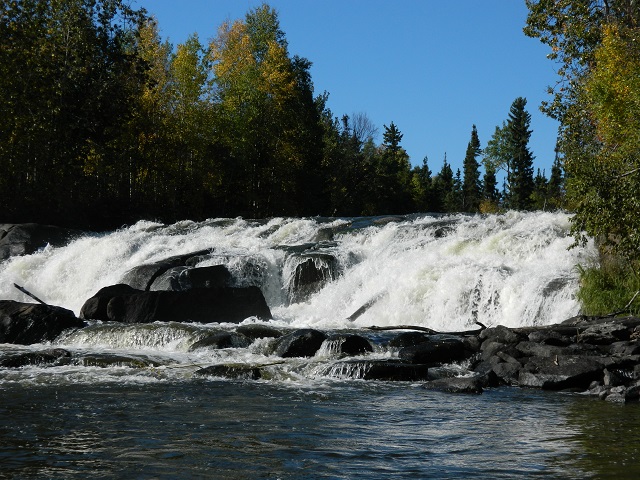 I was able to hug the west shore of Lavender Lake to avoid the wind heading northwest. But once I had portaged, lined, and waded the last rapids of the Wapiskau, I had a slow, grinding paddle southwest on East Knight Bay of Brabant Lake. My intended campsite here had been burned out as well: fortunately a nice site appeared on a tiny island at the entrance to West Knight Bay.
Islet camp: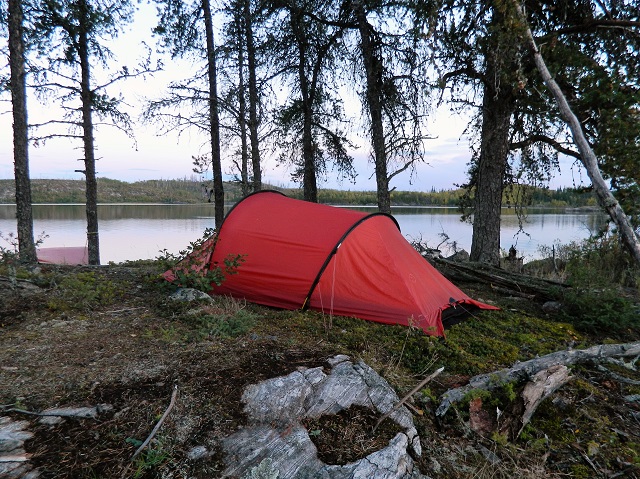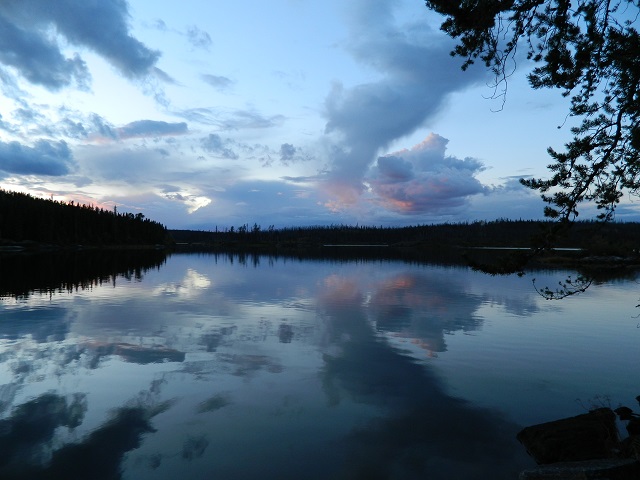 23 km today, with 4 portages and a fair bit of wading and lining.
Day 7:
Paddled through West Knight Bay, frightening a swimming bear in the process, then southwest in Doerksen Bay of Brabant Lake. The blue sky, high cliffs, and autumn colours made this an enjoyable paddle.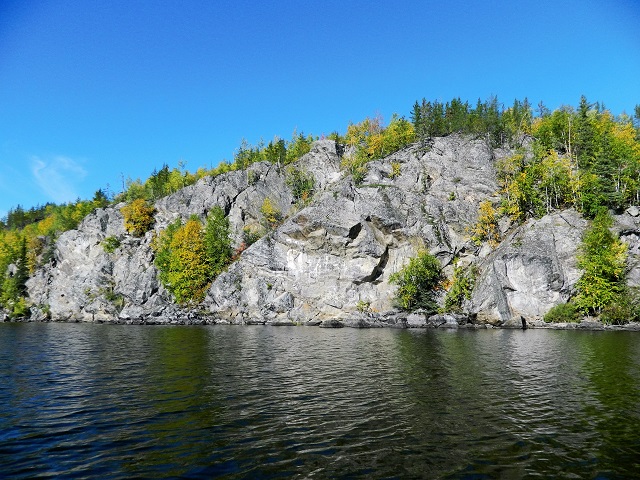 From the small swampy stream at the end of the bay, I had some difficulty finding the inflow that would take me upstream towards Kakabigish Lake. Low flow made it almost imperceptible through the reeds.
Stream from Kakabigish: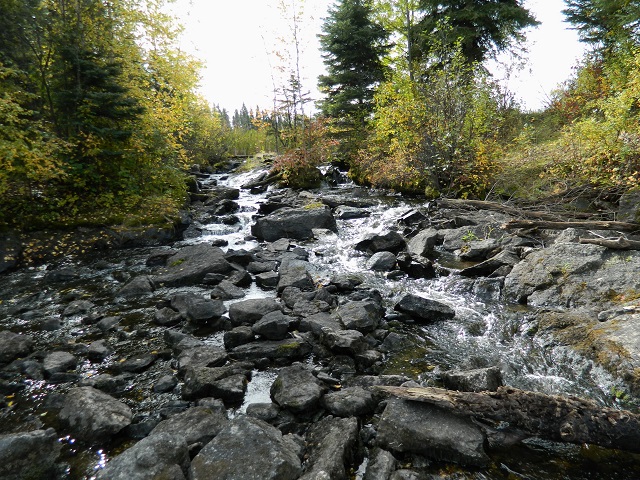 Above the portage, and the beaver dam blocking the rapids here however, travel upstream on the creek was easy and scenic.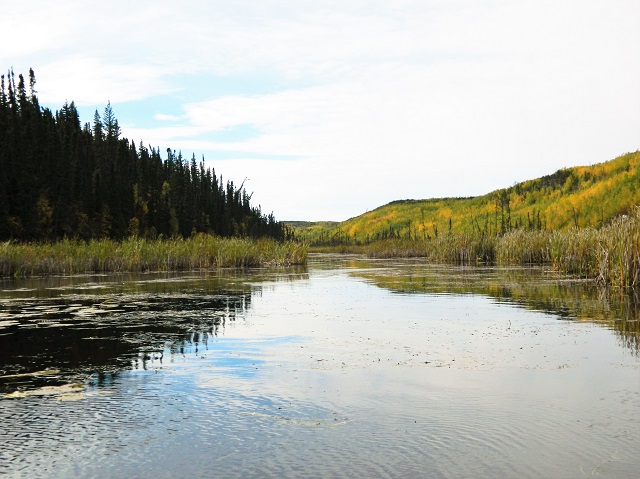 I paddled a narrow unnamed lake, then portaged to Kakabigish and plodded southwest into the wind. Here I settled for a mediocre campsite on a small island - I couldn't bring myself to pass up the great table here. No idea why it was there - there were no other signs of human use other than a small and long disused fire ring.
Glamping: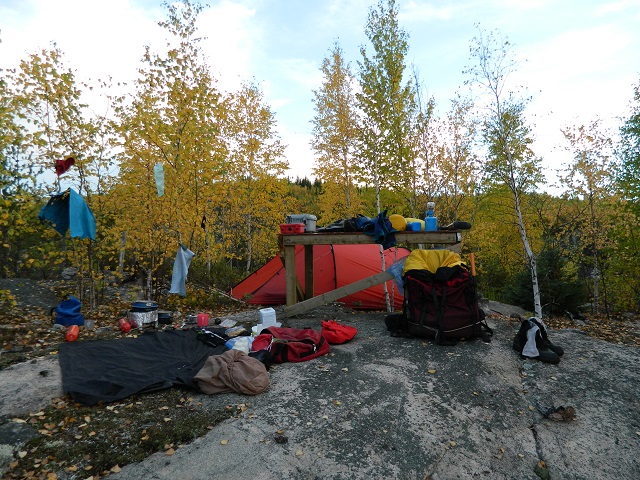 This site also provided a great sunset: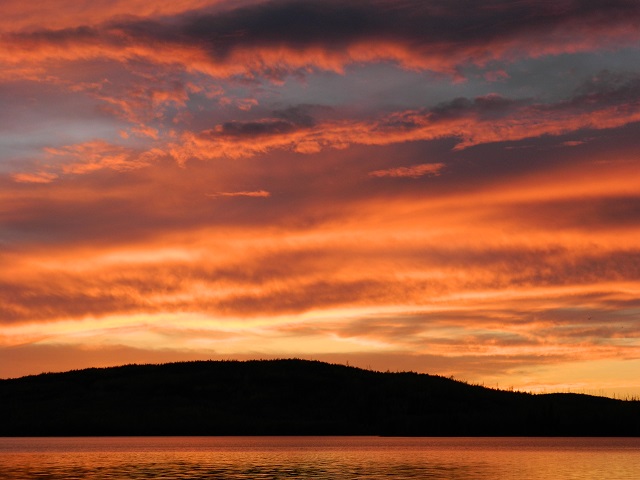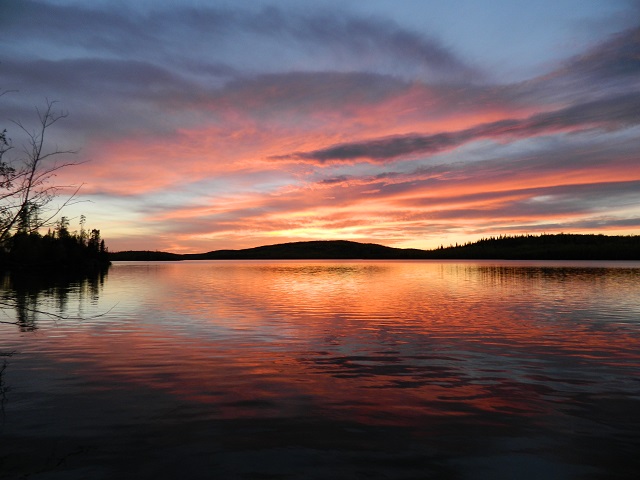 26 km today, just 2 portages and a couple of beaver dam hauls.
Day 8:
On, into the wind. The portage to Settee was in good shape: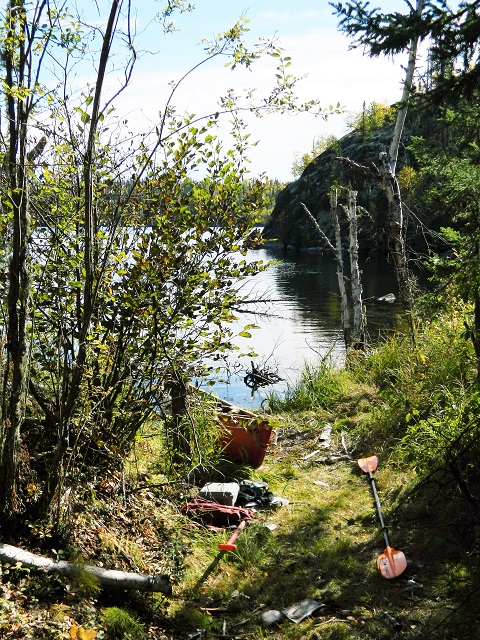 Settee was slow and windy. The last short portage into Colin had just been touched by the fires which ravaged the area last summer. Much of the north end of Colin burned.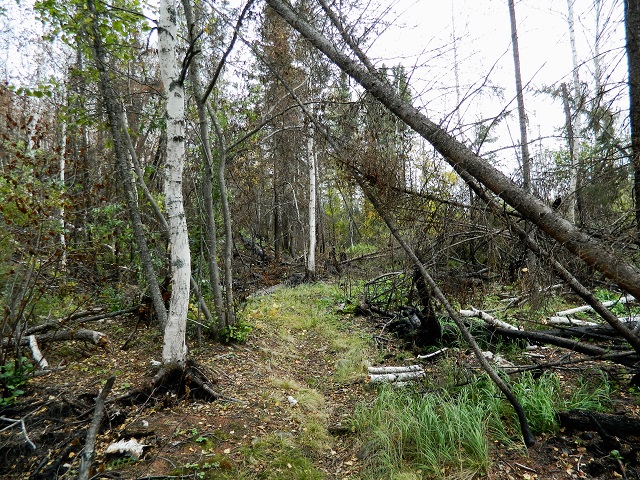 On Colin it was a slow, windy paddle to a camp spot in Gowrie Bay. 25 km today, with 4 portages. Tomorrow should be an easy day to finish the trip, just 20 km and some familiar portages.
Day 9:
A not so easy day, as the rain began at 4:00 am. Granola in the vestibule, stuff the packs during a short lull, and then off into the rain and a rising west wind. The two portages to Versailles were ok - the fire burned just up to them, but not over them. After the portage to Minuhik, the weather improved, with a brief spell of blue sky. Alas, it was not to last - showers and sun would alternate for the rest of the day, with a strong and gusting west wind the only constant.
False hope: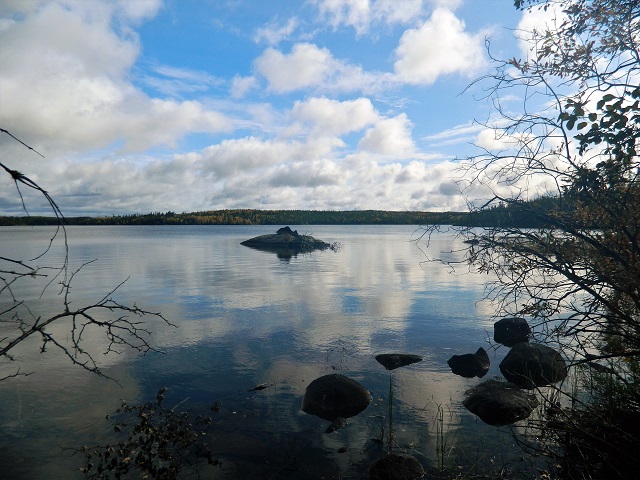 The wind slowed travel even on small ponds, and nearly brought me to a halt on Berven. I took a short break to photograph some derelict trapping cabins in Berven, then trudged over the last portage, which felt much longer and steeper than it was.
Cabin in Berven: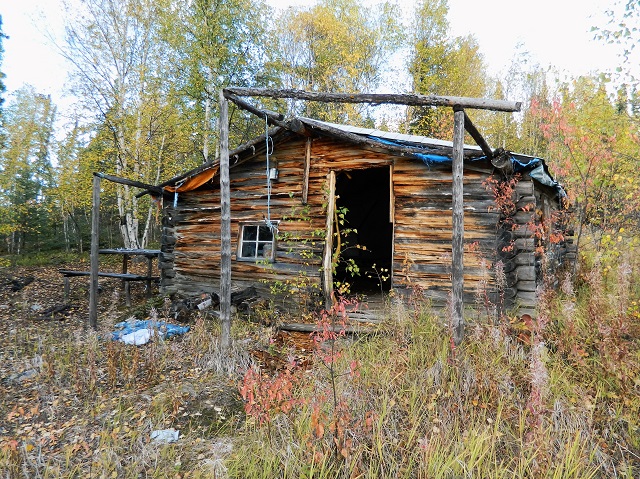 I then fought the wind across little Hailstone Lake. It was a relief to slide the canoe into the landing on the west shore - about 30 seconds before my shuttle arrived. It had been a hard day, but my timing was perfect. A final 20 km and 8 portages today, for trip totals of 175 km and 28 portages. Then it was back to Missinipe for dinner: 1 hot meal, 2 cold beers - priceless.
Thanks for reading. I'd be glad to answer any questions about the area.
-jmc