As Dave_k said, focusing on the antenna is key.
The best results will be from a resonant antenna where the wire length is cut according to the frequency you want to listen too. Both the radio, and the antenna, need to be tuned, so to speak, not just the radio's dials.
With the attached telescoping antenna, there will not be as good as reception as you could get with a larger wire. On your radio you can simply unscrew the telescoping antenna and get a connector to attach a longer wire.
The transmitted signals bouncing around also get polarized. So, at times, a vertical antenna may work better; others times, a dipole. Matching the receiving antenna's polarization to the incoming signals' polarization will make things better, assuming you have two different antenna with different polarization to make a test, so to speak, to see which one will work better at any given time. This is known as the Polarization Loss Factor or polarization mismatch loss. In the video I mentioned in the other thread, where I was talking to my friend in his camp in BC from my camp in Ontario, I had put up two antennas for this very reason, one vertically polarized another horizontally polarized. On this day, the vertically polarized one was better for both reception and transmission. Other times, I can often hear better with one antenna and be heard better on another; hence I made a little switch to instantly change antennas when I am trying to talk to someone. Indeed, older radios from the 60s or so often had two antenna ports, one for RX and one for TX. My camp's radio bag includes 2 verticals and one dipole to account for polarization losses.
If you know what frequencies you want to listen too, you could calculate the ideal length for each frequency. As the frequency lowers, the wire length needed will get longer. To have one antenna for many frequencies, one can add in links, like this: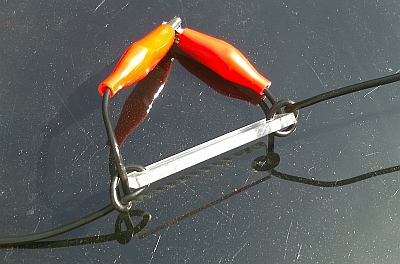 If you want to listen to 14.000, you need about 5m; so, put one of these at the 5m point; if you later want to listen to, say, 7.14, you need to add in the another length of pre-cut wire simply by clipping the alligator clips together, and so on for any of the frequency bands you want to listen to.
My main or default antenna that I made is a 20/40/80m linked dipole with a small section for 2m. It is designed for transmitting, where keeping the antenna resonant and matched to the radio is even more important than when just receiving.
For, say, 98.7, CBC, a 1/4 wave vertical antenna is 2ft. 4 - 15/32in. or 0.723 M.
For, say, Radio Havana, on 6145 kHz, the 49m band, that's 38ft. 0 - 31/32in. or 11.607 M for a a 1/4 wave vertical.
Dipoles will have twice as much wire, one for each side.
My dipole for 80m is about 63' per side, so, about 126 feet of wire in total. That will pick out even super weak signals on that band and, when I transmit, using .5 watt of power I can talk to people all over Ontario from my camp. You can see that antenna here:
https://youtu.be/QqXlNOXW0Yw?t=7m15s
So, asking that little antenna on that radio to pick up everything from local CBC to shortwave stations is a lot to ask.
Terrain, topology and frequency play a role too; some frequencies are absorbed by trees, the sky, others refracted out into space; and this changes during the day/night and winter/summer cycle too. As other said above, grounding the radio can draw off static the antenna is picking up from the air around it; that can improve things a bit too, but I have found the effect marginal.
There are special designs for receiving antennas; the beverage antenna is a super famous example.
https://en.wikipedia.org/wiki/Beverage_antenna
.
You could, for some of the higher frequencies, build a tiny 'yagi antenna'; this will pull signals out. In grey county Ontario, with a 'normal antenna' I can barely pick up the local government weather station. But, if I put my home-made yagi in the radio I can pick up weather stations in Michigan. But, this antenna is directional so you need to point it in the right direction. But there are way to cumbersome for those frequencies requiring a large amount of wire.
Lots of gimmicks and fancy claims are made about coils and other such things, especially with broadband antennas where the wire length is kept constant but is instead coiled or wrapped around or through magnets before going into the radio; but these have more to do with impedance matching than improving reception or transmission. I don't use any of those types of tricks- signal tends to get turned into heat - as you can see here:
http://g8jnj.webs.com/cometcha250b.htm
I had a good 30 minute chat with a scientist at the Neutrino Observatory in Antarctica (
https://icecube.wisc.edu/
) last winter when in my camp out in the woods. Super cool science going on there! That signal was sent/received using a resonant dipole, 32 feet per side - so, about 64 feet of wire hanging in from a tree, about 20 feet up in the middle and about 8 feet off the ground at each end with about 40 watts of power, running off a small battery.
It is interesting to note that your radio's company sells an external SW antenna on a reel:
https://www.ccrane.com/item/ant_sw_cc_r ... el_antenna
But, that is only 23 feet long
. So, not very long at all given my wires' size; but, it is telling about what is necessary to improve reception.
If, as you said in the other thread, you are interested in ham radio, the material covered in the books will address this sort of question. And not only will you be able to listen to Radio Havana, you could easily talk to some Cubans - or even one day me too - while sitting about your camp, cigar in hand.