Quote:
As a point of trivia, pelicans have historically been resident in the prairies at points much further north than Geraldton.

Interesting point, and caused me to do some research on the mighty pelican, which is a very interesting bird. I'm not sure how they taste though. It appears that they are more common in the west, but they are very recent arrivals in my area, as shown by the table below: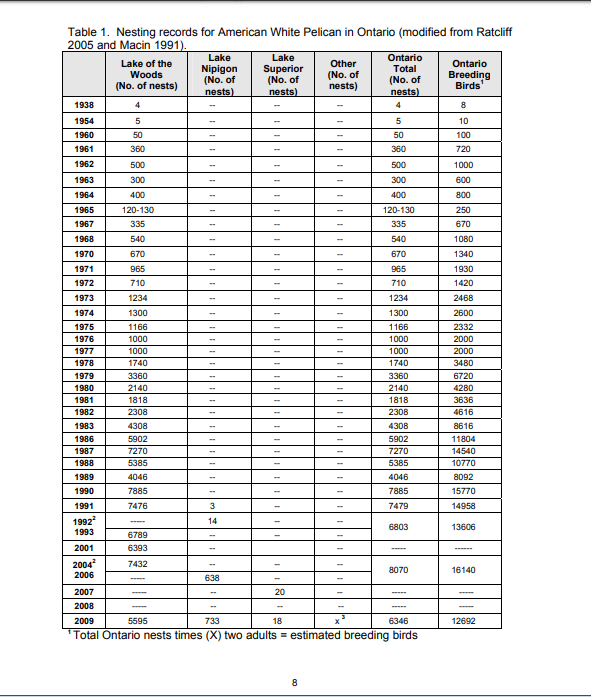 Their colonizing efforts have been speeding up in the last few years, to the ridiculous point. I was running a trip down the Kowkash river a few years ago, I had paddled it the year before, and there were 0 pelicans. This time, there were hundreds, nesting on an island at the north end of Flemming Lake. As I ran the rapids out of Flemming, I was ducking under pelicans, who seem to have an affinity for swimming in fast water.
Another species which has had a population explosion up here is sand hill cranes. Thirty years ago, I had never seen one. Around ten years ago, I started to see the odd one along the highway. Now they are regular visitors on the golf course and ditches between Longlac and Beardmore. They hang out in "bachelor flocks" and have the strangest cacophony of songs. They sing right behind my house, and it sounds like an alien invasion. My aboriginal friends tell me that they are extremely tasty, but I haven't tried one yet.
On the other hand, moose populations are crashing, and I like eating them.
Ticks are moving into the area, probably because white tail deer are coming in two, which might explain the moose crash, as the whitetails bring brain worm, a pest they can live with, but the moose cannot.
Now if only mosquito and blackfly populations would crash.........